thanks everyone for entering

There were a total of
45 entries
, thanks to everyone who entered !
I had a hard time choosing, but before I announce the winner I'll give a link to all the lovely entries I recieved
looji.deviantart.com/favourite…
If you didn't win, you can do whatever you want with the design !
ON TO THE WINNER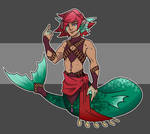 by
artofdroth
!
He has a
very interesting design
. His relation to my characters is one I like as well. I think the pirates crew can use a fishy friend !
And I know it's mainly about the design, but I just want to add that you have a lovely drawing style hehe
I already tried drawing him myself. I'm still looking for a way to draw
merpeople
myself, but this design surely helped. I also looked around for some color variations, so he would blend a little better with the rest. The first are the original colors ~

Another thing to note is that in the original description of the entry, it was said that his name is
Caspian
but it wasn't sure yet. I may need to change his name, due to similarities to Captain (but I'm not sure yet). It was also mentioned that he would have a
crush
on one of the
crew members
, it wasn't mentioned which one, but I kinda like the idea, so I'll keep that in mind when he appears in the story.
YOUR PRICES

YOU CAN CHOOSE 3 OF THE FOLLOWING THINGS

- 1000 points
- A full body drawing
- 2 headshot drawings
- A half body drawing
- A re-design (full body)
- A custom design (full body)
I'll send you a note once you commented ~
last words

Thanks
again so much for those who entered ! You guys did such a
great job
and it still amazes me that people out there are interested in my work like that. By either wanted to create a character that lives along side mine, or just entering hoping to win something that I made.
fun facts

RANKING OF ENTRIES PER CHARACTER
Note that I only counted actually relationships like friendships or boss, (basicly that got a little description as to why they had a relationship) and not ones who were simply listed as acquaintances without any explenation why.
1 HUAAN
8 entries
2 GERRET
6 entries
3 KENNY / CAPTAIN
5 entries each
4 HELMEN / JUNE / THE PRINCE / CHEE / NADI / ZERRA / KARO / KIT /MARABELL
All 4 entries each
5 REM / LANÉ / SNOW / CHIVE / ELLANORA
each three entries
6 CABBY
two entries
However, the whole
pirate crew
got listed as relationship
6 times
, they basicly come in one package together so they were often listed together, but I didnt counted them for the ranking haha
I'm also very surprised that
Huaan
got so many entries ! If people are more interested in him, I make sure to draw him again soon

And unlike the last character contest I held, there weren't a lot of
entries for a love interest for
Gerret
in previous contests there would be at least
10
to play that role. He still is the one with the most love interest entries though, together with
Kenny
and
Helmen
. Who all three had
two entries
for love interests. However I didn't count the Peppa references for Gerret, I can only assume they're a potential love interests, but nothing like that was actually mentioned. If I would count them, he would have
four entries
for love interests.
WORKING AT THE CASTLE
11 entries
LOVE INTERESTS
10 entries
FAMILY
9 entries
CHILDHOOD FRIENDS
6 entries
JOINED THE VFE MOVEMENT
3 entries