updates

BEFORE READING

I changed a lot from older personality sheets and overall story things. So if something is missing or wrong, it's probably scrapped or I want to re-write the story and it isn't revealed yet. Older drawings of these characters also may hold wrong information and personalities. Everything in this journal is correct and anything I will mention and/or draw from now on
12/2/18
(twelfth of February) will be correct as well.
OVERALL STORY

All characters come from
Gelea
, a kingdom containing
5 islands
. Twedon / Dreehn / Viferon / Vifen / Enetan. All islands have their own leader with the King being the leader of Enetan (and the overall leader of the other 4).
Gelea
used to be an elf kingdom long time ago, but they later let other species in. Mostly
humans
came to life in
Gelea
but other species like
Nymphs
/
Cyclops
/
Centaurs
/
Satyrs
, there is also a big variation of merpeople in the waters of
Gelea
. This made
Gelea
a very crowded kingdom, which also rised the economy, making
Gelea
one of the richest kingdoms. Despite the diversity, the Royal family could only marry other elfs and mixed specie relationships were frowned upon for a long time. Nowadays relationships between elfs / humans / cyclops and satyrs / centaurs isn't a discrage anymore, but other combinations is not only a disgrace, it's also dangerous for the child that can come from this relationship. Children from these relationships are infertile. However, 99% of the time the women won't get pregnant or will get a miscarriage very early.
A group called
VFE
(voice for equality), having members from all species except elfs, stood up in the kingdom. Going against the elfs being the leaders. Their leader challenged the only living royal family member, the crown prince, to a battle, hoping to take over the throne and let the kingdom be led by a non-elf. However before the day came, the crown prince dissapeared. He left behind a suicide note, but his body was never found. Some believe he was kidnapped, he ran-away or that he's actually dead. While this is going on, all the water traffic is forbidden, hoping either the prince or his kidnappers cannot leave the kingdom.
The
VFE
tries to gain new members all over the kingdom and desperatly tries to find the prince. When they have enough members they hope to take over the throne again with an army.
Here is a map of Gelea
CAPTAIN

SNOW

HELMEN

COOKIE

KENNY

CHIVE

REM

CABBY

KIT

LANÉ

NADI

ZERRA

KARO

PRINCE DANDELYON

HUAAN

CHEE

GERRET

JUNE

ELLANORA

MARABELL

PRINCESS IDLA


CHARACTERS TRIVIACAPTAIN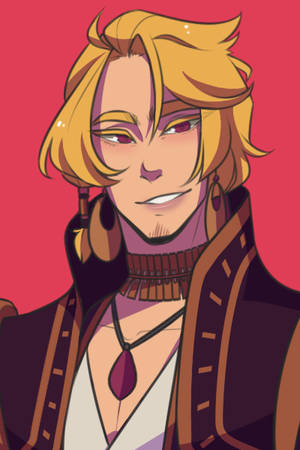 FRIENDS Snow / Helmen / Cookie / Kenny / Chive / Rem / Cabby / Kit
ACQUAINTANCES no other characters
TRIVIA
- His favourite colour is purple
- Eventhough his mother is in prison, he doesn't visit her that often
- Used to work on a trading ship when he was in his early 20s
- Has a fear for crabs
- Is bad with names
- Is fluent in the language of "Rudan" (kingdom Ellanora comes from)
DESIGN NOTES
- has shoulder lenght hair he wears in a ponytail, seen here

SNOW

FRIENDS Captain / Helmen / Cookie / Kenny / Chive / Rem / Cabby / Kit
ACQUAINTANCES Huaan / Lané
TRIVIA
- Has a snort in her laugh
- already had a crush on Captain when they first met
- Got her nickname "Snow" by her collegues in the astate she used to work as a maid in, it was used out of mockery because of her pale