THIS IS CLOSED
I'LL BE ANNOUNCING THE WINNER(S) SOON
Since I just re-started the narrative, and re-designed everyone, I thought this would be a perfect time for a character design contest !
HOW DO YOU ENTER ?

DESIGN A CHARACTER THAT HAS A CONNECTION TO ANY OF MY CHARACTERS

A connection can be anything from a friend to a lover to a neighbour they sometimes say "hi" to
The relationship can also be with mulitple characters, like one characters neighbour but also the other characters ex


SINCE I JUST REWROTE A LOT OF STUFF MYSELF, YOU CAN ALSO BE AS FREE AS YOU WANT

You can give someone a sibling, even if they normally don't have one. Who knows, maybe it's so perfect that I will keep the idea ! You guys can give me a fresh look on what my characters need. You can give anyone a lover, you can give anyone a sibling or two, you can give anyone a new bff , you can add a pirate to the crew, you can add your character in someones tragic backstory (that you can make up yourself as well), really anything is allowed

UPLOAD YOUR ENTRY ON DEVIANTART AND GIVE THE INFO NEEDED FOR THE CHARACTER

Info like their name, age and most importantly their relation to (at least) one of my characters


THE DESIGN HAS TO BE AT LEAST HALF BODY AND COLORED

If you want to make more drawings of the character, you can do that in anyway you want, but I need at least one with color and a half body design. I know not everybody likes to do full bodies so that's why I also accept half bodies.

THERE WILL BE ONLY ONE WINNER

There is a change I really like two designs, and two will win, but thats not likely.

PRIZES

THE WINNER(S) CAN CHOOSE 3 OF THE FOLLOWING THINGS

- 1000 points
- A full body drawing
- 2 headshot drawings
- A half body drawing
- A re-design (full body)
- A custom design (full body)
some handy links and tips


CHARACTER PERSONALITIESupdates

09/09/18 changed several names
23/08/18 added fishy boy Janai
16/05/18 added Tono, Pepe, Lotta , Miri, Travin and Dane
Also changed Gerrets portrait to match his current design, where is eyelashes matches his dark eyebrows. And made a difference through text between characters who don't know their parents and parents who don't have a name and design.

BEFORE READING

I changed a lot from older personality sheets and overall story things. So if something is missing or wrong, it's probably scrapped or I want to re-write the story and it isn't revealed yet. Older drawings of these characters also may hold wrong information and personalities. Everything in this journal is correct and anything I will mention and/or draw from now on 12/2/18 (twelfth of February) will be correct as well.
OVERALL STORY

All characters come from Gelea, a k

CHARACTERS TRIVIACAPTAIN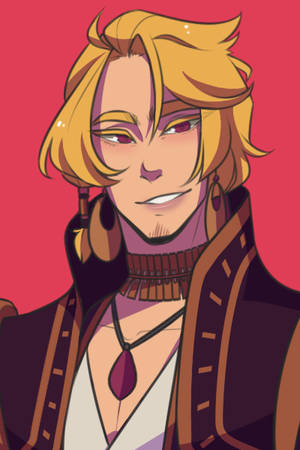 FRIENDS Snow / Helmen / Cookie / Kenny / Chive / Rem / Cabby / Kit
ACQUAINTANCES no other characters
TRIVIA
- His favourite colour is purple
- Eventhough his mother is in prison, he doesn't visit her that often
- Used to work on a trading ship when he was in his early 20s
- Has a fear for crabs
- Is bad with names
- Is fluent in the language of "Rudan" (kingdom Ellanora comes from)
DESIGN NOTES
- has shoulder lenght hair he wears in a ponytail, seen here

SNOW

FRIENDS Captain / Helmen / Cookie / Kenny / Chive / Rem / Cabby / Kit
ACQUAINTANCES Huaan / Lané
TRIVIA
- Has a snort in her laugh
- already had a crush on Captain when they first met
- Got her nickname "Snow" by her collegues in the astate she used to work as a maid in, it was used out of mockery because of her pale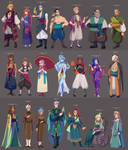 MAKE YOUR CHARACTER FIT THE SETTING

All my characters are placed in Gelea (more about that in the first journal linked), a warm fantasy-like kingdom. You won't win if your design has a character wearing jeans for example. Read the first journal linked for more info about who lives in Gelea. For all the clothes designs I took inspiration of Arabian style


ONLY ELFS / HUMANS / CYCLOPS / NYMPHS / SATYRS / CENTAURS / MERPEOPLE
LIVE IN GELEA

Eventhough its listed in the first linked journal, I still get this question. I know theres been a whole list for Gelea before, which had way more species, but it got too busy and hectic. These are all the species listed to live in Gelea, Nagas are not officially listed since most people don't even know they're in Gelea. So I highly recommand just doing one of the creatures above for the contest.

GELEAS HAIR SYSTEM

Gelea has a hair system, where women wear their hair a certain way depending on where they live (part of their culture), this is a very old reference but it goes something like this. However, getting this wrong is not a problem at all. If your design wins I will change the hair to the correct location so this is just a heads up.


YOU DON'T HAVE TO BE A WATCHER TO ENTER THE CONTEST

I have no problem with people that don't watch me wanting to join the contest, go right ahead! You also don't have to share the contest, but it's appriciated.

READ EVERYTHING BEFORE ASKING QUESTIONS
Please do this, that would help me out a lot. And I don't mean just this journal, also other journals I linked about Gelea.
Only the things I linked here are valid no other old journals or pictures, like I said, I rewrote everything.


HERE IS A MOODBOARD I MADE, FOR INSPIRATION

All pictures in this moodboard do not belong to me but to their respectfull owners. Sorry I can't give proper credit, most pictures are found on pinterest. Moodboard1

frequently asked questions

"CAN I ENTER WITH A CHARACTER I ALREADY OWN?"

No, the character design afterwards will be used by me, and it will no longer be your character if you could enter like that. And that's no good. If you have a character that maybe can be a friend of one of mines or something, you can always send me a message, who knows : )


"HOW MANY TIMES CAN I ENTER?"

You can enter as much as you like, no prob.


"I WANT TO MAKE A CHARACTER THAT HAS A CONNECTION TO A CHARACTER OF YOURS THAT'S NOT LINKED IN THE LINKS ABOVE, CAN I STILL DO THAT?"

I will only really use the characters above for a while, so I highly suggest using them for your character connection


"CAN I MAKE A CHARACTER THAT IS THE CHILD OF ONE OF YOUR CHARACTERS?"

I would like to use the character right away, so it's better if the character can now already walk around. So if it's a really young child, go for it. But if you want to give someone a teenage kid while they're still in their 20s themself, it's not possible.

"CAN I DRAW THE CHARACTER DESIGN IM ENTERING WITH, WITH ONE OF THE CHARACTERS THEY HAVE A CONNECTION WITH?"
Yup, totaly fine ! Would be cool to see. You don't have a bigger change of winning because of this though.


IF YOU HAVE ANY QUESTIONS PLEASE ASK !

I try to answer them ASAP


DEADLINE

CONTEST ENDS ON 15TH OF APRIL 23:59 TIMEZONE +1
I won't accept anymore entries after the deadline. Not knowing what timezones are is not an excuse when you have acces to the internet.