I knew about this new con taking over for Nightmare Nights in Dallas since last year, but wasn't planning on going to it because of it happening in the winter. But in January I decided to go for it since I had a vehicle that (hopefully) could get me there and back instead of having a rental car or hitching a ride. And there's a chance it could be the last pony con I ever go to since there's no word on CanterlotKC yet, and Crystal Fair in St. Louis is uncertain. I was hoping to get to the last BronyCon, but this appears very unlikely to happen. So I reserved a hotel room and registered, and took time off from work.
~
Thursday
One of the things that I was worried would keep me from going was a winter storm showing up either on the day I would head down or back. And it appeared this was going to be the case as one involving ice was forecast to happen Thursday into Friday, the time I would be driving down there. It wound up hitting Wednesday into Thurs. morning, but there was a good chance the roads would still be slick due tot he temps being well below freezing the whole day and night (the 4WD on my truck wouldn't mean much). I was checking the Kansas and Oklahoma road condition sites constantly (would be taking I-35 pretty much the whole distance). I went to bed at 4PM and hoped for the best.
~
Friday
Woke up at midnight and checked the roads, and all of them appeared to be good except for some stretches of I-35 in Oklahoma. I decided to try it so I loaded up my luggage and left a little after 3AM. All of the roads were dry aside from some darker spots which worried me. Soon I started getting a sore throat which would haunt me the entire trip and in the con, making me worry I was coming down with something.
The KS turnpike was dead. Most of the traffic I saw was semis. South of Wichita there was more, and the closer I got to Oklahoma City the more active it got. Day started breaking

around Stillwell , OK. Luckily it was daylight when I got to OKC because the traffic was pretty thick and it's better to deal with it during daylight. Finally cleared town and the traffic died down. This time I managed to get some pic's of the "mountain range" in the southern part of the state where the road cuts through several hills.
As I got into Dallas the traffic started getting hairy, and I was on edge until I finally found my exit anf got off I-35. I predicted I would get to the hotel around 11PM, and I was right. Found a parking space and checked into my room.
Now the fun begins.
I already had some of my first cosplay on. Everyone's favorite waifu stealer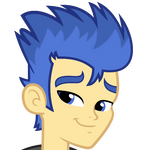 (I will never get tired of doing that cosplay).
Got my badge and took a look around. Wasn't planning on spending much money, but I did get one big ticket item: a Coloratura custom from SanadaOokmai. Also inquired into the cosplay contest, and I wound up being the first one. Would once again enter with my 80's Shining Armor cosplay. This time with a new addition: instead of an MP3 playing 80's songs, I had an authentic 80's Panasonic ghettoblaster from the 80's I found for $5 at a garage sale last year. The first panel I attended was a best MLP character tournament where the audience got to vote on who out of 64 characters was officially the best pony.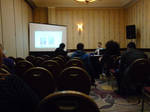 The winner was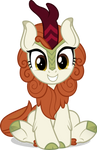 Kirin mania is taking over the fandom.

Right after that was the "March for Equality", where attendees parade the hall promoting Comrade Glimmer's agenda. Just before it started, the best Glimmer (or actually Snowfall Frost) fursuit cosplayer ever appeared, and helped lead the parade.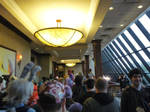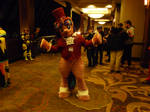 Next was the opening ceremonies.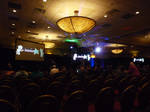 After that I just hung out in the hall with my R/C plushie transports. Unfortunately one of the controller batteries was dead so at first I could only run 2 of them.
At one point I was running my Luna one past the halls, and Elley Ray (who just finished a panel) saw it and took a video of it:
twitter.com/Elley_Ray/status/1…
Spent most of the time after that hanging out in front of the rave until 10PM, when I went to a panel on the history of fandom conventions. Having been up 23 hours I went back to my room at 11PM to get my cosplays ready for tomorrow and check my emails, etc. on my computer.
At 11:30 something happened that took me (and everyone else) by surprise. The fire alarms went off. I grabbed my coat and followed some others down the stairs and outside. I was surprised to see the cops and fire already there. At this point it was obvious it was more than someone pulling the alarm. Everyone went across the street to a parking lot as more cops showed up. No one knew what was going on. After being in the parking lot for around half an hour, the Marriott hotel nearby opened their lobby so everyone could get warm. Still there was no info on what was happening. Someone soon found out though. Some rat bastard from 4crap had "swatted" the con:
www.equestriadaily.com/2019/02…
(i think swatters need to be executed). The fire alarm was set off to get everyone out of the building.
Obviously the cops were going to sweep the entire building, so me and others were wondering if we would return to having our rooms trashed.
~
Saturday
With no end in sight I rolled up my coat and tried to get some sleep on the floor in a hall at the hotel. Not long afterwards (around 2:30AM) they finally let everyone back in. I went back to my room, and to my surprise nothing had been disturbed. I later found out some weren't as lucky as the police had to kick open several doors that apparently wouldn't open (I was having trouble with the lock on mine all weekend so I'm lucky), and those people had to be moved to other rooms. I finally went to bed at 3:30AM.
I wanted to sleep until 9:30, but only made it to 8:30. Decided to head to a nearby Walmart to get batteries for my R/C cars and a hairbrush (forgot to bring mine). Also got some more Tailwinds aircraft for a project I'm working on. There wasn't much going on aside from a panel on SFM ponies I went to, so I just mingled about in my changeling/spy cosplay.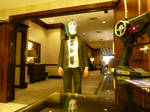 Met BN King for the first time in the video game room.
At noon was the My Little Tesla Coil display (bumped up from 10AM). Awesome as always.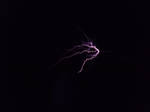 I then went to the video game room to play some retro games ( finished the arcade version of UN Squadron thanks to unlimited continues). While I was in there, someone got a pic' of my other truck while it was sitting outside the door:
twitter.com/Elley_Ray/status/1…
At 2:30 I headed back to my room to change into my 80's Shining Armor cosplay. The cosplay contest was hosted by Step 2 Harmony.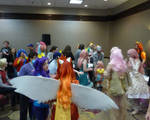 Some pretty good cosplays including the Tantabus, 2 different Fluttershys (incl Goddess Fluttershy), Daybreaker, and 2 Knights of Ni XD. The Fluttershys and Daybreaker got 1st-3rd in the adult category.
(video of when everyone was being staged outside).
Right after this I met one of the developers of the Legends of Equestria game.
After that I brought out all 3 of my R/C's (thanks to my room being on the same floor as the con, I could drive them to/from my room).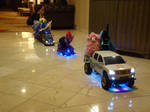 My last panel of the night was one on brony fandom history by Choco Pony. Around this time the cops and medics showed up at the hotel again, but it was for an actual medical issue someone had (not sure what happened). After that I hung out in the lobby again and set up my HO scale train.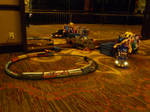 Which indirectly also caught someone's attention (Elley retweeted this):
twitter.com/GreyScaleLJH/statu…
Finally started to get tired at midnight, so I went back and got my final cosplay ready, and packed up some of my stuff.
~
Sunday
Always the depressing day of a con. Got up at 8:30 again (wanted to sleep until 9:30), finished packing, put my NLRAF pilot cosplay on, and headed out to check out of my room. First panel was one with Jim, Elley, and Tony where the audience wrote pony names or situations on cards, and they took turns coming up with short stories on what was on the cards (involving 2 ponies).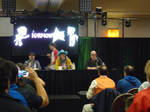 Right after that was the charity auction, which raied over $7500 dollars! (outstanding for a first year con). While that was going on, I decided to get 1 autograph. Elley got to sign Sunbutt's ride, even having a picture of her doing it taken:
twitter.com/Elley_Ray/status/1…
She also had one taken of her and me while I was holding it. I also hung out in the lobby playing GIFsound mashups and videos on my laptop, and playing my Equestria National Railway on Train Dispatcher 3.
Then it was the closing ceremonies, and the end of the con.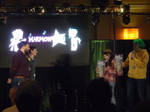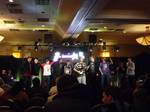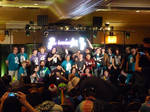 Overall it was awesome (aside from that incident, which I hope doesn't discourage the hotel from hosting it next year if it comes back). The drive back was a little worse. Heavy fog in the mountain range South of OKC, and even heavier fog from Wichita all the way back home. If HarmonyCon does come back next year, not sure if I'll go as that is just too long of a drive for me.
Here's what I bought at the con: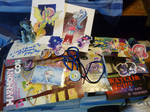 .