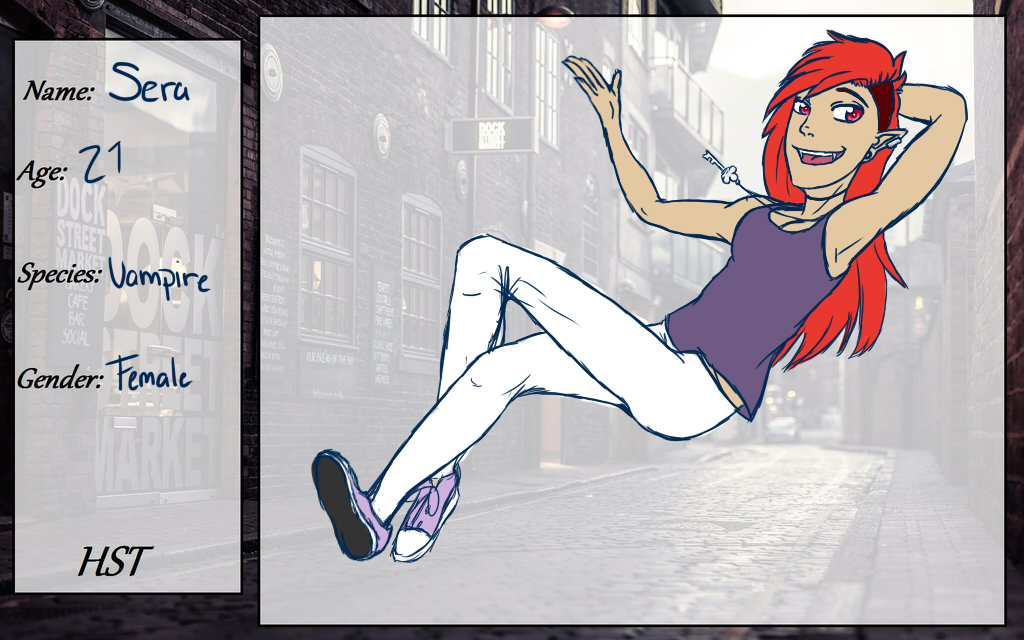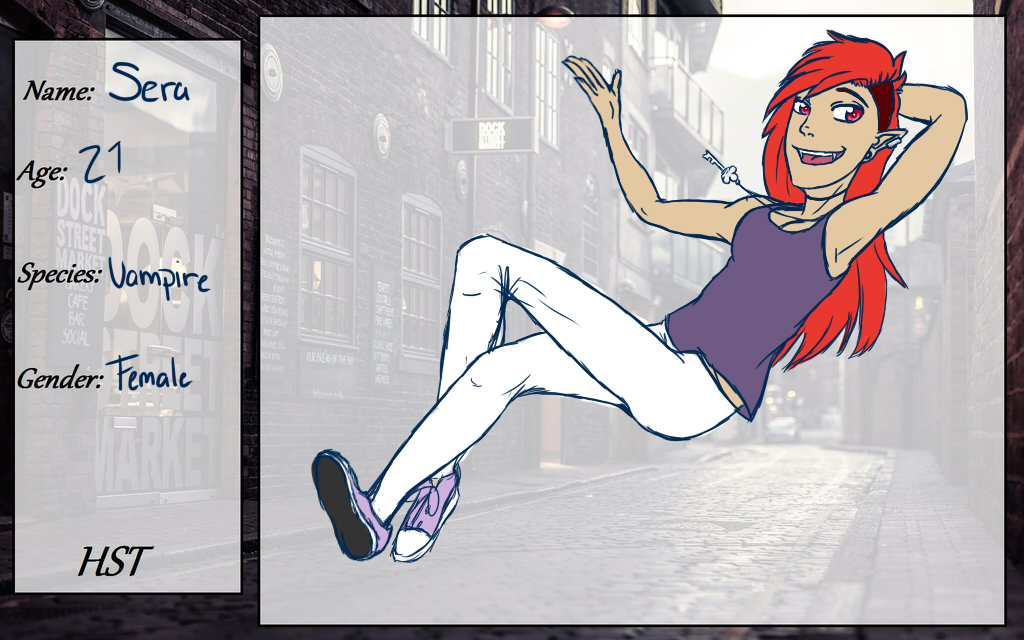 Watch
Name: Sera Blakeslee

Age: 21

Species/Race: Vampire ;0

Sex: Female

Gender: Cis Female

Gang: Sewer Rats

Job: Owner of: Double Trouble Gay/Lesbian Bar

Sexual Orientation: Pansexual


~*Appearance*~


Height: 5'9

Weight: 145 (mostly muscle ;0 )

Hair color(s): Naturally brown, dyed red

Eye color(s): Crimson red

Skin color: tanned caucasian

Outfit: Typically skinny jeans that make her ass look good, good sneakers, and a tank top. Add a jacket in the winter


~*In Depth info*~


Personality: (+ = positive | > = Neutral | - = Negative)
+Charismatic
+Independent
+Passionate
>Sarcastic
>Competitive
-Blunt
-Manipulative

History: Sera was born in a small country town a couple states away. She was taught hard work and basic, boring things like that. She left for the city once she was able to, wanting desperately to be able to see more people and not live such a boring life. Once she made it to the city, she moved into her apartment with joy and began working hard to make her next goals come true.

About a year or so later, she was able to purchase her own business; the Double Trouble Gay/Lesbian Bar. It's her pride and joy, and makes a point of competing with the other bars in a race to get the most business.

Hobbies:
-Making new, cool drinks
-Photography
-Conning tourists into giving money for easy shit
-Sexy tiemz ;0

Likes:
-Drinking
-Sex
-Exploring/Travel
-Warm weather
-Partying

Dislikes:
-Bigots
-Silence
-Cold weather

Strengths:
-Speed
-Fighting
-Healing

Weaknesses:
-Drinks
-Booty
-Pretty skies

~*Relationship info*~


♥ Sexual Orientation: Havent we gone over this already?

♥ Status: Single asf

♥ Significant Other: N/A

♥ Current Attraction[s]: N/A

♥ Family: Probably still in hick-town


~*Rp Method and Information*~


Roleplay Preferences:


RP style: Lit, paragraph style. 3rd person limited POV. Preferred Skype.


Dos:
-Ask if I would be interested in a romantic rp
-Ask before smut (sometimes i'm not down to rp it through)
-Write as much as you'd like
-Tell me what you aren't comfortable with


Don'ts:
-Expect me to rp in the comments or in notes.
-Control my character
-Expect instantaneous replies
-Write in first person
-Write one liners. I'll drop the rp so fast you'll get whiplash son-


~*Extra*~