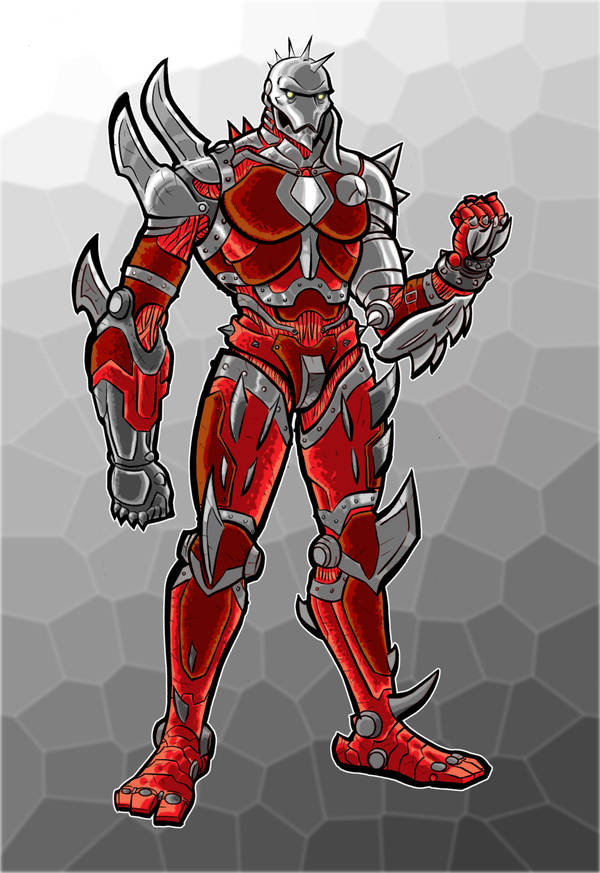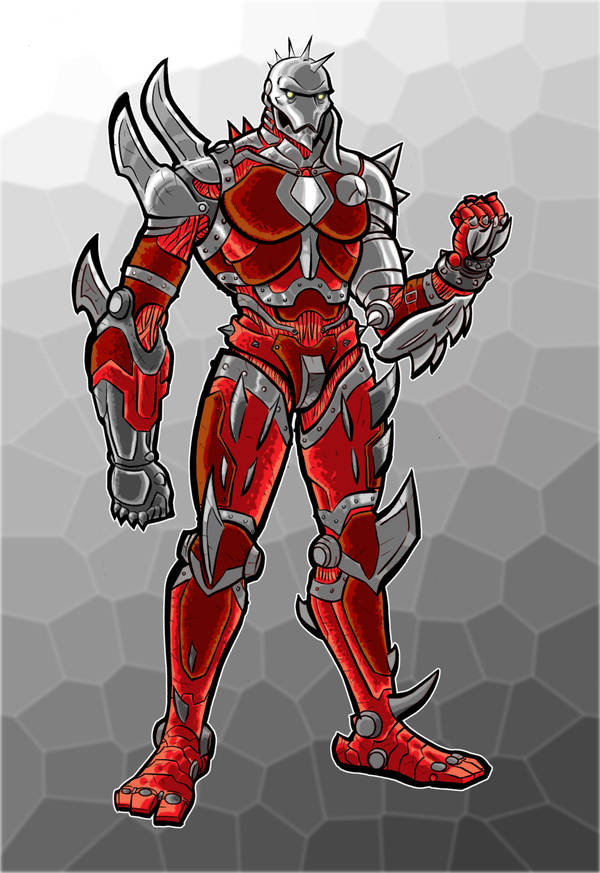 Watch
"Just try and hurt me meatbag."
Ladies and gentlemen, I present to you...my warforged character Blade. For those that don't know warforged were introduced in the Eberron campaign setting for Dungeons and Dragons. As soon as I saw that race in the book I was sold on what I wanted to play for most any Eberron game.
is the one to "blame" for this picture. The red I'm not so sure about, but I chock it up to paint or a good fight for him.

The toteboard has damage reduction for the time being:
Character series 3/10
The old business is now immune to critical hits:
Art by
Character by
Character creation rules by Wizards of the Coast

This guy is amazing, intense, and intensely amazing. WOW. I love the take on the "usual" warforged head/face and how the spikes on the left pauldron and right gauntlet balance each other. The three toes is also really cool, but my favorite thing has to be the circular layers to the chest area. The red is actually a really nice touch- adds some flare to the usual tans-and-metal-tones.
It would be cool if that circular bolt on attaching the right pauldron to the chest piece had a little more detail- like a thin circular "washer" around the bottom or something.
Reply

Neat looking character Lonestranger. At this point you could say the red is due to a very bloody battle and it has been stained.

~Troubleseeker~
Reply

Reply

I see the colors, and think Zed from Power Rangers.
Reply


I can see that.
Honestly the color scheme isn't quite what I had in mind for this character. BUT oh well.
Reply

The first time i did mine the same thing happened to me, i didn't like the brown so i redid it with gray and green.
Reply

Yeah I was looking for more of a grayish look to the metal.
Reply

Yeah but i think it concrats the red quite well, it's hard to say if it would be better if it was more grey, you'd have to see it.
Reply

Yeah I'd love to find someone else to draw him at some point.
Reply

I'll tell you what, Once i finish all my projects I'm working on, which might take a while, I'll give it a crack. I'm use only color pencils as you may have noticed, i might get some programs but i doubt it, honestly i like just to draw and color naturally.
I got i think 6 projects lined up, right now I'm drawing the 5 other D&D characters for my campaign. The i'm drawing a Cyclist/Knight, which is gonna be hard, but fun! Hopefully i'll have to peice of mind to do it all, i'll procrasinate then think of some other great idea and you know the story...lol
But I like drawing Warforged so I'll definately try.

Reply
Two words, bolt-bucket: Rust monsters.
Reply

Where's a long stick when you need it?
Reply

Next pic of him needs the armblade

Reply