Here's a copy of the 30 Day Gore Challenge that is doing the rounds of the interwebs from here:-
crevangrietje.tumblr.com/post/…
I'm tempted to give this a go. Fellow Deviant End-Prince already is.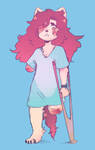 Though I'll avoid putting poor Velma through this nightmare ride I was thinking perhaps Daphne or Penelope Pitstop might be interesting to run through this gauntlet of horror. Or maybe the cute blonde, April Stewart from 'The Funky Phantom' or even the ditzy Brenda from the Teen Angels.
1. Amputation/Limb loss

2. Decapitation

3. Piercings/Body Mod

4. Doctors/Surgery/Medical Emergency

5. Chocking/Asphyxiation/Suffocation

6. Stitches/Self Admistered Medical Help

7. Falling/Falling to your death

8. Undead/Zombie Attack

9. Skeletons/Bones/Bones Showing

10. Sickness/Rashes/Boils

11. Drowning

12. "Natural Causes"/Dehydration/Starvation

13. Painful Transformation

14. Bruises/Beat Up/After A Fight

15. Nosebleed/Bleeding from orifices

16. Decay

17. Eye Gore

18. Sliced Open Gut/Bisections/Gut spilling

19. FREE FOR ALL/Whatever you like! Mix and match!

20. Broken Bones

21. Electrocution/Electric Shock

22. Scarification/Scars/Unintended Scars/Ritual Wounds

23. Burns/Burning/On Fire

24. Body Horror/Extra Body Parts/Misshapen Body Parts

25. Evil Possession/Distorted Bodies/Corruption

26. Blood Bath/"After Murder"

27. Getting Crushed/Underneath Something Heavy

28. Getting Impaled/Being Impaled

29. Torture/Near Death Torture

30. Self Harm

31. Monster Attack (Happy Halloween!)
Looks like an interesting project.