Sweeney Todd Poster Contest Winners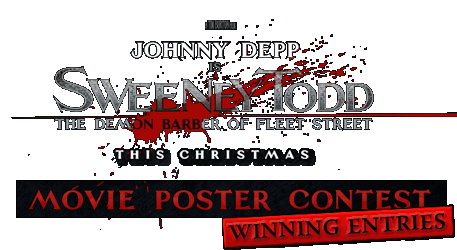 deviantART, Tim Burton, Johnny Depp, Sweeney Todd. What more could you want in one sentence? How about poster contest? That's right, deviantART is happy to present the Sweeney Todd Poster Contest for the upcoming movie, in theatres December 21st.
Sweeney Todd once again sees the long time duo of Tim Burton and Johnny Depp working together again, with Helena Bonham Carter, Alan Rickman, Sacha Baron Cohen and many others in this interpretation of Stephen Sondheim's critically acclaimed and award winning musical, Sweeney Todd.
It is the imaginative tale of a man sent to prison for crimes he didn't commit, who seeks ultimate revenge upon release for the tragic events that befell his wife and daughter while incarcerated. He becomes the Demon Barber of Fleet Street who "shaved the heads of gentlemen who never thereafter were heard from again."
The Winners!
It would seem that every contest we run gets just that much harder for us to decide upon a winner, but in the end, winners must appear, so much like Sweeney Todd himself we must sharpen our straight razors and narrow down the field. And after the cutting is done, three were left. Three shining examples of the talent of the deviantART Community!
The Grand Prize Winner
With deft strokes and surgical precision, *odysseyart rose to the top with this gorgeous piece of work and takes home the Wacom Graphire Bluetooth CTE630BT - 6x8 Tablet
Second Place
Leaving a trail of vengeance and taking home the Apple iPod nano 4GB - Silver comes this chillingly cold rendition of Mr. Todd by *quickreaver!
Runner Up
Making sure none survived his icy wrath, *saiaii and picking up the Logitech MX 620 Cordless Laser Mouse with USB Wireless Receiver 910-000240 in the process is this fiery and passionate rendering!
Thank you to all those who participated and provided us
with so many gorgeous pieces of work to peruse!