WINNERS ANNOUNCED!
The Fantastic Winning Entries!
After much deliberation and careful selection we have come to a conclusion for the winning entries for the magnificent Eagle Vs Shark poster design contest!
As mentioned in the first contest
announcement
we said that none other than Director Taika Waititi himself would be selecting the top prize entry and adding his thoughts and commentary for the selection.
That said, we are proud to announce the winning entries! Coming in the top spot, and winning the Onion print ad, the camera, a one year subscription to deviantART, 100 deviant dollars, a 20x30 print of their choosing and the directors commentary is…

The Grand Prize Winner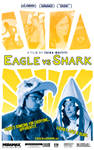 by =
puggdogg
In the words of Taika himself;
"
I felt that puggdogg's offering was highly original. It reminded me of the crazy japanese pop movie / grindhouse posters I have loved for years and because of its colour scheme and layout I felt it really stood out from the rest. I give it 8 out of ten. It would have got the full 10 if it had a lightning bolt through the middle and maybe an obscure asian tagline like "Make good sunshine feeling on your everlasting burger"...
Runner Up
In second place and receiving a 6 month DA subscription, 50 deviant dollars, the Eagles vs Shark Soundtrack and the Miramax dvd pack is…
:thumb57152497: by =
artofkerem
And in third place is…
:thumb57335667: by *
aditya4art
who walks away with a 3 month sub, 20 deviant dollars, and a Miramax dvd pack!
Congratulations to all the winners and thank you very much to all those who entered!