Logo Design by FlamingText.com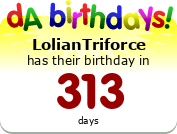 Best Chibi Maker Ever:



I'm LinkFreak from Hatena. I love to draw and I don't mind doing requests. If you need something, feel free to ask!

My friends:





















I'm nineteen (A full-fledged adult!), I have dark brown hair, I wear glasses and I'm usually happy all the time. I love talking to all my friends, play video games (usually Zelda games), and my favorite color is dark blue.

dA Family
Mom:


Dad:
Husband:


Sis/Bro:


Sons/Daughters:
Nephews/Nieces:



Cousins:
Cat:


Dog:

Remember, you can still apply for dA family spots at anytime!