Muggles and Benders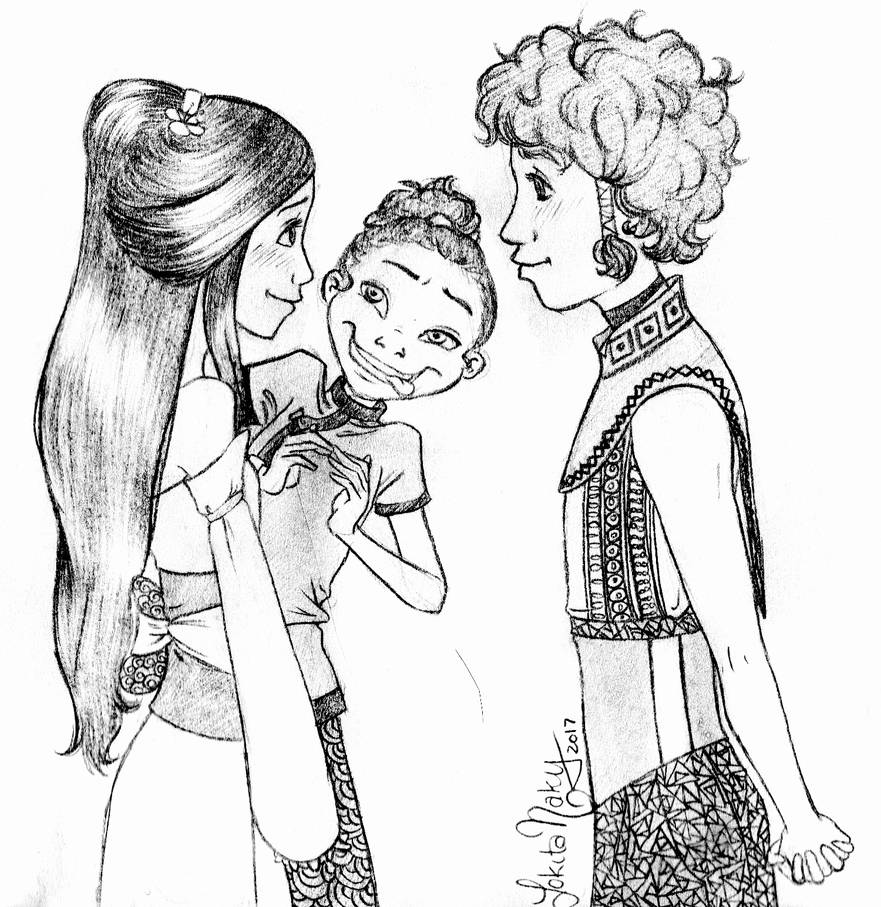 Kiran and the two redheaded boys, Steven and Henry McGill, were climbing around the playhouse. The boys' little sister, Anya, was being pushed on the swing set by Emily. Carl Kasthurirangan, the Indian boy, sat at the small garden table with his Game Boy while his sister, Cindy, was gushing over Nalani's outfit.
'I love your outfit. Is this traditional clothing in your country?' she asked, touching the rich fabric.
Nalani showed off her flowing, detached sleeves. 'Yeah, we usually wear it for birthdays and important holidays.'
'It's so beautiful! Oh, you've even got makeup on, it's pretty. And you have to show me how to do that hairdo.' Cindy was now playing with Nalani's hair while the latter giggled happily at the compliments.
'So, I'm guessing you're also from… um, what was it again?' Cindy asked, addressing the new boy, Kuzon, who was sitting next to her brother, watching him play Super Mario Land.
'Oh, um, Rastragni.' Kuzon answered, glancing quickly at Nalani. 'It's, um… It's not very well known… so…' he trailed off, looking back to the video game.
'Did you come here just to attend Nala's birthday then?' Cindy asked with a raised eyebrow and a smirk. Carl also smirked, pausing his game to look at Kuzon.
Both Kuzon's and Nalani's faces grew instantly red.
'No, I actually moved to England jus- um, recently,' Kuzon quickly averted his eyes to the pattern of the small iron garden table.
Steven, the older of the two redheaded brothers, poked his head out of the playhouse. 'Hey, Nala! I heard my mum saying you were going to some boarding school in September. Is it true?'
'Yeah,' Nalani answered with a bright smile, glad the subject had changed.
'So what school are you going to?' Nalani asked Emily and Steven.
'I'll be going to Lord Williams's school,' Emily answered from the swing set.
'Icknield Community College,' Steven said, walking over to them.
'Oh, great, we'll show you around then,' Cindy told Steven, pointing at herself and her brother alternately.
Kiran was asking Henry a few questions about his current school since he was going to go there this year. The boy told him about his favourite teachers, the ones that were disliked and hated by everyone and also warned him about the few bullies he might want to avoid getting noticed by.
'HA!' Kiran exclaimed, 'Kiran hides from no one. If anyone messes with me or my friends, they'll rue the day they crossed my path. THEY'LL RUE IT!'
Nalani rolled her eyes at her brother's typical delusions of grandeur. She indeed felt sorry for anyone who would think it a bright idea to bully the skinny kid. He might be a twig, but the boy was easily a head taller than any kid his age. And he had a dark secret on his side. Nalani was more than a little worried about being far from him for so long.
'Come on in kids! The Peels and Concordias just arrived,' Yue Qi called, peeking through the door. The kids all walked in towards the magically enlarged dining room.
'Michelle! Vanessa!' Nalani exclaimed happily as she hugged two brunette girls.
Vanessa Peel and Michelle Concordia were two girls from Nalani's "Little Scientists" club. Yue Qi had found it a great option for both children, since they didn't go to school here, yet. The lack of education in math and science in the magical community had actually been one of the factors that had made Yue Qi and Huhana hesitate to send their children to the magical school. The secrecy around magic and the heavy segregation of both worlds was something they both heavily disapproved of, but thought they could get around it by keeping their children not only well educated but also by keeping them in a non-magical community.
To the amusement of the Onenga and Zhou families, the room only seemed slightly bigger to the muggles, but they tended to dismiss it as an illusion created by the way it was furnished or decorated. This, of course, was thanks to the notice-me-not charm placed on the all the rooms of the house, which could sometimes confuse muggles. Although somehow, the charm seemed to not be as effective on Bridget Atwater, who was looking around the long table, counting the guests quietly.
Nalani, Kiran and Kuzon weren't used to all this secrecy about magic and Bending. They were all sitting around the table when Nalani noticed that most guests were wearing green. More specifically, Mrs McGill, Mr and Mrs Peel, Mr Concordia, and Mr and Mrs Atwater, who were all sitting next to each other, were all dressed in green. 'It's like sitting at a feast in the Earth Kingdom,' Kuzon whispered to Nalani.
'I was just thinking the same thing,' Nalani whispered back.
'So, Guy,' Yue Qi said, turning towards Mr Concordia. 'I heard you found a new employer?'
'Oh, yeah! I'll be working as a subway operator now,' Mr Concordia replied.
The adults continued talking about their jobs, as the kids started talking about new toys or their favourite TV shows. Kuzon was very silent as the other kids talked about the newest show they had been watching all summer. He didn't think the other kids knew any of the shows he watched in the Earth Kingdom over the summer. The newest saga of the Lemon Spirit had come out in June, and Kuzon had missed the season finale.
When everyone was done with the main course, Yue Qi brought out a big, square, store-bought cake. The cake was orange on the sides and yellow on the top. The red, swirly text in icing read "Happy Birthday to our Princess". Everyone sang Happy Birthday to Nalani while she waited to blow out her candles and cut the cake. She, of course, took out all the candles at once, even though she had clearly not blown on them hard enough. No one seemed to notice, however, except those who knew. All the kids enjoyed their piece of cake, while only a few adults indulged.
Soon enough, it was time to open the gifts. 'Well... you got my gift already I believe. I didn't get anything else -' Kuzon started.
'It's fine, really! I mean, I'm glad you were able to come at all,' Nalani said quickly.
Cindy seemed to almost slide in place next to Nalani, a wide smirk stamped on her face. 'What did he get you?'
Nalani mutely pointed to her necklace, feeling her face heat up all the while.
'Jewellery?' Cindy gushed, 'wow, must be serious.'
All eyes were on Nalani and Kuzon. Both were frozen like deer in headlights. Cindy giggled at Nalani's face, poking at her deepening scarlet cheeks. Nalani felt that if Cindy said another word, she'd literally burn to ashes under the embarrassment.
Nalani finally started breathing again when Vanessa and Michelle shoved a big, colourful box in her arms. 'Well we don't mean to outshine anyone...' Michelle started.
'... But you should probably open our gift, 'cause it's the best.' Vanessa finished proudly.
Nalani sat on the floor and began carefully unwrapping the gift. Vanessa and Michelle sat next to her and were bouncing happily in anticipation. 'Wow!' was all Nalani could muster when revealing the small telescope. It was a toy, of course, you couldn't hope to see much more than a close up of the moon, or a slightly zoomed in view of the constellations, but it was an exciting gift nonetheless.
'We weren't sure between that or a microscope,' Michelle said.
'It's great!' Nalani assured them, giving them a hug. 'I'd have been just as happy with either really.'
After she opened all of her gifts, they all played with the new Operation game she had gotten from Emily.
'YOU TOUCHED IT! I SAW YOU!' Henry yelled, pointing at the small frog Nalani was holding between the tweezers.
'But it didn't buzz…' Michelle said looking closely at the tweezers.
'I'm telling you, she touched the edge!' Henry repeated.
'Pff, you're just mad because you lost,' Nalani said, completely unable to hide her smile.
'Stop it, you're going to get caught,' Kuzon whispered in Nalani's ear.
She simply rolled her eyes, 'Oh, come on. This secrecy nonsense has to have advantages,' she whispered back. 'And anyway, Kiran's doing the same.'
'I don't want to play anymore,' Steven said.
'Everyone knows I was gonna win anyway,' Kiran said getting up and stretching in one swift motion.
'Oh! Show me some moves, Kiran,' Henry said excitedly.
Steven and Henry watched as Kiran showed them a few basic positions, and moved slowly and smoothly in back and forth motions. Nalani and Vanessa dragged the rest of the girls outside to look at the stars in the telescope. Meanwhile, Kuzon and Carl stayed at the table and took turns on Carl's Game Boy.
'Of course,' Vanessa said, 'you should never try to look at the sun with this.'
'I wasn't gonna try that,' Nalani scoffed.
'Yeah, Vanessa, she's not stupid!' Michelle exclaimed.
'Smart people can do stupid things,' Vanessa said nonchalantly.
Emily was looking into the telescope, trying to focus on the pale moon in the dusk. She babbled happily about how her father used to tell her that the moon was made of cheese. The girls were laughing, sharing stories they'd heard about what the moon was made of.
'Back home, the legends say that the moon and sea spirit bound themselves to Earth by becoming fishes. One day, a bad man killed the Moon, and a Princess took her place.'
The other girls stared at her in silence. 'Your country has really weird legends,' Emily finally said.
'Oh, and yours doesn't?' Cindy replied, chuckling. 'Tiny, little, winged humanoids dancing in the woods and turning into mushrooms doesn't make much more sense than a princess becoming a fish moon spirit you know.'
'Because a blue god with a bunch of arms is perfectly reasonable,' Michelle teased.
The girls laughed and the conversation slowly shifted as Vanessa, Michelle and Nalani were telling Emily and Cindy about things they had learned in their club. Nalani would only attend a few more meetings before being off to Hogwarts. They learned many things in their science club that they might not see for years at school, if at all. As they started talking about their schools, and what kind of classes they'd be having, Nalani couldn't really say much. She casually mentioned the lack of Computing classes, and how she'd have to catch up in summer since the school didn't have computers at all.
'I can't believe they don't have phones either at your school,' Vanessa reminded Nalani with a pout.
'How are we supposed to keeps in touch?' Michelle asked.
'The same way they did 500 years ago, snail mail.' Nalani chuckled.
'We're going to miss you so much,' Cindy hugged Nalani.
'I'm not gone yet,' Nalani said, hugging Cindy back. 'And I'll be coming to the club every summer.' She was now addressing Vanessa and Michelle.
'I'll write to you every day,' Vanessa said, joining in on the hug.
'If only summer could have lasted longer,' Michelle joined her.
'Seriously girls, I'm not gone yet!' Nalani shouted from between her three friends hugging her.
'I'll miss you too,' Emily said, completing the circle around Nalani.
Nalani shook her head in exasperation. 'I'm still here for a few weeks. You're acting like I'm dying.'
'Shut up and enjoy a nice moment,' Michelle snapped.
Nalani burst out laughing, and soon the other girls followed.