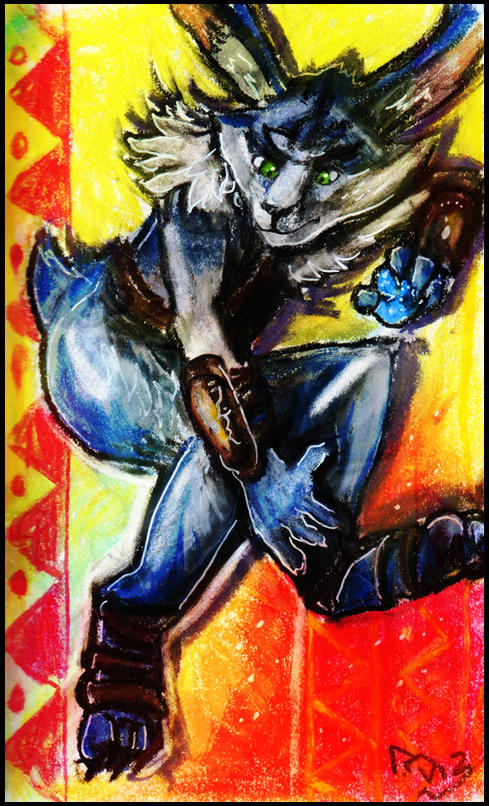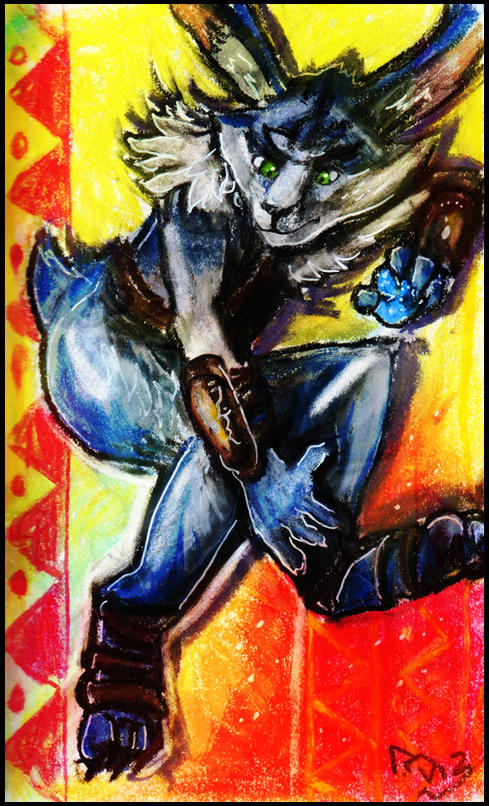 Watch
Because I thought that some traditional work which is not watercolor would be great in my gallery.
I've received soft pastels this week and... I must say I love them. A LOT. I've done some observational drawings, but I was pretty curious to know how I would draw a character with them.. And I didn't draw Bunny for a while.
Even if I'm not satisfied with everything, it's not how awful I would have imagined it -still a bit messy in my opinion. But hey, guess I have to work on this, haha

Next time, I'll work on a bigger sheet, A5 was a bit too small for drawing details with pastels.
Also, did I mention HOW MUCH I LOVE BUNNYMUND?

_____

The wonderful
Bunnymund
belongs to Dreamworks

Art is © =
LohiAxel

Reply

Reply

A5, ouais, tu m'étonnes que t'aies pas pu bosser sur les détails...

Ca ressemble quand même hachement à du pastel sec non-estompé le pastel doux apparemment (j'ai jamais essayé donc je ne saurais dire une fois, ni même deuuuux fois! *frite*)
Reply

Ha, j'avais prévu un peu trop petit @u@;
Ben, j'ai utilisé toute mon année de seconde des carrés conté qui sont vraiment des pastels secs (je crois) et les pastels doux ont vraiment un rendu différent. En tout cas ça se sent quand on dessine. Selon moi hein. ouo
(Non peut-être. *mange des frites*)
Reply

Reply

Pastel sec? Heu.
Tu m'expliques comment tu fais pour obtenir un résultat avec tellement de détails sur du A5 avec du pastel sec ?! OAO"
Comment est-ce possible ?! Elles font quelles tailles, tes pastels? oAo
Reply

Pastel doux. C'est pas tout à fait pareil que du pastel sec. :3
Ben euh.. Taille normale. ouo; Je sais pas, la taille n'est pas non plus énorme, hein. Il suffit de les les tailler un tout petit peu en pointe pour les détails, mais sur du A5, c'est pas pratique.
Après, pour le blanc, j'ai utilisé un stylo à encre blanche hein. ouo
Reply

Pastel doux je connais pas. Si j'en trouve un jour j'essaierai, parce que le pastel c'est magnifique.
Mes pastels secs font un gros centimètre de diamètre, et comme c'est super poudreux, je peux pas les tailler ! xD
Il faut que je trouve du bon matos pour faire tout pareil. °^°
(mais le matos c'est illusoire. Ce qui compte c'est le talent, haha *meurt*)
Reply

Ben je haïssais le pastel jusqu'à présent parce que je ne connaissais que le pastel à l'huile gras avec lequel je n'ai jamais réussi à faire quoi que ce soit, puis j'ai découvert les pastels secs (les carrés conté), et là j'ai commencé à aimer. Et là les pastels doux c'était le coup de foudre. :3
Ben euh. Tu gaspilles un peu, mais tu frottes ton pastel sur quelque chose qui ne craint rien jusqu'à user un peu le pastel et qu'il prenne l'inclinaison que tu veux :3
Tut tut tut. Moi je pars du principe qu'on a besoin de bon matériel quand on débute pour avoir de l'expérience, et quand on est bien familier avec la technique, on peut faire des miracles avec tout et n'importe quoi. Mais du bon matos, c'est toujours mieux. %D
Reply