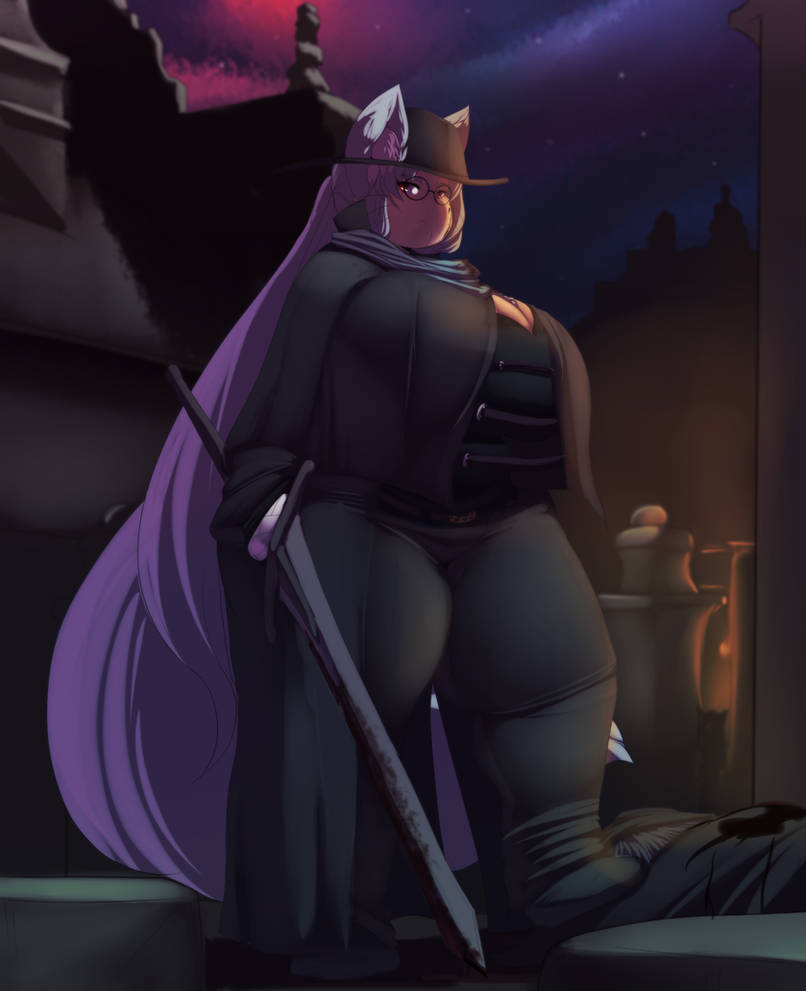 "S-Silver… Hunter…Leave…" The man falls to his knees, a sword driven through his chest. This wasn't the first time I was called this. As if I was already a well-established idea in this nightmare I am dealing with. At least, I can only assume this is now a nightmare, as things have felt all too real from the beginning. Oh, right, you wish to know about the beginning. Let me start from where it all began…
The day was quite nice, customers coming and going rather busily if anything, many faces saying hello, shaking my hand, asking me where things were, and a few people who just came to look. All I could do was smile too. Even if I hated the fact there were people here just to admire my body. Though, I can't blame them. I was different, everything I lived was different than them. My peaceful life, my sane mind, my stable world… Or I thought it was stable. I was walking along, showing a student from the local college where we kept the reference material for astrology. And of course, considering the size of my library, I had more than enough to get them as far as they needed. Or at least, as far as I wanted them to get. "No, I'm sorry, we don't carry any books like that." I replied, answering a question that was rarely asked. "Are you sure Ms. Lockwood? You have to have that book!" The young and meek student begged, simply urging me to find the book. She was asking for something awfully specific too, as it wasn't something known to others. She wanted the 'Tome of The Kos', a book of eldritch origin. Though, I had to lie, I did have it. It was locked away with the rest of the books that I considered dangerous. If anything, it was for the best she was told we didn't have something like this. For all I knew, it carried darker secrets inside of it that no human, or demon, should ever set eyes upon. Of course, as the day went on, the girl was missing.
As the night came to a close, I went around, making sure nobody was lost in the aisles, and rooms, only to discover that the door I kept the books behind was somehow broken into, and left wide open. The sight of it alone set my heart into a desperate pace, as I could only rush to that door, and only see a brief flash of light. The image left in my head was something I will never forget. The girl who asked for the Tome, had found it. And it was left open. The flash of light had knocked me unconscious, or I had assumed I was such, as strange sights would randomly fade into my mind. "Ah… Your blood is unique… No matter, I will go forth with the ministration." A strange, yet familiar face said. 'What…? Blood ministration?' I thought, trying my hardest to speak. Of course, when I awoke, I was on a table that seemed to simply be coated in blood. The scene was all too familiar as well, as my own clothes had been changed. And they were strangely fitted to my shape, as if these clothes had been my own for years. "What am I…" As soon as I spoke, my eyes dropped to my chest. "Oh of course that's a thing." I grumbled, eyes locking on my rather generously exposed cleavage. My hands could only go to the hem of the garb, tugging fruitlessly at it to make it seem less cleavage ridden than it already was. "Just… Fine. I'll suck it up." I sighed, taking a moment to adjust my breasts, feeling that even they were fitted well into the clothes. I slid my legs off the table and brought my feet to the floor, my boots letting out a firm thump. And when I got onto my feet, my head throbbed. "A-ah!" I cried a bit, the noise echoing out of the room.
A sound let itself be known in my mind. "So you've awoken… Come… Find me…" A rather eerie voice, which sounded like a mix of some unspeakable horror, and a certain young girl's voice. "Who… Actually let's not pull this trope…" I had to stop myself. I couldn't count how many times I've read about some protagonist in a horror that's screamed out for something to identify itself, only to be sent to the floor by something else entirely. Besides, I knew this was in my head. And if my memory serves… "You're joking…" The more I took in my surroundings, and eyes adjusting, the more I recognized my surroundings. The hanging glass, the dirtied tube, the empty chair placed across the room with nothing more than a simple letter tucked half way into my coat, and hat hanging from the chair's back. I was in a memory. One of a video game I played in secret on a holiday. But was the memory my own? Or belonging to someone else? My deep thought was unfortunately interrupted by a noise from outside the room, what sounded like a faint slurping and the occasional growling. From there, I could only assume it was the worse. Even my clothes were starting to seem recognizable, and rather appropriate for the situation.
Of course, after the endeavor I had no choice but to participate in, in the ward room outside of the room I rested in, I found myself at the front door to the clinic, or what I can only assume is a clinic. It was clear where I was. "Yharnam…" I could only whisper, my head more afraid of what was to come the moment I passed those gates in front of me. I turned my back, facing back into the clinic, and returning to what would appear to be my belongings. As I slipped on the coat, I noticed a little more piled under it, a scarf, a mantle, and a small necklace. It seemed to shine rather brilliantly, even in such a dark and murky place. The only thing I felt was right to do, was to put it on. When I was fully dressed, or what I considered dressed, considering the outfit was far clearer now than before as to what it was. "Well. At least I got my favorite gear here… But my sword." I commented to myself, before looking around for a moment. "Now where's that sword…" I mumbled to myself, as I rifled through the things resting on the floor. It was rather hastily buried, but no less, I found it.
From there, I spent what felt like hours of my time, carefully traveling from street to street, swatting each man, or beast, that stood in my way. And of course, this brings my story to now. "Silver hunter… That's the fourth person who's given me that name. What could they mean by Silver Hunter?" I pondered aloud, getting lost in my thoughts for a moment. This entire situation I was in, was a little more confusing than I expect, as it felt like I was in a game, and yet, not quite there. I had to focus often too, for once putting my ears to good use. "Something's still following me…" I whispered, making sure to take care with my voice's volume this time. More times than not has my own voice gotten me in trouble. The sword was still stuck in the man, keeping him on his knees and silent of noise. My eyes scan the area for a moment, peering at every tiny detail that could be something out of place. After a while, I finally pulled my sword out, and let the man's body hit the ground, a soft splash of his own blood sounding out into the cold night air.
My ear flicks a direction for a moment, as I hear something move. "I see… So you're drawn to blood." I whisper to myself. "Well then, blood you want, blood you get." I brought my foot up from the pooled blood, and slammed it down on the arm of the body. The impact alone seemed to crush its bone, a loud cracking noise sounding out. My thigh jiggled a bit, making the stomp feel a bit rough, but it got the job done. "Come out come out… Wherever you are!" I called out, now having a disregard for anything that may overhear my voice. The call, was answered as well, with a quickened series of steps, and a roar. Unfortunate for it, my reaction was quicker than it was, and my blade was angled to deflect the charge. "Found you!" I yelled, preparing to strike its solar plexus with my fist. However, it retaliated with inhuman speed. "W-what?!"
When it countered my motions, it leapt over me and landed on the opposite end of where it came from. "How?!" I grunted, the missed blow leaving a fault in my confidence. Out of everything I've fought thus far, this was the fastest. And when I turned my head to face it, I was greeted with a disturbing sight. The thing that I struck, was nothing like the citizens I've fought before. It stood rather short, hunched over in what appeared to be a white gown with red stains. Its face was genderless, and eyes blackened from an unknown injury. And yet, when mine met with its own, I could only hear horror, screams, and pain. "The hunt is not over, fox." A familiar voice spoke out, as it brought its face further into the light. It was pale, and sickly, the light reflecting off what looked like empty sockets, where eyes should have resided. Its hair was white, as if it aged centuries before, hanging partially over its face in a rather disheveled manner. Its limbs creaked and cracked, behaving more like a puppet than a person. "What are you...?" I whispered, trying to recall such a familiar figure. Could this have been the girl? Was she killed in the room before I woke up here? My mind raced with questions, each one directed toward the moment I was knocked out.
"You've found me… Silver Hunter…" It spoke, a hollowed voice carrying the words as if through a wooden pipe. "What will you do now?" The last words it spoke startled me. It finally clicked. This was the girl from the college. This is what she became, and whatever held her mind had long since killed her. She was merely a puppet now, a surrogate to an elder god with a crude sense of humor. "Will you dance the waltz of fates?" It asked. I couldn't respond, stricken in fear and sweating from the stress. I could feel my mind slipping from mere presence alone, the faint image of something greater behind it coming to opacity. "S-stop… STOP!" I cried, charging forward at it. The closer I grew, the more clear that creature became. It was a corpse long since gone, a greater body sprouting from its back and lanky limbs suspending itself just enough to make the girl appear to be standing. Of course, the moment I finally struck it, the last sight my eyes could behold, was thousands of pearly white slugs, showing from the corpses severed head.
I jolted awake, a cold sweat on my skin. "Hrauh!" I panted, clenching my chest. My sudden motion of sitting up sent the sweat on my face onto the sheets in front of me. "W-What?!" I looked around in panic, as I found myself in my bedroom. I was undressed down to a soaked button up shirt and panties. And I could only scan the room a few times over. "Niah! Relax! You're okay you're okay!" A familiar voice called out in a panicked tone. It was my newer assistant, Maribel. "I found you crawling on the floor in agony in the commons of your library, screaming about slugs and wolves… Are you alright?" She asked, her soft hazel eyes meeting mine. "M-my glasses… P-please…" I whined, shivering as I slowly embraced myself. She of course, obeyed that request. She had no choice, as I was in far less of a condition to do anything but sob quietly. My mind felt like it was rotting, slowly but surely. And the memory of that moment, all of the moments, resonated in my head like a record on loop. "My head…" I cried quietly. "Yes Niah? Do you wish for me to get some pain meds for you?" She asked, sounding, for once, like the sweet mother I was always to her. "Y-yes… Please…" I pleaded softly, watching her get up to retrieve the meds. "Do you think you've escaped me…?" That same hollowed voice whispered in my ears. My ears perked and I felt paralyzed, as a pair of pale hands slowly wrap around my head, fingers obscuring my eyes.
"In due time, Silver Hunter… We will meet again… And finish our waltz…"