FAQ including stock usage terms
Visit the
BlockBusters Chatroom
to work out those artist blockages, burnouts and frustrations. Come talk about your problems or just hang out and have fun! Everyone is welcome and sometimes just goofing off releases some of the stress.
icon by
Lyastri
Thanks to everyone for the advice and the sweet and funny comments about my boys. I'm really sad to report that Lamarck died today from his injuries. He tried his best to survive and we tried our best to give him every chance but... it wasn't enough. I didn't think it would hit me so hard but I've been in tears all day. I feel like I really let him down. I know baby birds are fragile and nature is harsh but even so, I thought we could save him. Please-- no comments on "birdie heaven" or any of that fluff. Just wanted to let you know he's gone.
Newton is still doing well and his eyes are open even more today. Also I think he'll lose his feather sheath thingies in the next day or so.
THE BACK STORY:
My husband-- the sweetest guy I know-- found two baby birds whose nest had blown out of a tree (apparently) and who were the only survivors of a clutch of five. (One other survivor got run over before
Cobweb-stock
could pull over and rescue it.) They're bald, ugly, wobbly and I love 'em already. We don't know what species of bird they are, only that they are insectivores (beak shape) and gonna be fairly big (feet size.) We're hand-feeding them baby bird formula and keeping them warm and clean so hopefully they won't die. We named one "Newton" and the other "Lamarck" (as in Isaac Newton and Jean-Baptise Lamarck.) I'll take photos when they're more birdly in appearance. And we're making a video diary of our efforts. They seem pretty tough so I'm hopeful they'll thrive.
In other news... eh. There is no other news. I need sleep. Hopefully tonight I won't be waking up every hour on the hour to see if it's time to feed them. Unlike human babies, birds aren't wired for nighttime feedings, but at the first light of day.... "peep! peep! peep!"
Cute little critters!

Bird themed art using my stock: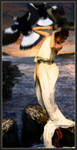 :thumb53796270: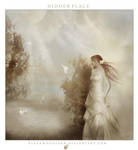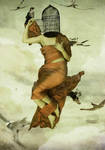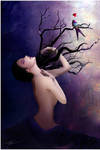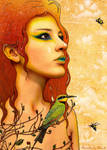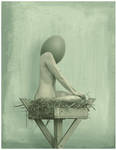 Save The World - One Click At A Time!
On each of these websites, you can click a button to support the cause -- each click creates funding, and costs you nothing! Bookmark these sites, and click once a day!