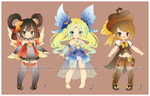 asdfghjk Sorry for spamming my adopt in your in-boxes guys x.x I just want to make sure the people interested on the characters can keep track of the auction

I'm giving 3 extra hours because of timezone and stuff...
The winners have 48 hours to pay me the points..
There's no need to comment in this journal btw
Thanks for reading!