---------------------------------------------------------------------------------------------
---------------------------------------------------------------------------------------------
[FB PAGE] - [Instagram] - [FurAffinity] - [Twitch] - [Youtube] - [Ko-fi]------------------------------------------------------------------------------------------------------------------------------------------------------------------------------------------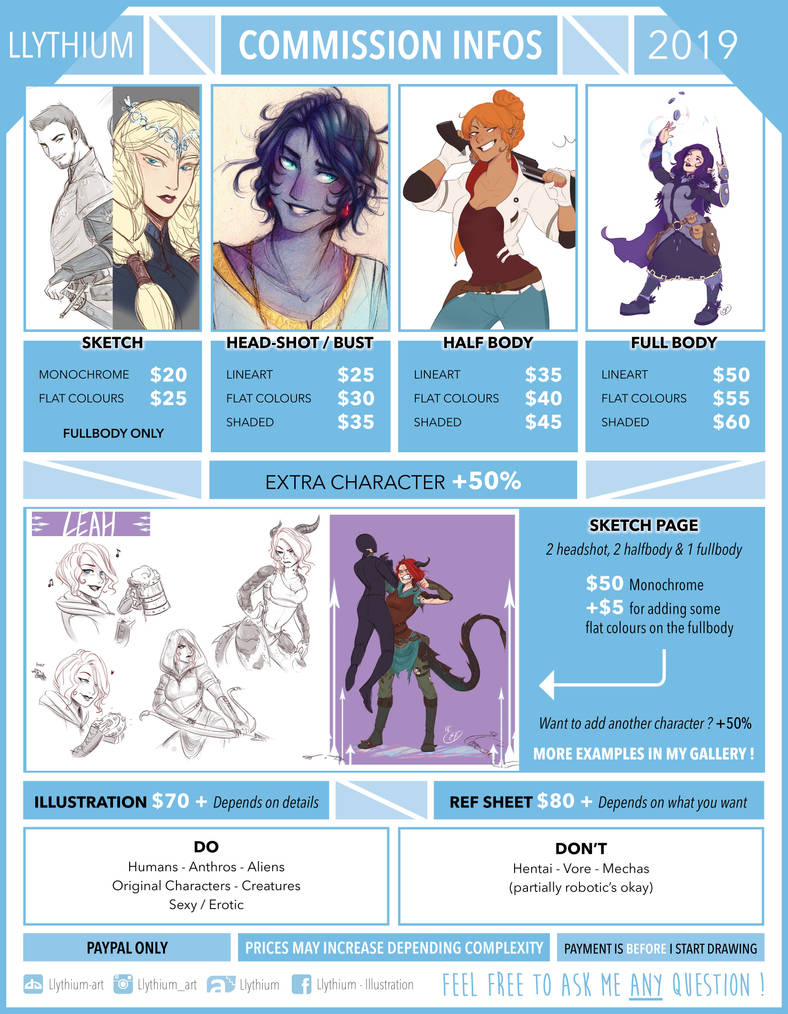 I DO


Original character • Human • Anthro • Alien • Creature • Fanart • Couples • Sexy • Erotic • etc



I DON'T


Porn/Hentai • Vore • Mecha

(Robotic parts are ok but no full mecha) - (I'm okay with some fetishes as bondage, but not with feet for example. Just ask )
HOW TO ORDER : By note
- Note title :
[Commission] Type
-
Type :
(Sketch - Headshot - Halfbody...)
-
Reference pictures :
(If you have some, and if not, be as descriptive as you can !)
-
What you want :
(Idea, colours wanted, clothes, position... etc)
-
About your character(s) :
(His/her personnality, if more than one character the relationship between them, etc...)
-
Payment :
(Paypal)
_____________________________________________________________________________________________


Terms / Conditions

EN -
Those commissions are for personal use ONLY.
If you want to use your commission as a commercial project, we may discuss the price.
I'll always send you a sketch before starting the final product (except for a sketch commission obviously), so you can tell me what is bothering you or not (you'll see the different steps).
Once i've accepted your commission, it should be done within the month MAXIMUM. Obviously, it depends on the waiting list.
I have the right to publish the commissions done for you on any websites, unless you want it to be private (state it in the ordering note, the price may slightly change a bit).
Payment is before i start your commission.

No refunds after payment if i started your commission, unless if i'm unable to finish it for some reasons.

I reserve the right to refuse a commission.
FR -
Ces commissions sont pour un usage strictement personnel.
Si vous désirez vous en servir pour un projet commercial, nous pouvons discuter du prix.
Je vous enverrais toujours un croquis avant de commencer le final (hormis les commissions sketch naturellement), ainsi vous pourrez me dire ce qui vous dérange ou non (vous verrez les différentes étapes).
Une fois que j'ai accepté votre commission, elle devrait être achevée dans le mois MAXIMUM. Cela dépend de la liste d'attente, naturellement.
J'ai le droit de poster les commissions faites sur n'importe quel réseau social, à moins que vous ne souhaitez qu'elle reste de l'ordre du privé (précisez-le dans la note).
Le paiement se fait avant que je ne commence votre commission.

Aucun remboursement après paiement si j'ai commencé votre commission, à moins que je ne sois incapable de la terminer pour x raisons.

Je me réserve le droit de refuser une commission.