I'm using my points to get 100,000 llama badges on
llamalist
and
CoolKaius
.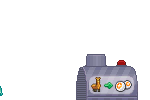 Donate
any amount
of points to my main account
CoolKaius
only.
Donate any amount of points to get:
- 34 llama badges, one time only
- I will give badges on a monthly basis and notify you of which accounts you got llamas from
-
llama-list
features are on hiatus.
Click here
to learn more. I will resume features to everyone who has donated as soon as I am able to
- Feel free to note me with any questions, concerns, or refund requests
Free Llama Journal
[Skin] by
AskGooroo