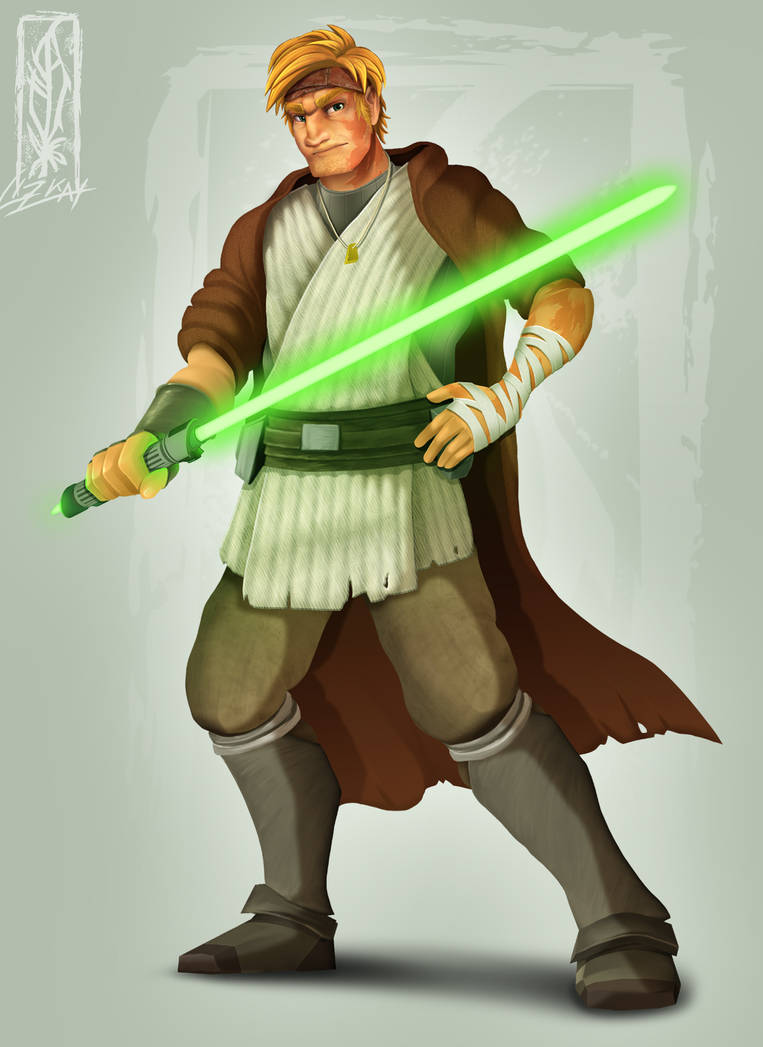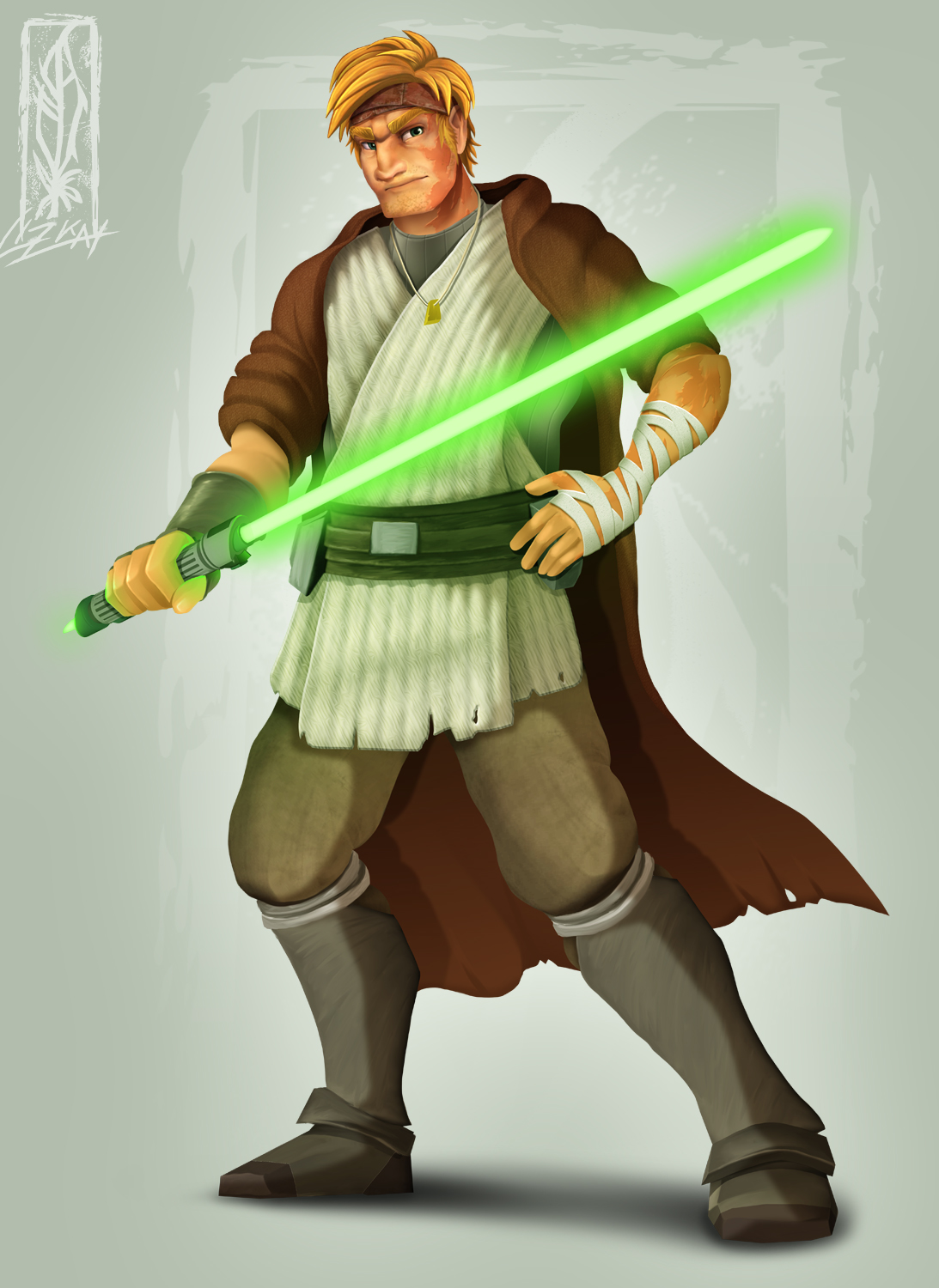 Watch
always wanted to draw him in that Star Wars Clone Wars Series Style. Emulating that limited 3D Render Style was kinda tricky but worked out... somehow... in the end

For those wondering, yes that lightsaber has a little saber-part at the other end of the hilt as well, it's used as a precision laser tip to cut crystals as well as a key for activating his ship.
His hole left side of the body, including the face is covered with acid burn scars, also limits the useage of his whole left arm as well.
FULLVIEW =


Ok - NOW I get what that tiny saber bit was for.
Which reminds me of something I read in, "Splinter of the Mind's Eye".
I think it was Luke who dialed his saber blade down to the reach of a cutting torch
for some utility work.
Makes sense now.

Reply

I usually add at least a little sentence about that part of the saber in his description because people always wonder...

I think I also read about a similar light saber in some expanded universe stuff of StarWars but I can't recall where it was. He mainly uses it as a so called 'key blade' and opens locked doors and activates his ship with the small blade part. (the lock is actually a little labyrinth-shaped hole where you have to follow the correct path with the small saber to get a door to open or the ship to activate...)
and it's also a precision laser

Reply

Sehr cool geworden!

Mir gefällt diese Mischung aus Clone Wars-Stil mit sehr realistischer Kolorierung/Schattierung ungemein gut!
Daumen hoch!
Reply

Danke!

diese 'matten' Oberflächen, da tu' ich mir noch schwer mit dem painten, ich mache alles gern mit krassen Glanzpunkten und starkem Kontrast, aber bei dem Clone Wars Stil hat alles so matte, 'Wisch'-texturen, ganz kireg ich das noch nicht hin

hat aber Spaß gemacht!

PS.: lasse mir seinen Key-Lightsaber gerade in 'echt' bauen, bin schon neugierig wie der wird!

Reply

Auf jeden Fall ist dir das gut gelungen!

Beide Stile haben so ihren Reiz.
Oooooh, du musst dann unbedingt mal Fotos zeigen! Das klingt echt gut! Wo lässt du das machen? *_*
Reply

Danke

Bei
Argentumsabers
, bin schon sehr neugierig wie es wird, bekommt auch das ganze FX Paket inklusive Sound

Jedi Padawan Outfit ist auch gerade in der Mache, wird eine Mischung aus Yan's und Obi-Wans (aus CloneWars) Jedi-Kittel, lass ich mir auch machen, da ich selber schon an 2 anderen Outfits nähe und bastle

hoffe das geht sich alles bis August aus, weil da ist bei uns wieder eine kleine Con mit StarWars Special angekündigt

da würde das perfekt passen!
Reply

Oha, das sieht cool aus! *_* Wenn ich mal etwas Geld über habe, wäre das echt mal eine coole Anschaffung

Und für ein Cosplay ist so ein Saber natürlich perfekt!

Das wird sicher toll!
Reply

Ich bin schon so neugierig

mal schauen wie's wird. Hier ist übrigens der Plan von dem Padawan Outfit:
Padawan Clothing YanOthaBreg plan
ich möchte nur irgendwie nicht als gewöhnlicher 'Mensch' durchgehen, jetzt suche ich gerade nach einer StarWars Alien-rasse die ohne viel Anatomischen Hick-Hack umzusetzen ist

Reply

Das glaube ich dir!

Ich wäre auch sehr neugierig und hibbelig xD
Die Skizzen für die Kleidung sehen auch schon echt nett aus! Das wird was!

Heheh ... ich wäre ja immer für Kaleesh ;D
Oder sonst Twileks, aber da müsste man die Lekku bauen und das ist sicher nicht ohne ... hach, ich wünschte ich wäre handwerklich etwas begabter xD
Reply

I würd ja am liebsten einen Zabrak machen, aber keinen Schimmer wie man das mit der Glatze und den Hörnern hinkriegen soll

das Anmalen ist ja fast noch das Leichteste

Als Kaleesh, wenn man jetzt auf nicht-zehen-geher Beine setzt, würde ja fast eine fette passende Maske + Kapuze reichen

Ich bin im Moment wirklich drauf und dran was mit einer Maske zu machen, evtl. nachfragen ob ich bei meiner Kleidung noch eine Kapuze dran haben kann, wäre gar nicht blöd, generell vereinfachen Kapuzen eine Aufmachung ohnehin enorm

Im Moment bin ich vollends mit meinem Wergreif handwerklich besetzt, da wird sich auch zeigen ob meine 'Leistungen' nicht komplett für die Tonne sind

Reply
(1 Reply)

I like the idea of the smaller end of the lightsaber for crystal cutting!
Reply

Thank you!


I am actually getting that Lightsaber created for real! Can't wait to get it!


Reply