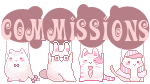 Some people have been asking me if I take Commissions, so I decided to start taking them. In this entry I will bring all the information you need to know before asking me for a commsision, I hope you find it helpful:

Pricing:

The prices are in

USD

and will vary depending of the amount of details of the drawing.

Detailed backgrounds and extra characters may be subject to an extra charge.

Payment:
Full payments first before the requested art and they are made via

.

Order:
I need a visual reference from the drawing you want (if are OC's for example), I don't work with

typed-up explanations.

The commissions are ONLY for personal use.

Give me the respective credit for the commission, the OC's are yours but not the artwork.
I don't draw hentai/porn or offensive themes.