878 Favourites
126 Comments
25K Views
Ok, ok, ok, I KNOW it's December and "Maria's First Christmas" is what you think of first! Don't worry, the new page just finished inking, I just need to colour it, and I have reasons why it took this long.
At the first of December, lots of things happened IRL, such as Christmas preparation, job deadline, sewing etc. In a way, I spent more time in reality than on computer screen.
Anyway, this is also something I have wanted to draw, especially in
FAKE ANIME
style.
Getting Benonic and Carrie embarrassed/speechless. LOL
Cause I love this couple so much, definitely one of my top 3 shippings!
If you couldn't guess, this is based on an unspoken scene in this chapter of
"Secret of Wings"
(it's REALLY a small mention, but totally worth it):
Secret of the Wings Chapter 4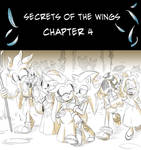 Secret of the Wings Part 4

By Arecus Conberma (Liyu Conberma)


Sapphire would have been in the midst of a dream after they'd returned to the bed for nearly fifteen minutes, but she knew her husband was still awake. He pressed close to her back, fingers thoughtfully running down one long length of her quills over and over.
"Kaze, if you can't sleep, just tell me what's on your mind."
His hand stilled and after a few seconds he gave a sigh. "Masks, I suppose."
The answer was unexpected and she shifted to see his troubled, multi-coloured eyes. "Masks?"
"I watched my father die, Sapphire," he whispered, propping himself up on one elbow. "I was very good at running away from that pain, never facing it. Whenever I couldn't fly off, I put on a mask to hide from it. After…after what happened on Mobius, I couldn't resort to that at all. I tried to stop feeling anything and every
Hope you enjoy this for a while, and fingers crossed I could get the latest page of
"Maria's First Christmas"
soon, hopefully within next week.
---
Sonic and Shadow the Hedgehogs belong to

Benonic the Hedgehog and Carrie the Rabbit belong to ME

Image details
Image size
1280x3112px 3.86 MB