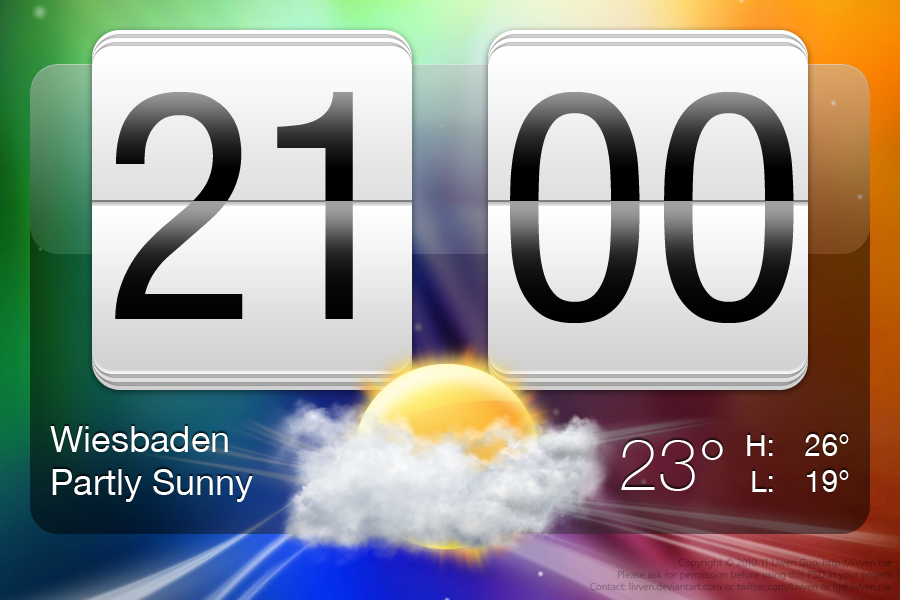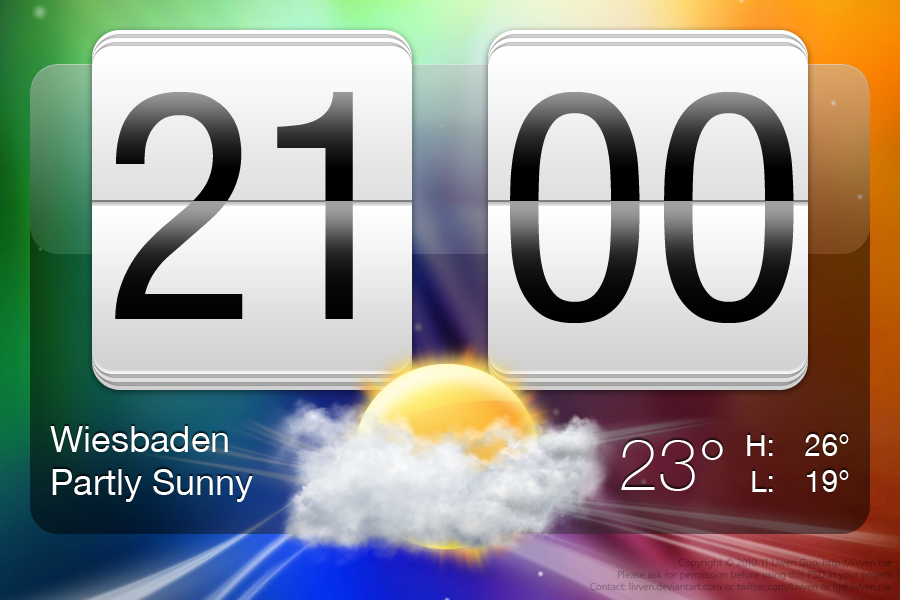 Watch
Download
This is the new version of my
old HTC Sense Clock PSD
. Changes:
1. Re-did the boxes (on top of which the digits are located) to make them cleaner.
2. Changed the font for the clock digits to the condensed version (instead of condensing the standard font in Photoshop), to make them look closer to the original (and thus better).
3. Reduced the gloss effect of the panel and drop shadow of the boxes to make them blend better with other backgrounds.
4. Various small modifications (added new Sense-background, re-organized some layers, and changed the time and temperature)
________
I made a PSD of the rather iconic flipclock/weather panel HTC has been using in their Sense interface on its more recent handsets. This particular version is modeled after that of the HTC HD2 (which is the most beautiful, in my opinion).
It is completely vector-based, except for the weather icon. All necessary fonts are included in the download.
This PSD is primarily intended for educational purposes, but might also be useful when creating custom skins.
In that case, be sure to give me credit by linking to this page.
Download
If you like my work and want to support me, please add a favourite

and comment. To stay updated you can
follow me on Twitter
.
Thank you!

how do i download it to my iphone 4?

Reply

You can't, this is only a PSD for graphic designers. But I'm aware of a number of iOS themes that use this PSD and have been posted on sites like ModMyi.
Reply

Awesome! Would be nice if you could link to this page somewhere in your group

BTW never seen HTC Home before, just downloaded it. What can I say, it's really, really cool!
Reply

hi, where did you get the weather icons? Ive been looking all over for a full set but cant find any
Reply

Not sure whether I downloaded them from somewhere or pulled them from a ROM myself. If you want I can dig around and upload a full set.
Reply

Hi
No worries then, I downloaded beweather pro from google play today and you can download loads of weather icon packs which are just stored as zip archives

Reply

Reply

Reply

Reply