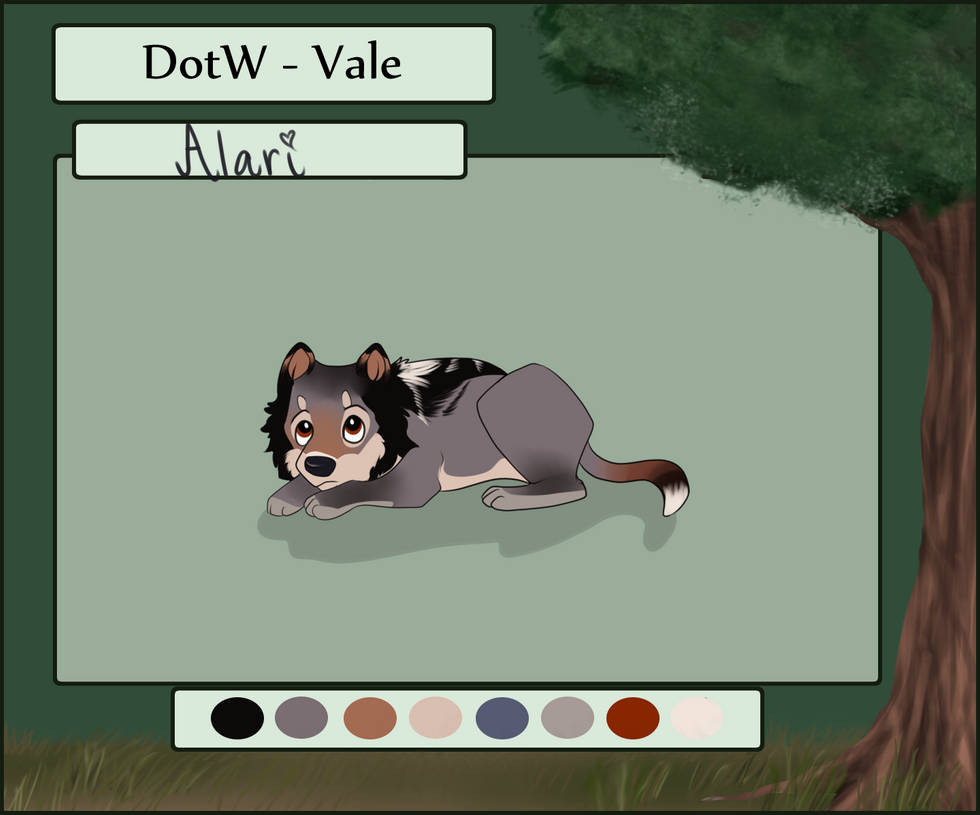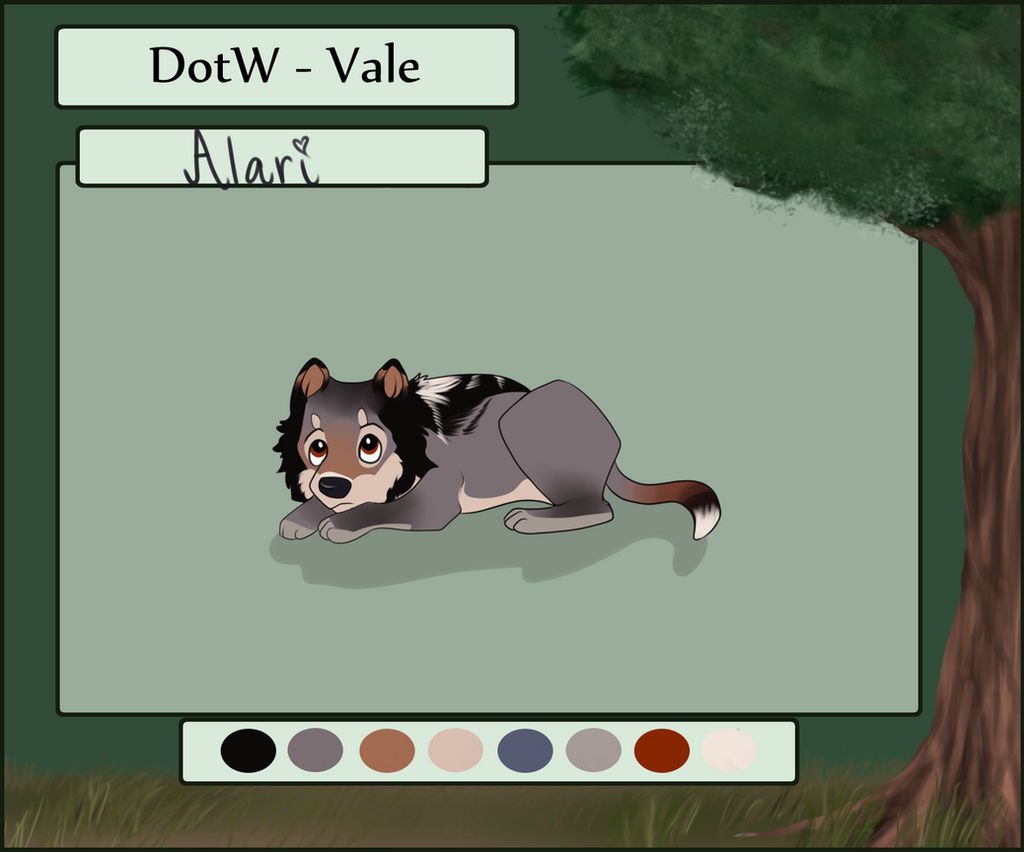 Watch
Please Refer to Alari's original Design by Tazihound :
See Here Click the S

Name: Alari (A•lar•e)
Age: Pup
Gender: Female
Height: Avg. Pup Height (Adult Height 32'')
Weight: Avg. Pup Weight (Adult Weight 72 lbs.)
Build: Alari as a pup has a very proportional build, nothing too special. As she grows she will begin to develop less muscle mass than a wolf should, however this only encourages her to pursue the medic task more.

Territory: Vale Alari is a lil' Valerian pup
Family: Loki (Adoptive Brother)
Rank: Too young

Personality:
BRAVE
Alari is a brave wolf, and is always willing to throw herself in danger if it means letting herself get hurt. She is lionhearted and does not show any signs of fear. This is often one of her worst traits, because with her bravery comes her cocky attitude. She believes she is always right, and won't back down until proved wrong.
SELF RIGHTEOUS
Alari is very narrow minded, and likes to believe she knows what is best. As a future medic, she wants to believe that she knows what to do in risky situations without having to second guess her self. She thinks that her own beliefs are far more important than anyone else's in the pack, and is willing to shove them down the throat of her pack members.
DEDICATED
Her dedication will prove worthy when her pack needs her most. She will stick to something and continue to pursue it even in the harshest of conditions. She is heavily influenced by her dedication to the pack, and often times will not be herself in order for the pack to succeed as they should.
PLAYFUL
As a pup should be, Alari is very playful and is usually not serious. She is always willing to play with packmates in the most serious of situations and will play with almost anything. She has no problem meeting strangers and inviting them for a game of tag

Pre-Group History:
Alari was born amist the pack's transfer of Alphas, and it caused most of her puphood to become a blur. Alari was born from her birth father, Feldspar, a strong Alpha who never got the chance to see Alari herself outside the womb. Alari's mother was an outspoken female, who solely had used her beauty to become one of the lucky females who was chosen to bare the Alpha's pups. She was not fit to be a mother, and when the pack was overthrown by a new Alpha, Alari's mother would sacrifice her pups up in order for herself to stay alive. As the new Alpha Hav took over the pack, Alari was to be removed from the pack territory and left to die. She was saved by Loki, a now big brother figure in her life.

Group History:

Other: Anything else you'd like to add.