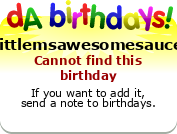 Hello!
You might recognize me from my previous DeviantArt account Dramatalia4life, which got short-lived.
I am Singaporean/German, and I am adopted from Indonesia, but I lived in Singapore my whole life.
I LOVE Total Drama! Here are my favorite characters:


















(Favorite Ridonculous Race Teams)







Proud to be a weeaboo!












I am also a Hatsune Miku fan!



















I am also a big Eurovision fan!


And I am really proud to be a Singaporean/German!







:thumb81467123:
Other Info about me:
My Horoscope is Libra:

And my Chinese Animal is Horse:

So my birthday is on October 15, 2002. Please remember!
Favourite Movies
The Last Unicorn (1982), anything anime
Favourite TV Shows
Total Drama and Hetalia and Eurovision (mainly)
Favourite Bands / Musical Artists
Electro (Iamamiwhoami, Kerli, etc), Classical, Pop (Western, Singaporean, J-pop)
Favourite Books
The Last Unicorn by Peter S Beagle
Favourite Writers
Peter S Beagle,
Favourite Games
Hanako Games
Favourite Gaming Platform
Steam
Other Interests
Singing, writing stories