Hey guys! I've set up a new adoptable account so I can stop spamming this one with characters for sale!
www.deviantart.com/owlette-ado…
I'm starting things off with a breedable adoption sale, check it out here: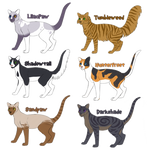 I will also be eventually adding free lines and bases, down the road -- so be sure to watch!