Sketching is taking up most of my drawing time nowadays, therefore I decided to go ahead and offer up some cheap and fast sketch commissions.
What I offer you guys is a colorful sketch commission drawn with either erasable colored pencils or erasable/non erasable pens. You pick the style you like most, you pick your colors, subject, and your commission is served just like some popular subs I won't name.

Drawings will be made in a 4x6 format, portrait or landscape, and will be sent in a format easy for you to put on a USB stick and get printed at your local photo shop. That way, you can put it on your wall for your very own personal enjoyment if you so desire.
Price is 10$CAN and payment can be sent via Paypal. I will draw people, beasts, cute, epic, dark, funny, name it and I'll tell you if I'll do it. Don't bother if you're into hardcore gory or triple X stuff, I won't even consider it. I ask for payment upfront, since it's quite a small amount, but don't let it bother you. I will put love and care in each and every sketch given. I like to take the time a piece needs and love to work with details. Be warned though that I will work at this price with reasonable requests; you can't cram that many characters in a 4x6, so multi-characters sketches or detailed backgrounds might justify a raise in rates.
Details for the colors and styles can be found here :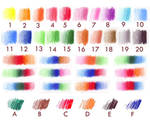 Examples of the three sketch styles :
A :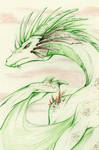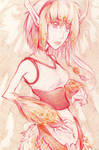 B :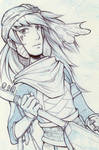 C :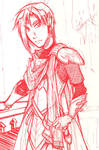 Just send me a not with the following informations : What you would like to have drawn, any description or reference that might be relevant, and what style and colors you would like. I'll then answer you to confirm if everything is good, any questions I might have and the payment information. I'll put you in the queue as soon as I receive payment, and notify you when I start working on the sketch.
Any other question you might have, don't hesitate to ask in the comments or in a note!
Right now, I could really use both the fun of working for other people and some extra money to get through my move and it's costs, so even just sharing this journal to encourage me will help a lot!