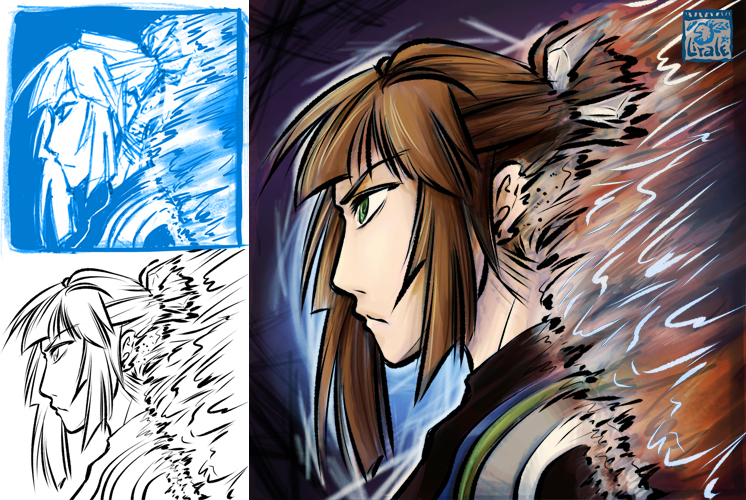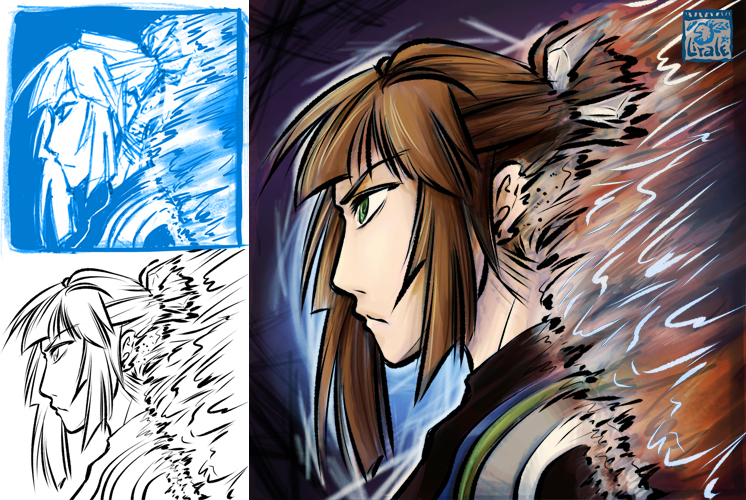 Watch
Hola!
I've decided to try my hand at the wonderfully interesting Sci-Fi contest over at Line Webtoon! So here I present you my newest title, Shimmering Road, a Sci-Fi mystery about self-discovery and the dangers of a Road everyone thinks safe...
Please discover the serie here
www.webtoons.com/en/challenge/…
and if you like what you read please vote, like and share!
This piece was a delicious mix of Frixion pen sketching, Manga Studio 5 Ex inking and OpenCanvas colouring!

hello, i'm new using OpenCanvas. could you tell me how to i upload my picture to here? i tried to look up from internet but i didn't understand shit. Please, it would help a lot

Reply

Sure! Here's a few easy steps :
1- Save your drawing! Or open it up ;D
2- Flatten (Menu Layer->Flatten Visible) and resize (Menu Image->Image Size...) to a size suitable for Internet publishing (go however you feel like, but as a rule of thumb stuff over 1000px wide is bothersome to viewers, altough with DA it's not that much of an issue)
3- File->Save as... Choose JPEG as the file type in the drop-down menu and choose both a location on your computer and a name for the file.
4- Close your drawing and when prompted to save click "Do not save" to make sure you don't compromise your high-res file.
5- Here on DA click the big SUBMIT green button in the top (a bit left of the middle of the top bar) and then follow the directives to find the file on your PC and upload it here.
Voilà!

Reply

I was excited to see you post a comic again!! *O*
will you put it only on webtoons? how's the website, do you like it?? im only on tapastic rn :0
Reply

He he! Feels good to be panelin' once again!

The website is pretty good, simple to use, you can be up in seconds and you can edit posts, save drafts for future updates, etc. It's worth giving the challenge league a shot as they promise to pick one from there each month for official publishing. From what I had read in months past it's pretty harsh to rank in (some trolls seem to roam around rating 0's, I saw a few comments from challenge league artists) which is sad but otherwise I'd recommend it, definitely.

Tapastic seems good! I've been looking at them for a while too. How's your experience so far?
Reply

tapastic is a little nicer to its readers than its creators (I've been on it for a little over a year now) in the way that... the website makes it easy to find comics to read and whatever, but stuff creators need (like a working INBOX) are pretty lacking.. they're better for the scrolling comics, and they have this weird thing against comics made to be printed out? also we've been waiting for super long for the option to have two authors... BUT they're pretty user friendly and you can join the support program and ad revenue and actually get money from there so that's nice c:

the whining was mostly to put things in perspective of what bothers me with them, but I mean no website is ever perfect. oh, and their strongest genres are slice of life and journal comics :'Y! there's a LOT of those, but not many stories that are very long and follow a narrative (like what I'm working on)

in other news my buffer is coming super well tho so SOON I WILL JOIN THE COOL KIDS AND PUBLISH A WEBCOMIC TOO!!!!
Reply

I think the slice of life/journal comics are the easiest to produce here in North America, and they potentially reach out the largest audience. It's pretty strong too in Line Webtoons, that and ROMANCE omg lol
AWESOME thing that buffer will be!

That's very good to hear! Any set date in mind?
Reply

Yeah, I gotcha!! In the end they always reach the "well what do I draw now" point tho haha I would suck coming up with new ideas all the time.

And yes! Today I'm drawing my 50th page, WHOO MILESTONE. I'll be done with chapter 1 in 4.5 weeks, but the date I picked is september 17th :'> it was the original script's birthday AND the date I finished it a year later, so it's special!
Reply

Now THAT'S what I call a buffer ahahah And the date you picked is just perfect, is always so much better when it has strong emotional connection like that!

(plus everyone will be back in school and looking for entertainment XD)
Reply

AND its after con season HEH!! Speaking of which I am dying at comic con im so tired x'D my family is kinda exhausting me this is why i never talk about cons to them lmao whoops i just want to be back to being a hermit already haha
Reply

yey glad to see you around miss, ill check it out
Reply

Awesome!

Reply

Looks good miss, i didnt knew you like sci fi storyes.
Reply

Yup! I'm totally a trekkie, and I love many more classics like Star Wars, 5th Element, Minority Report, Alien, and so many more ahah

The novel I'm working on is also totally Sci-fi ;D I just didn't get around to draw much until now. :3
Reply

Thats great miss, and i like the type of story you are doing, that gender of storyes has so many oportunities, i haev some i liek to comish you to, since last time you got so busy after just one, but ill waith for you to have the time now that your doing better.
Reply