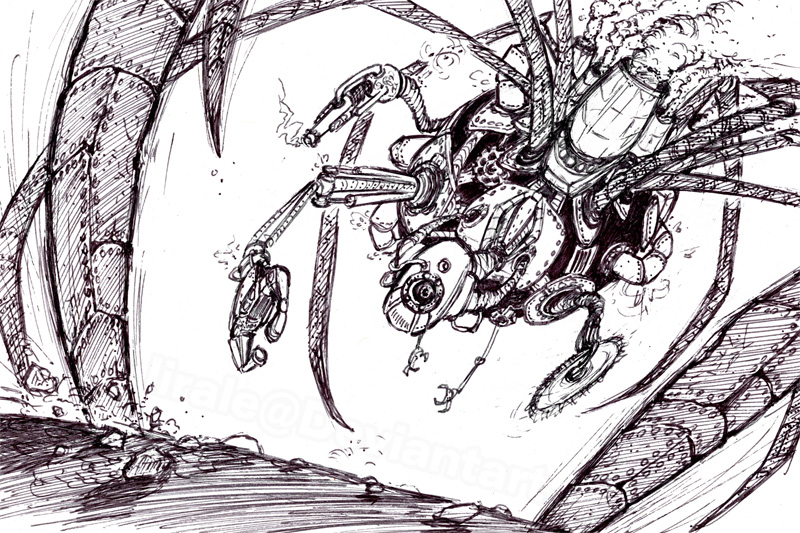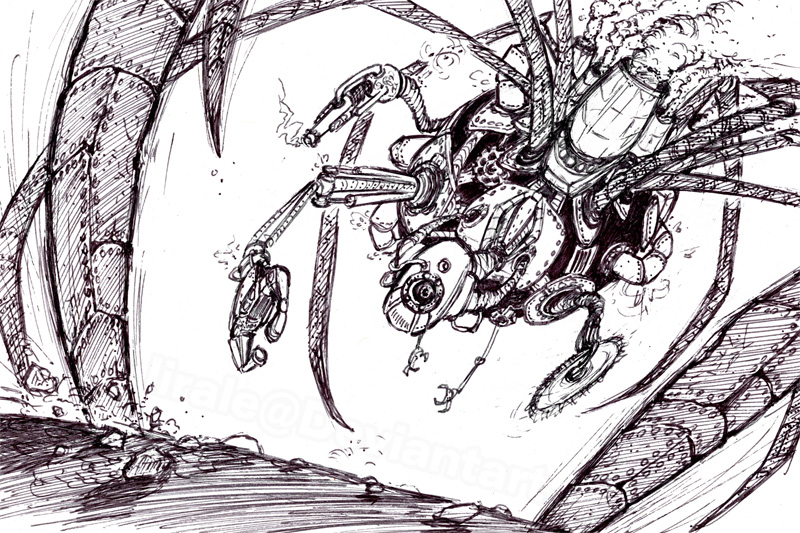 Watch
Finally, one of my Style C Mix-your-own-commissions!

(Info here :
[link]
)
Drawn for

, I've worked on my first-ever steampunk mecha. It was a TON of fun XD After all, I'm a sucker for details. I'm not machine expert so I expect quite a few things to look wonky, but heck, I had fun anyways

Drawn with a Frixion pen. *hugs the pen*

Reply

hahah, cest un peu comme le château ambulant, mais version «evil»
Reply

Absolutely glorious! I've been using this on my tumblr to represent my OC, the DEACON AI Supercomputer (Data Entity Active Countermeasure and Operational Nullifier).
I made sure to plug you, too!

By the way, the little dude, which I dubbed the MINI Drone (The MINI is an ancronym too, but I've gone and forgotten what it stands for

) proved hugely popular as well, with his attempts to conquer humanity by making pewpewpew noises and attaching people's toes.

Reply

I love its name, absolutely fitting! XD And you had me laughing to tears, saying the MINI attacks people's toes XD I'm frantically picturing it in my head and making pewpew noises XD
And thanks for the plug!

P.S. I've hidden the MINI in my gallery as well XD A little hommage to the awesome reference you drew me! XD
Reply

Miniature Interaction Nanotech Interface Drone! That's what it stood fore! Haha!

I wasn't able to look it up on my tumblr last night, as it was down for maintenance, but there you go. And no problem.

Reply

This drawing frightens me while also piquing my curiosity. I'd call that a win.
Reply

I'm scaring someone! Yaaaay!

*says the girl who tries to draw fearsome dragons but keeps being told they look cute* XD
Reply

So this was keepign you busy no surprise looks amazing, glados can waaalk scary.
Reply