Traditionally Mythical: Griffin
Griffin or Gryphon
""The Gryphes are so called because they are winged quadrupeds. This kind of wild beast is found in the Hyperborean Mountains. In every part of their body they are lions, and in wings and heads are like eagles, and they are fierce enemies of horses. Moreover they tear men to pieces."."
- Isidore of Seville
"After that comes a region of very rich soil but quite uninhabitable because griffins, a savage and tenacious breed of wild beasts, love- to an amazing degree- the gold that is mined from deep within the earth there, and because they guard it with an amazing hostility to those who set foot there."
- Pomponius Mela
"Grypas (Griffins), Aristeas of Prokonnesos says in his poem, fight for the gold with the Arimaspoi beyond the Issedones. The gold which the Grypas guard, he says, comes out of the earth; the Arimaspoi are men all born with one eye; Grypas are beasts like lions, but with the beak and wings of an eagle."
-PausaniasDrawing

:thumb111512359:
:thumb114134228:
:thumb47116538:
:thumb73495994: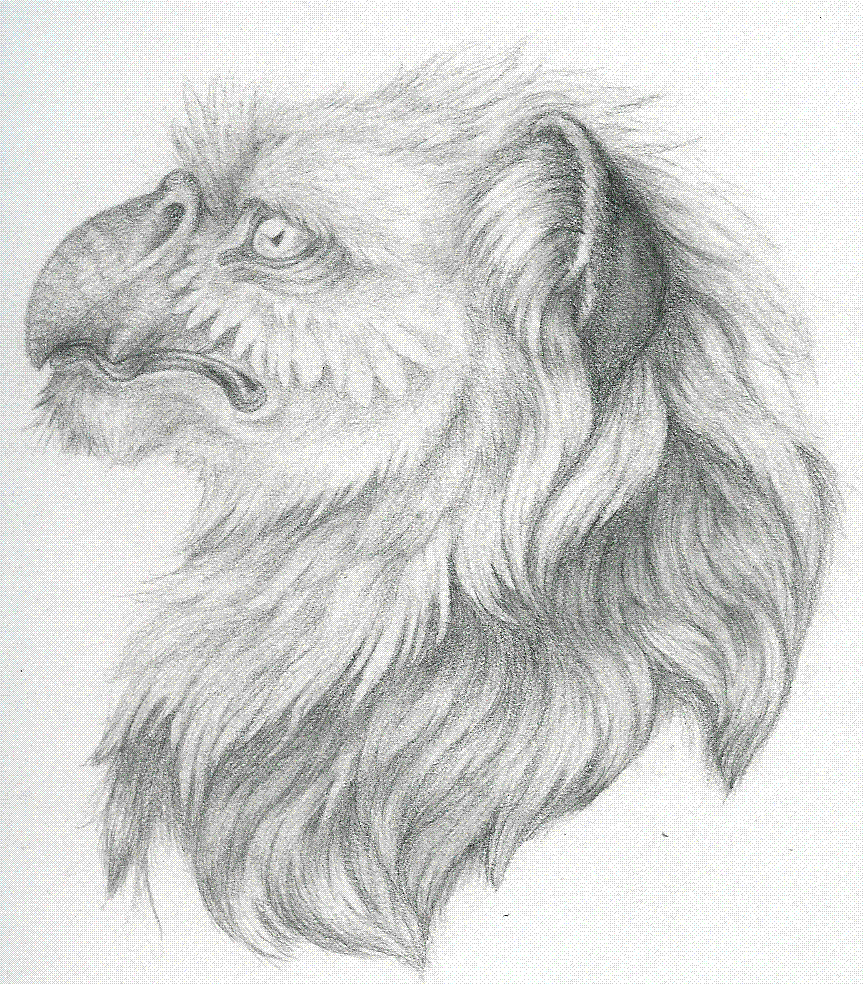 :thumb103249370: :thumb27926257:
:thumb107480049:
:thumb17953236:
:thumb83562891:
:thumb91457409: :thumb37773138:
:thumb63248747: :thumb106246844:
:thumb28138914:
:thumb146392941:
:thumb150649309:
:thumb13630486: :thumb150930352: :thumb14083701:
:thumb103847571:
:thumb97954035:
:thumb127285213:



Painting
:thumb9583149:
:thumb5694420:
:thumb17373480: :thumb11791479:
:thumb85208214:


Mixed Media

:thumb131713435: :thumb89473047:
:thumb105102319:
:thumb105200976:
:thumb33019725:
:thumb21639800:
:thumb76194518:
:thumb131713435:



Sculpture/ Artisan Crafts

Gryphon Bust by justindzs :thumb110229779: Gryphon Bust by JaDisArt :thumb57284486: Sleeping Gryphon - commission by CandaceBell Gryphon Complete by Gingco Val - Gryphon by DragonLadyCels :thumb105705149: Gryphon bust by rah-bop Jungle Gryphon by Yamidragon PYO Windstone Gryph - Starling by sunhawk :thumb138748533: Watching You by CandaceBell Phoenix by CandaceBell griffon sculpture 1 by dancing-dragon Griffin by Ban-Sidhe Griffin by mea777 Gryphon by guspath Gryphon Helmet by Azmal Griffin Mask by Foxfeather248 Faceoff by Falco-sparverius Windstone PYO Gryphon by tyreenya Black Gryphon Feather Pen by ChaeyAhne Grey Griffin by Ban-Sidhe Vox Griffin Pendant by Foxfeather248


Printing/Etching/Miscellaneous
:thumb149237842: Griffin by Viking-Princess Griffin by Manaliabrid Griffin by GriffStar Griffin by Pointy-Eared-Fiend The Light Griffin by LaurasMuse

Previous Articles:
Unicorn
Kirin

Next Article: Phoenix