Journal Entry:
Mon May 28, 2012, 10:09 AM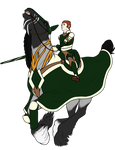 REGISTRATION EXTENDED WTS 3rd Annual Summer Joust
Registration: April 7 - May 26 June 23
Running: June 2 - July 14 June 30 - August 11
Event Type: Single Class
Class/Classes: Jousting
Restrictions: Draft Only; Height Requirement 15HH
Leases Available: Yes

The event has been delayed and registration extended as there are not enough entrants! Spread the word, anyone who advertises gets 5 bonus points towards their qualifying image! If you get someone else to sign up then your entry fee is reduced to 10 (TEN)

(from 40), the difference will be refunded to those who've already paid.


:iconLOUHD: Sponsored
:iconHARPG-Equestrians: Sanctioned
:iconO-S-H-S: Sanctioned
:icontiwha: :iconda-igghr: :iconall-warhorses:
Location
The Wolf's Tail Ranch & Stables is located in the peaceful, pastoral beauty of low rolling hills and farm dotted plains of the Minnesota River Valley in southwestern Minnesota. The ranch is an ecologically friendly, wor
Resources
Joust track turn-around
Height chart
Jouster armor diagram
Joust barding diagram
Lance diagram
Jousting diagram
Judges

lionsilverwolf
---
Applicants

bovidaeloony

Stable Name: Flying Feather Stables
Rider's Name: Richard Leos
Horse's Name: FFS Chivalry
Link to Stable Group/
Journal
/Account
Link to Height Chart

Requested Team Colors:
white/blue
,
white/green

Agent-Q-Amalgamation

Stable Name: Agent Q Stables
Rider's Name: Will Grihm
Horse's Name:
Humanity's Mendip Blagdon "Mandy"
Link to Stable Group/Journal/
Account
Link to Height Chart
Requested Team Colors:
white/black
,
white/lime

MorganLeslee

Stable Name: Aurora Olympian
Rider's Name: Nicholas Mitchell
Horse's Name: WR Prince Theaddeis (Teddy)
Link to Stable
Group
/Journal/Account
Link to Height Chart
Requested Team Colors:
black/purple
,
black/gold

EverlastingStables

Stable Name: Everlasting Stables
Rider's Name: Alicia McClellan
Horse's Name: ELS Armed for War
Link to Stable Group/Journal/
Account
Link to Height Chart
Requested Team Colors:
black/red
,
black/blue

Seri-goyle

Stable Name: Hex Sign Stables
Rider's Name: James DuPree
Horse's Name: Lord Rahl 3492
Link to Stable Group/Journal/
Account
Link to Height Chart
Requested Team Colors:
black/blue
,
white/lime

Watch