As the title suggests, this news article's goal is to spread the dA love into everyone's heart! You will find here a little bit of everything, from awesome interviews with talented artists, art features, group promotion to random deviants' features. I hope you will find this informative and entertaining!
Interviewed artist:
markstewart


Tell us what defines you as a person.
I would have to say one is defined by their actions, beliefs, hopes and fears. I believe in equality and fairness and the rights of all to express themselves any way they wish. I don't like elitism, greed or those who like to control or take advantage of others.

How did you found out about deviantART and why did you join the community?
I started google searching graphite artists on the web a couple of years ago and what i found nearly knocked me off my seat. Most paths led straight to dA.
I joined for support i guess, it can be a lonely existence being the only artist in my social group of friends where most are musicians. I felt joining DA was necessary to help me develop and grow and get some good honest feedback from those who's opinions i respected.

When and how did you discover your passion for art?
It had to be at school .. i used to do other kids art homework and i made a little money doing it, then i would be chosen for certain creative projects and started winning a few local art comps. It made me feel a bit special and i liked it. It sort of made me feel like an individual and that was quite liberating for a kid.

What inspires you the most and when do you think your creativity is at its maximum?
First it has to be my family, Sharon my partner for nearly 25 years and my 14yr old son Daniel. Also the passion and excitement shown by others when they talk about the things they truly care about, and those who achieve their goals against all adversity. I would have to say music also, i cant imagine a world without music and i cant work without it .. i would give up my eyesight tomorrow to save my hearing if i had to choose. As for creative .. i don't consider myself creative at all so i cant answer that one.

What do you think you'd be doing if you hadn't chosen this path?
Who knows, it's impossible to know for sure ... Probably a slave worker working for the man with a ball and chain around my neck getting paid peanuts and being totally miserable and wasting my life being part of a fake society which just puts it's boot in your face every day.

What do you think it's your most meaningful deviation and what makes it special? Does it have a story behind it?
My work doesn't have meaning or any of that sort of thing, my journey is all about the studying and application and learning. My
Retired Serviceman
drawing is my choice because i learned more from that one piece than the rest put together. In my opinion i haven't come close to that one since. I think it's the closest i have come to a true portrait.

Do you have any insecurities regarding your art?
I have so many, how many do you want, i am incredibly insecure about my drawings, i was so glad to know that it's quite normal too. As soon as i finish a piece i get all negative .. it's not good enough, that sucks, i know i can do better, why aren't i improving, why cant i get creative, all i do is copy .. I could talk all day about what i think is wrong with all of my drawings and paintings but it's those insecurities that drive us to better ourselves in our drawing and painting isn't it? .. without that what's the point of it all.

Did art ever helped you to deal with your life problems?
Yes very much so, it has given my my biggest high's and brought me to the brink of despair. I also returned to it after a long absence and it has helped me get to a good place where i feel positive again. Now i go into my room in the morning and i'm in my world and i'm happy there. My second chance started last year and i'm not looking back.

What is the one thing you always wanted to do but never got a chance to?
Not going to live aid, i was too busy working and i turned down the chance to go. It always comes back to the music every time. That and to swim in a coral reef or visit Machu picchu.

A few words for our fellow artists?
Don't take life so seriously, enjoy it and let it enrich you through good positive experience. Just be true to yourself and have no regrets. Remember that family is everything and don't try to push your beliefs onto others and to respect the choices that others have chosen for themselves.
Photography Feature
---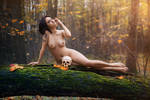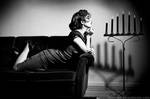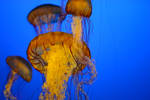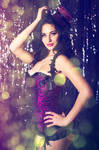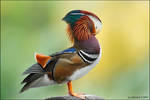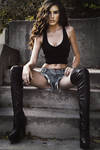 Traditional Feature