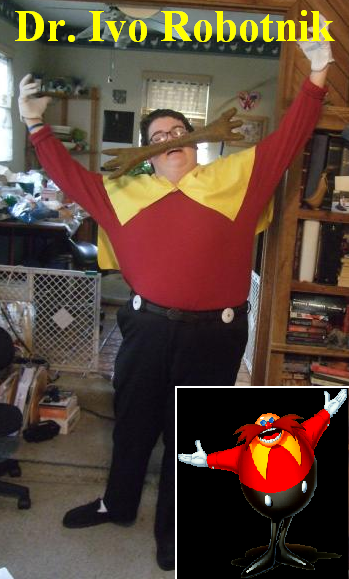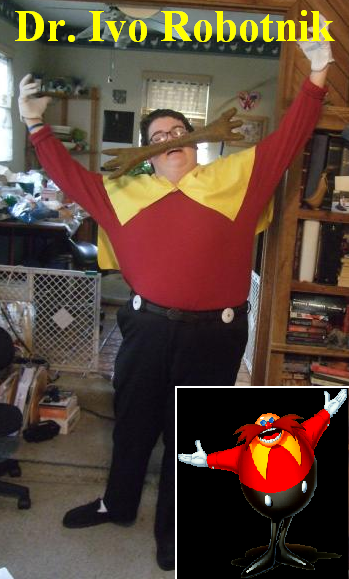 This is my first submission to Deviantart... so I thought to start off amazing.
This is a cosplay costume of Dr. Ivo Robotnik from the "Sonic the Hedgehog" series and was quite easy to make. the hardest part was the... uh... generously sized moustache Robotnik has.
all the coustume really is, is:
~A longsleeve red shirt (bought)
~BIG black pants (bought)
~small yellow cape (made)
~black shoes (bought)
~White Gloves (bought)
~Big White Buttons (Bought)
~glasses (bought, perscription for me)
~Felt Moustache (made)(held on by wire)
~glass diamond (bought)(Chaos Emerald)

There was a "bald cap" to make me look bald, but I found out (the hard way) that i'm allergic to Latex... so I am Robotnik when he was 16.
Tell me what you think!!!

Could you tellme mroe about how you did the mustache and how you got the white buttons to stay on the pants?
Reply

Hello, thank you for being patient for my reply. I have not used this account in years and logged in on a whim.
The moustache is made from felt fabric sewn together. It has standard polyester stuffing inside of it to make it poofy and it keeps its stape with an internal wire frame along the seam edge. It stays on my face with the same internal wire extended and poking out near the center of the moustache. This wire wraps along my head like the arms on a pair of glasses and the moustache teeters along my upper lip for the most part. It's very impractical looking back several years later, but it was my first attempt at something like that.
The buttons were just hot glued on. Still secure to this day.
Reply

I had one commisioned by another cosplay and she used felt as well, I should look into using wire though to keep its shape. Thanks for the info.
Reply

Reply

100% badass, sir. I would be Dr. Robotnik every single Halloween if I had a bit more weight on me.
Reply

It's a good thing I HAVE that weight! xD and yes this was my halloween costume... I actually won a contest with it!
Reply