It seems that some people have already reported two of my artworks after the Pearl Upload. This time they're going after Rottytops too.
It's funny how suddenly I became an issue when I started taking a little more risk than usual, but it's not like I wasn't expecting it.
Rottytops "The night is still alive" has been reported under the same restrictions as the previous Shantae artworks despite being properly filtered (
link
) and Devianart only gives me the option to "edit" as you see in the screenshot here:
Link
...But what am I supposed to edit? the artwork is already filtered and censored, the only thing I could do is replace the picture with another one... and what would be the point of it?
I decided to make use of the edit feature and make a change to the artwork to fit the restrictions, because based on previous experiences if I don't do anything they'll proceed to remove it.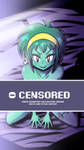 It would be interesting if they still decide to remove it after this.
On the other hand you have Pearl, Which has been reported as featuring mature content:
Link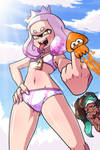 ...But I genuinely wonder, which option am I supposed to use in this case?
Link
There's not nudity, nor violence and gore, It's arguably not ideologically sensitive, and
I made darn sure to censor the strong language myself to not get it removed for that reason... So there's only one option left based on that thought process: "Sexual themes"

So what fits as "sexual themes"? are swimsuits considered a sexual theme by default? is the pose too suggestive perhaps? Because I personally chose the low angle to make her look more taunting and dominant combined with the hand gesture, not because it was particularly suggestive, because if I aimed for suggestive there were plenty more choices that I could have gone with.

I personally think that the tag is way to much for the subject but I'm not sure what option is left.


Let me know in the comments what if you think this artwork is worthy of a mature content tag or not, and tell me which one should I use if you agree with their decision and why. I'll be quite helpful.
(Update November 30th)
More reported artworks (
Link
)