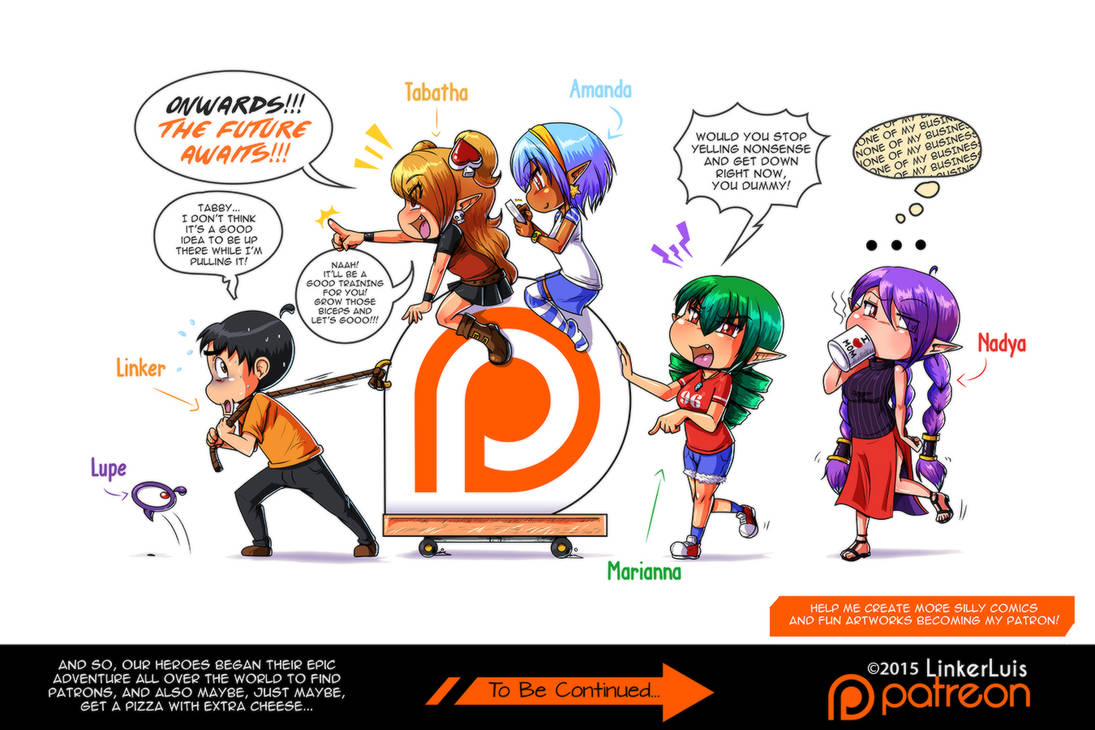 Many years ago I started chasing a dream that, now more than ever, became a life goal.
I didn't know what the internet was, nor the fact that I could share my work with you, let alone that I would be doing it in another language!

It wasn't always easy, but when many doors were closing shut right on my face and hitting me on the nose, others were opening, leading me here without realizing it.
I've been looking for around 5 years a way to make a living through my art and don't starve in the process. PayPal turned out to be a dead end for me, as well as many others, but most recently I heard about this platform called Patreon, believing at first that I would have the same kind of issues or that it could be just impossible for me.
However, it turned out to be the other way around! It's what I was craving for way back, it's actually perfect! Another way to connect with you through my art, getting feedback and support at the same time, what else do you need?
At first I got the idea of "paywall" or "pay-per-view" from this platform, and I never liked the concept. I think that just breaks the relationship between artist and you as the spectator. Although, at the same time, I have needs and bills to pay like everybody else, and I knew I needed to find a balance between those two aspects, but how…?
Then I fell in love with the idea of crowdfunding, people voluntarily supporting the projects they want to see, instead of taking what society or the big companies want to stuff in their face

It's a new type of economy! It's pretty awesome! It's giving the small people like us a wider variety of choice and power to take decisions! Or at least until some corporate decides to ruin it all, as usual. Don't worry, though! We'll find another way if that ever happens XD
I thought that Patreon could be a good opportunity to dedicate my time and effort entirely on what I love to do, making you have a great time with my silly comic ideas

It's an overwhelming opportunity, indeed!
I know it won't be easy. By now, I've proven that nothing worthy in life comes easy, but with your support, I know we can make it work out

This doesn't mean that all my works are becoming private or pay-per-view, either. No way! It means that you have the chance to support me in a direct way if you like it. Ultimately I work for you

I've already thought of special rewards for my patrons, from WIPs to special artworks that I will be making. I'll be taking suggestions from you as well, related to the type of artworks, game or characters that you would love to see depicted in the gallery. I will also be submitting everything first on Patreon, later on other social media.
I've already worked a special comic, available at any pledge you make, featuring one of my original characters from the 4 of a Kind comics (I don't want to spoil which one), that also includes a cute reward attached to it. You should check it out and tell me if you like the idea behind it (because I want to include them more often)

After all I've announced, I will also be interested in your feedback for the Patreon page. I'll be reading all your comments and suggestions to improve it even further, adding rewards to pledges, kind of content you'd love to see there, and switching stuff around.
Thanks a lot for your support, favs, likes, shares, laughs, lols, comments and everything throughout the years. Without you, this would all be pointless. I'll be waiting for your comments!
Back to the working table now!


I'm looking forward to see what the future has in store for you and what else your patreon will be filled with. Best of luck to you.

Yeah, my future seemed to be a straight line back then, I knew where that was heading. It's unsettling but, I guess now I'll have better opportunities than I would never have expected.
I Just gotta keep working non stop and we'll see the results