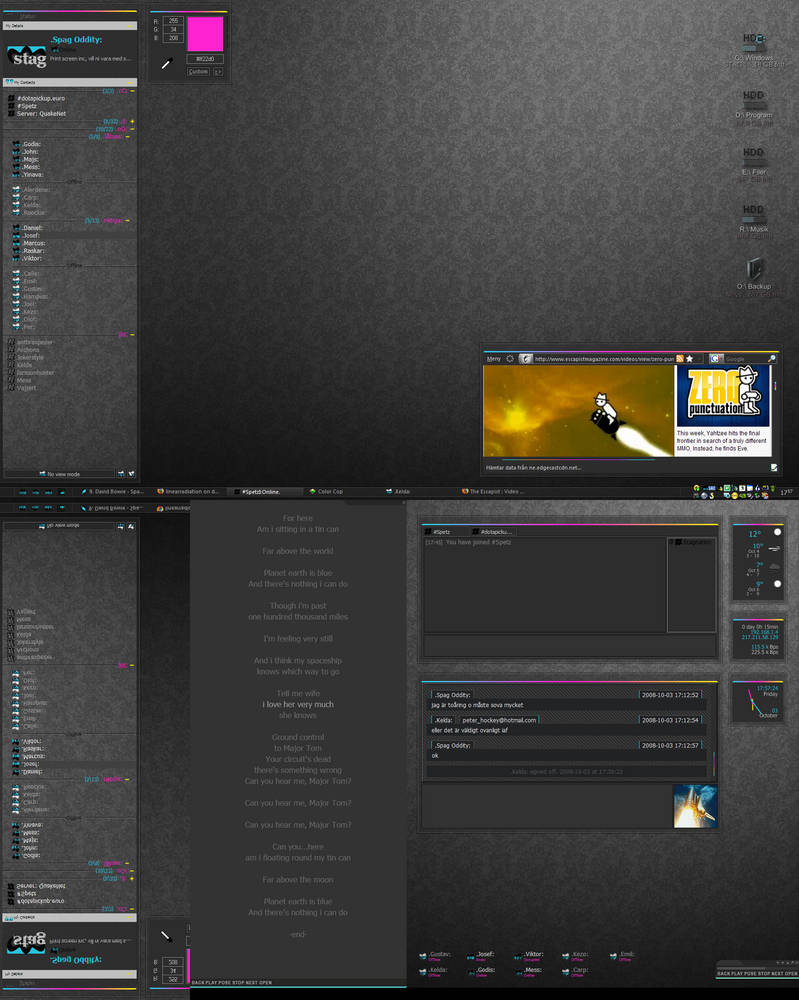 Watch
" "
Tetris OST
song picked because I'm in the mood of happy music and yeah it pwns and it was quite easy too paste the lyrics

Well my first real shot of my desk as of today, unfortunately WB is still a pain in the ass ad I guess you can see the visual issue, yeah, all 16*16 .ico icons are messed up big time and the clock / tray area aswell.
Apart from that I'm really happy with amaeli's mod of his Malice v2 Wb theme which I would call the best wb theme I've seen. (not that the setup is heavily inspired by Axonkolor by ~UAC-Marine
[link]
Wallpaper : Trama Gray wide by `manicho
[link]
WB : Malice V2 by *amaeli
[link]
Styler : None yet planning to mod one of amali's
Rainmeter : all modded by me
Black Glass by ~LAvalon
[link]
Weather by ~Jetpac
[link]
HUD.Vision by ~mepu
[link]
Samurize config is EQspectrum by ~TechII
[link]
(modded by me)
Winamp is Dynamic 1.1 by ~sinan
[link]
Minilyrics skin is just winamp's skin (Dynamic 1.1)
Launchy is LAshen2 by *PEPEi
[link]
(not visible)
Avedesk @ desktop the meters are Vista Drive Icon
[link]
(modded by me)
All explorer windows icons except the regular folders, PS Tray Factory, seagate HDD (avedesk), D: and E: are modded / made by me
A few of the icons are still pending for the approval of ~chrfb before I can do anything with them, they are based on his eclipse icon sets
[link]
He HAS replied and says I can do w/e I want

Guess that's all folks
(other apps used: tray area + clock from right to left):
Lclock, Favorite mp3 Logger winamp plugin, Avedesk, Fraps, Logitech G15 keyboard profiler, Norton Internet Security 2008, Logitech Setpoint (G5), Samurize, Poweriso, my / mew / u /micro -Torrent, Rainmeter, Logitech GamePanel Manager and Styler
Stag
Credit goes to the artists.
Edit: I use QT TAbbar for the tabs in explorer
Edit: this is an early screenshot and I hope to skin alot more elements in the future but I guess it all depends on WB and I'm not really in the mood of a formating my hdds yet again.
Edit: some elemts that I do use such as the EQ spectrum are not visiblein the shot, I've still got alot of ss practice to do

my icons are aswell not visible except those of Miranda

Out of all the VS's I've browsed, this has to be my favorite. It's so together. Complete. Great work.
Reply

which colorpicker is that?
Reply

this is nice


and
yahtzee= awesome
Reply

Looks great man. Sorry i'm late to respond. the rainmeters look really nice. I like those. Yeah, i just put avedesk on my vista machine recently, so i'm still trying to remember how to set that up. [ haven't used since my xp days ] Was thinking of putting styler back on my machine but not sure if vista compatible? or what. Anyways, good setup man. I can tell you put alot of effort into your desks. For some reason, They always look complicated to me. Take care man. Pj. :-D
Reply

Yeah I know how hard it was to getmy avedesk working, I think i've heard that styler doesn't work for vista (I haven't been using Vista for quite a while now, good riddance imho

)
also on the lateness no worries it's aways better to be late than never arrive at all (Swedish saying, not sure if there's an english analouge)
just out of curriosity and some lack of selfesteem do you mean complicated in such a way it'snot intuitive or just thoroughly carried out? (not sure on the last one since it is seriously broken and at this time of writing I don't even have WB installed, which sucks but somethingis wrong with WB on this comp and it's worse than using the window classic skin

I guess you're old enough to not need the encouragement but take care .)
Stag
Reply

yeah, no not overly complicated, it just seems like you are an advanced computer user who is very meticulous about their desktop. I like that quality. It's a compliment. I have not tried styler on vista as of yet, but will try in the next days though. About the icons, i finally found them [ forgot where i put them on my drive lol ] Will send them to you soon. Got the tree one, but the staghead i can't find, so i did another version to send. I think you will like it.

Reply

firstly i'm really not that adcanved I would rather call my self a 21st century handy man I know some PS, enough for simple mods and I know some rainmeter configuration and very little scrippting and yeah I guess I'm an about / over average DotA player but that's not relevant

I guess i'm quite meticulous *looking it up* about my desktop since I put some pride in ffor the greater masses seemingly meeningless hobbies but yeah I really like it (although I guess I've to reinSTALL WINDOWS FOR wb to work which sucks)
I'm really looking forward to the icons, as you might hve noticed Stagnation is my main nick and it's abbreviated to Stag for a more personal word

Thanks alot man
Stag
Reply

Brilliant, nice colors and all~
Reply

Sawesome my man

Reply

btw: I've tried to mod your WA time after time but I just end up failing and redownload your skin

is there by chance any idea in asking for a favour?
Reply

Reply

ok here goes: a PS mock up:
[link]
not sure how easy it would be to have the border around but it'd be really nice

as for the other windows I quite like them the way they are and guess I could mod them my self with som help of course

, it would be nice to have the icons minimize, media library etc only visible on mouse hover and I would very much like to remove the rounded corner
didn't edit the color behind the text becuase of alot of work for no use

rgb4 54545 backfround color and 818181 for the unfilled progressbar and the beat meter. also not sure on how the progress bar will fare but if plausible I would really like to have the gradient as demonstrated, ( I just copied it from the top bar and removed a few pixels at either side)
Thanks anyway / in advance
Stag
My sincerest regards
Reply

Thanks

I'll give you a ps mockup in time, don't have much this weekend though :-/
Reply

thanks

Reply