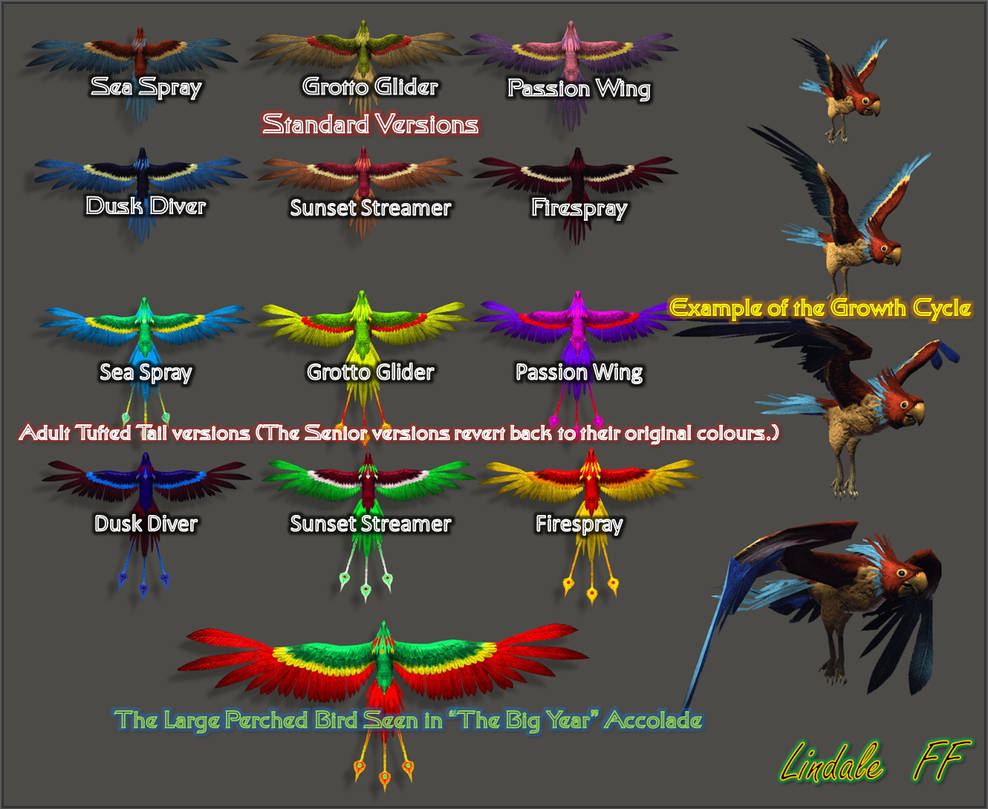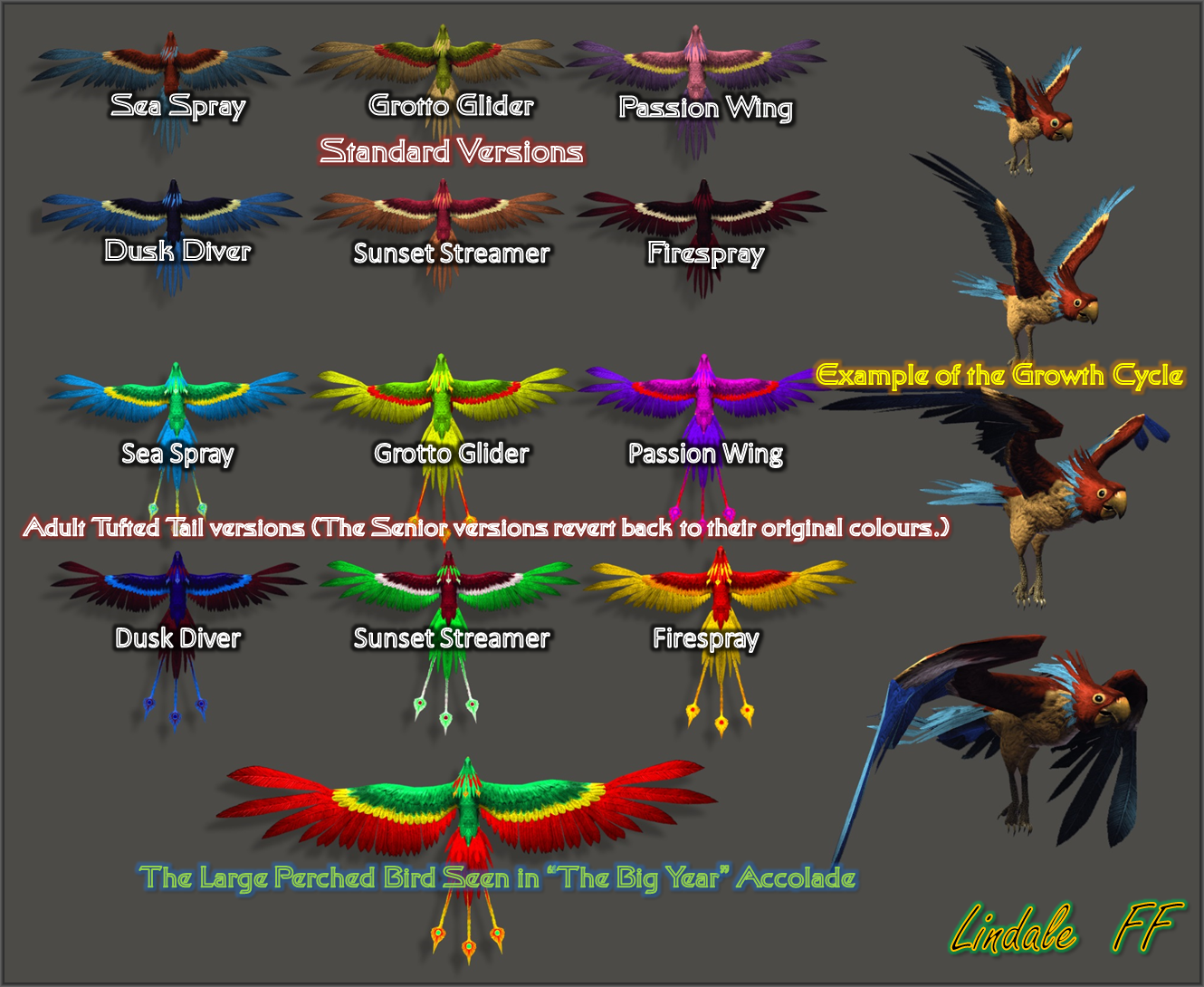 Watch
For those of you who particularly like parrots, or birds in general, this is a list of all the different parrots you can collect on Risa. For those of you who are finicky about which parrots you want to keep, and which to just turn into Marks sausage, this will allow you make those plans ahead of time.

Keep in mind the artwork is Cryptic's own, not mine. The problem is that Cryptic neglected to indicate which bird colour is what bird type. After nearly 2 days of looking at the birds people have collected, I have identified which bird is which. In case no one knew, the tufted tail versions are what you get if you manage a critical success on raising the birds. They actually change colour when they mutate.

Also, keep in mind that the bottom list of Tufted birds does NOT apply to Senior versions. The colour change will now happen ONLY during the Adult stage. If you raise them to Senior, they revert back to their original colours.

As for the giant bird at the bottom, it is not obtainable. That is actually the giant bird sitting on the perches where you get the accolade for viewing Risa's scenery.

Useful. I should find a Sea Sprayer if I'm ever in the neighborhood of finding birds!
Reply

Thanks for the identification!
Reply

Now you need to do the monkey ones.
Reply

I have yet to see any monkeys, and Cryptic was not kind enough to provide any concept images. If and when I see them, I will most likely do a similar guide.
Reply

I WISH U COULD MATE THESE BIRD AN HAVE SPECIAL ONE
Reply

Like the crafting system. That actually would be an interesting method to obtain a special version of a particular bird.
Reply

np just tell me what u need
Reply

You can't mate or craft them. I was just agreeing with you that mating it would have been an excellent idea.

You raise the birds by giving the eggs or birds to your duty officers. The only way to get the special versions is from a Critical Success on raising a bird.
Reply

Nice, this'll help out a lot

, and I'm sure every one else will appreciate it XD.
Reply
How long is the growth cycle
Reply

The growth cycle is one day. 24 hours from the moment you begin the duty officer mission.

But the beauty is that you can have several missions running at once. Lets say you have one of each type of bird, you can simultaneously raise each one of them, plus hatching an egg. So that equals out to a possibility of 7 missions going on any given day.
Reply

Reply

I used to just stick with the trusty Sehlats. But these might very well become a permanent part of my inventory. But just like the Epohhs, I will only be keeping the evolved birds. The rest will be Romulan Marks sausage.
Reply