Squidles Hangout?
The Cat of Hell
The Sinful Misfits Gang
Let Daddy Show You How It's Done~
CUPHEAD COMIC: Kill Him With Cuteness REMAKE
Hey look it's meee
Valentine's Day (while I'm single-)
I have sinned
Villains and heroes
Some sexy creepy snake lady
The Sinful Misfits characters set+redesign+info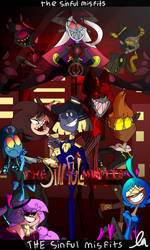 The Sinful Misfits COMIC COVER!
A smoothie (HAZBIN HOTEL COMIC)
impoSTERS
A l i e n s s s s s
Sad gurl
Old oc to new oc
Reflections of Sides
Himmy (Galaxy Gang)
Thank you for 700 watchers!
Draw the Creators Version!
Squidles: Villains INFO BIO SHEET
The Squidle villains
An Evil Queen, Wears An Evil Gown