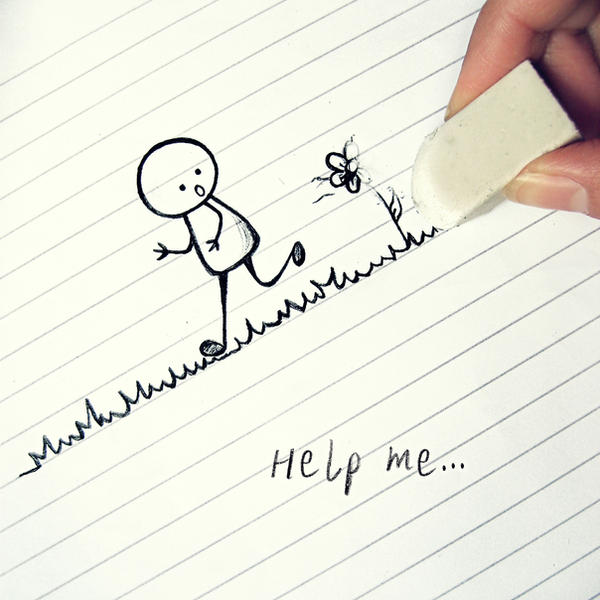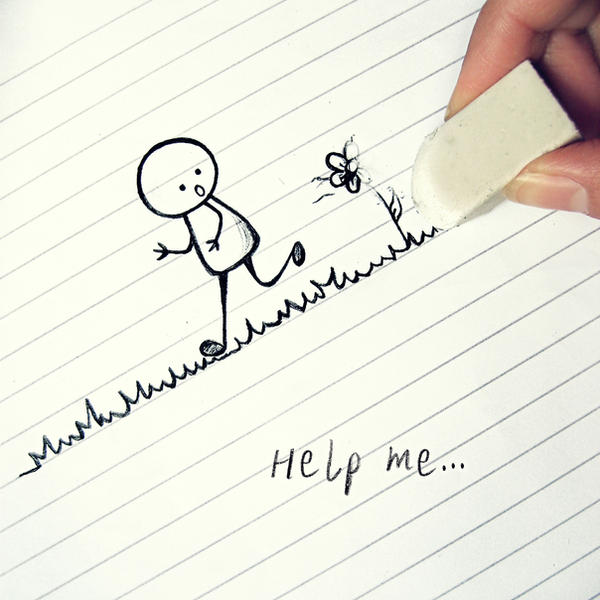 Ultimately this is a seamless blend of 2 mediums that tell a rather humerus tail. The basic concept of a threat present that slowly approaches I allude to the concept of fearing that which you cannot stop. Additionally the cartoonish style is supplemented by being clean tidy with no stay artifacts. One thing I am though concerned about is the fact you did not state the medium you are erasing. Also is the word help me a subtitle, a verbal declaration, or all encompassing statement? The lack of any explanation leads me to believe that you simply did not want this to be taken seriously but rather in a light hearted manner simply for pleasure.

The Artist thought this was FAIR
12 out of 14 deviants thought this was fair.
What can I say? It's a funny piece with a cute design. The simple line of dialogue is cute, maybe make it a bit bigger so people can see it from the thumbnail? Other than that, I love the rough around the edges look, it looks rushed and frankly this is a rushed scene. Very little shading, which adds on to the quirkiness of it. The only thing that may have confused me a little was how the eraser was pointing in one direction but the lined paper and the grass was starting to fade from the other. Other than that, I really like it and its very cute. It also doesn't require to think much about it, which most people in our society have a hard time doing XD
The Artist thought this was FAIR
42 out of 60 deviants thought this was fair.