A few months ago, I did a speed paint of the Carol Danvers redesign by Jamie McKelvie, soon to be featured in Kelly Sue DeConnick's relaunch of Captain Marvel.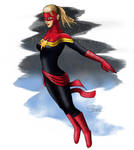 It got a very positive response - truly moreso than any other work I've done to date. It even was featured in a collection on
Project Rooftop
. So, I figured... if a speed paint can go over that well, imagine what I could do if I put some actual time and effort into it? Thus, I began another portrait of Carol Danvers as Captain Marvel, going for Hi-Res, Hi-Def and all of the itty bitty details. I was almost finished. I was maybe 95% of the way there. I planned on posting it tonight.
... then my computer had some other ideas.
My file was turning so massive that Photoshop was bogging my whole computer down. Finally, it just up and quit. After a reboot, I came back to find my file completely corrupted. I've tried a number of recovery techniques, but thus far nothing has been successful. The good news is, I do back my files up, and this corruption was timed well enough with my most recent back-up that I only lost about 5 hours of work. Unfortunately, they were 5 very productive hours. I won't let myself spend more than 5 hours trying to restore 5 hours of work. That would be stupid... especially considering the only part left incomplete in my back-up is the hair. Everything else is quite finished. Nevertheless, there will be a bit of a delay in posting it. Hopefully next weekend.
On a happier note, I've done some coloring lately. Truthfully, I find coloring other people's stuff infinitely more relaxing than doing my own drawing. I did pieces for

and

Here's one of them!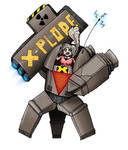 And
Here's the other!