Nothing in human life is more rarely found, nothing more dearly possessed. No loss is more chilling or more dangerous than that of a friend.

Thomas Moore
-----------------------------------------------------------------------------------------------------------------
Today I want to remember a man who was a loved and appreciated member of the DeviantART community. Today I commemorate Javier Ontiveros who was known to us as batoruco and J-a-v-i-e-r. We lost a beloved friend and great artist on July 31, 2009. Today on January 14, his birthday, he would be 58 years young.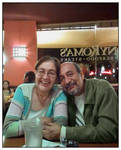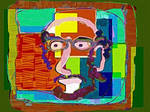 Javier with his beloved wife Isabel Eloisa Plaza Garcia and a self-portrait of him.
Javier and his wonderful art have a special meaning to me and he will always be in my heart! Some years ago in 2004 I discovered fractals and was searching them in the Internet. What I found was the Art of Batoruco on SkinBase. At the same time this was aslo my first contact with Desktop customization like Windowblinds, IconPackager, SysMetrix, CursorXP and LogonStudio because Javier was not only a fractal master but also a talented skinner. He actually gave me the link to the skinning community at
wincustomize.com
and to the sites where I could find the needed software to use skins. And it was also Javier who led me to DevianART. This community wouldn't have me today if it wasn't for him! He was the reason why I joined here. We talked a lot, commented on each others art and had email contact. This close contact stopped at any time when he went through some bad times. He stopped posting art on DeviantART in 2007 and used to be active only on facebook lastly. Only by chance I came to know of his passing. The message hit me very hard and I still can't believe he is gone!
Javier was special to many people and an all-round talent as an artist. He was a Deviant since Jan 24, 2001 – the first days of DeviantART - and left his mark in this community ever since. He started using computers for digital art in 1992. In 2001 he created some of the first Art Skins for the free media player
WinAmp
, including "Looking for myself" and "Bloodless". They have been very popular on winamp.com and even books and magazines published them.
In 2000 Javier became "batoruco" as a member of the community
SkinBase.org
. Over there he later became
Top Author
and
Featured Artist
. In 2003 the digital work
Kingdom of Magog
was selected by
Linspire
, creators of the Linspire OS, to be a part of the wallpaper pack of their OS system. He contributed over 500 works to the SkinBase community: Skins, Wallpapers, 3D Art, Fractals, Fractal Collages and Photomanipulations (until 2004).
Along with
Sya
and
onebadpenny
Javier was the original founder of the
Apophysis
group back in March 2004 here at DeviantART, a widely succesful community of fractalists, that has caused a major influence on young artists. He presented many of his innovative fractal creations from 2004 to 2007 here on DevintART in his
batoruco
gallery which he unfortunately deleted a few months before his passing. But many of his works from that time period can still be seen in his
Renderosity Gallery
and pieces from his Xenodream period 2005 in his
j-a-v-i-e-r DeviantART Gallery
. Among his art works that he submitted as batoruco was one that influenced and forced my artisitc ways as a fractal artist the most. It's a fractal collage that inspired me to create my own fractal scenes made from more than one fractal. The work that I mean is
4500 Million Years
. Fractal lovers of the earlier days of the fractal community will know what piece I am talking about because it was very popular back at that time. Unfortunately it was part of the batoruco gallery and is now gone with all the other works from there. But I really wanted it to get back its rightful place in the DA fractal gallery so I searched the Internet for Javier's son Ismael to ask him for permission to submit
4500 Million Years
to my gallery as a tribute for his father. Luckily I found him on Facebook and he was so kind to give me that permission I was asking of! So here I present you my all-time favourite piece of art done by
batoruco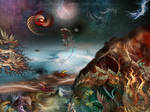 Some of his other matchless amazing fractal collages are still in his other DA gallery (two of them are in the galleries of
littledeviltoo
and
deloulark
), like these: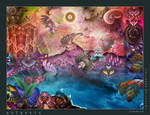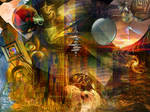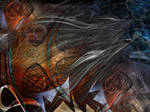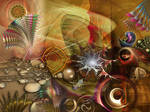 :thumb7197369: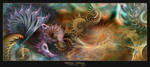 To create these collages he used many fractal art pieces from his friends
Gibson125, PatGoltz, MooseCall, gateman45
and
littledeviltoo
. To learn more about the process of the creations read the detailed descriptions in these deviations.

Other fractals worth mentioning are from his Xenodream period in 2005: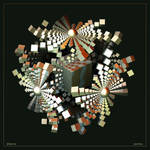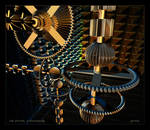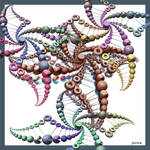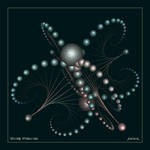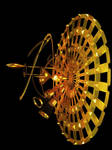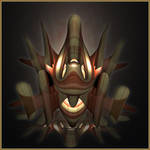 What not many people know about Javier is that he was also a talented skinner. He created skins* for the multi media player WinAmp and for customization software and widgets like WindowBlinds**, IconPackager, Sysmetrix and Rainlendar. Here are some examples from his gallery:

WindowBlinds Skins: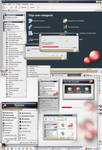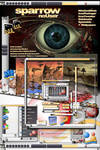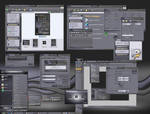 Icon Sets for IconPackager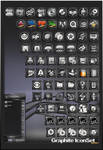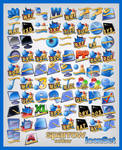 If you want to see more of his Skins and also Wallpapers and 3D Art please check
batoruco's Skinbase Gallery
!
-----------------------------------------------------------------------------------------------------------------
* What are skins?
** What is WindowBlinds?
-----------------------------------------------------------------------------------------------------------------

Javier's Available Art Galleries
If you want to see more features from Javier's galleries please see my journal:

Memorial for Javier Ontiveros
-----------------------------------------------------------------------------------------------------------------

About Javier's Family:
Javier Ontoveros was born in Chihuahua, México. He lived also in Venezuela but he was back in his home country of México when he left us. He married the love of his life, Isabel Eloisa Plaza Garcia, on April 26 in 1979. He had three wonderful children: Pablo David, born in 1981, Ismael Eduardo, born in 1984, and Laura Amor, born in 1988. Javier made a living as Metallurgical Engineer but first and foremost he was a dedicative artist and a loving husband and father. He is sorely missed by his family. All my thoughts and love go out to them!
Two of his children have accounts here, too:

Ismael
iscool69
and

Laura
lavita14batoruco
I am happy to have found a new friend in Javier's son Ismael who responded to me and shared personal informations about his father with me.

A list of friends of Javier's that I could trace:
















Artwork that his friends dedicated to Javier: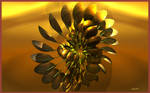 - Dry Well 4 Javier RIP by
gateman45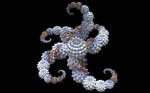 - Javier's Arachnoid by
bluesman219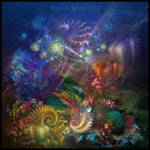 - Batoruco's World by
Lilyas

What his friends say about him:
bluesman219
: I knew Javier before I even came here from another art site.
He was always kind and generous in his thoughts and feedback with my
art, especially when I was a newbie. Javier had a lot of friends that he touched in a very personal way that only he could do. He sent me several of his Xenodream files in the process of our friendship and sharing ideas. He was fun and special in many ways and he was such a fine and gentle person. He had a lot of influence here on DeviantART.
Over his last months he was having health issues plus he was looking for some kind of work he could do online at home. Both Beth and I sent him some opportunities but he passed before he could do anything about it. Javier and I had also stayed in contact on Facebook. He seemed to love facebook and spent a lot of time there. Javier was a special person and will be sorely missed.
adni18
: Javier was good friend of mine and I was admire his talent in Skinbase.He was a great guy! I helped him to do his first Windowblinds skin, he had the enthusiasm of a child and the comprehension of an old wise man! I miss him very much!
Gibson125
: Javier contacted me a few years ago asking permission with his "4500 Million Years" work. He then asked if he could make a collage using my fractals. He taught me that I could use my fractals to form works of art. I miss him dearly.
etype2
: Bato and I got to know each other at DA and Skinbase in the early 2000's. We commented on each others work. What most folks don't know about him was that he created outstanding Winamp skins. They were very innovative and top quality. I gave him my input and praised his skinning ability and he was nice to create personal Winamp skins for me. I met him though his skins first then later discovered his artwork. He was also a musician and that love lead him to create interactive artwork with motion and music.
As you know he had great artistic talent and vision. We would talk on the Internet in the early AM hours and he did not like his situation in life, he talked about his unsatisfying job and his health issues, but he said he was the richest man alive for the support of his family and son. He was very proud of his son.
I will remember him for his artistic ability, wit, humor, great perception of the human spirit and especially the great Internet interaction we had together.
Sya
: I was a personal friend of Javier's and it was he, along with myself and Russa who started the Apophysis group here at DA. He is sadly missed, not only among members of this community, but zazzle, Facebook, and a number of other social networks he was an active member of.
muetze
: Ive got to know Javier as one of the most motivated man one can imagine. The amount of love and creativity he was able to share with all of us is simply inspiring. His friendly and helpful nature should be an example for all of us.
We had many great conversations and often he alone managed to safe a day I already felt was wasted. Talking to him was not only amazingly funny as he made some very fine jokes. Also he gave me a deep insight into how he felt about the world and I take a good part of my motivation from his great attitude.
I am very sorry that I didnt keep the contact up when I left dA. I really thought we had more time. Im honoured to have met you, Javier! I will always remember you as the great friend you have been for me and the crazy old dude you were.
Casperium
: Javier was my heroe. I would not be the artist I am today if it were not for him. He was my friend and my mentor for the last 6 years. He opened my eyes to the potential to do more than just make a fractal or a picture, he taught me to see more in it and go beyond.
The loss to the artistic community is enormous, but not as enormous as it is to his family because I know how much he loved them all.
Rest in Peace, my friend. I know you will be up in Heaven making the Angels laugh and painting the clouds with your marvelous fractals and artwork.
FractalEyes
: I didn't know him very well at all but I loved his art. There was once when I asked him about one of his fractals and without hesitation, he sent me the parameters. I was still very new to DA and to Ultra Fractal so I really appreciated the gesture.
We can shed tears that he is gone or we can smile because he has lived.

We can close our eyes and pray that he'll come back or we can open our eyes and see all he has left.

Our hearts can be empty because we can't see him or we can be full of the love we shared.

We can turn your back on tomorrow and live yesterday or we can be happy for tomorrow because of yesterday.

We can remember him and only that he is gone or we can cherish his memory and let it live on.

We can cry and close our minds, be empty and turn our backs or we can do what he would want: smile, open the eyes, love and go on.
We lost a great spirit, a dear friend, a loving father and husband and an remarkable artist. He is gone too soon, he is sorely missed by us all but he will never be forgotten!

Thank you for being with us all the years, Javier Ontiveros! We love you!




Your friend Lily

-----------------------------------------------------------------------------------------------------------------
To spare oneself from grief at all cost can be achieved only at the price of total detachment, which excludes the ability to experience happiness.

Erich Fromm