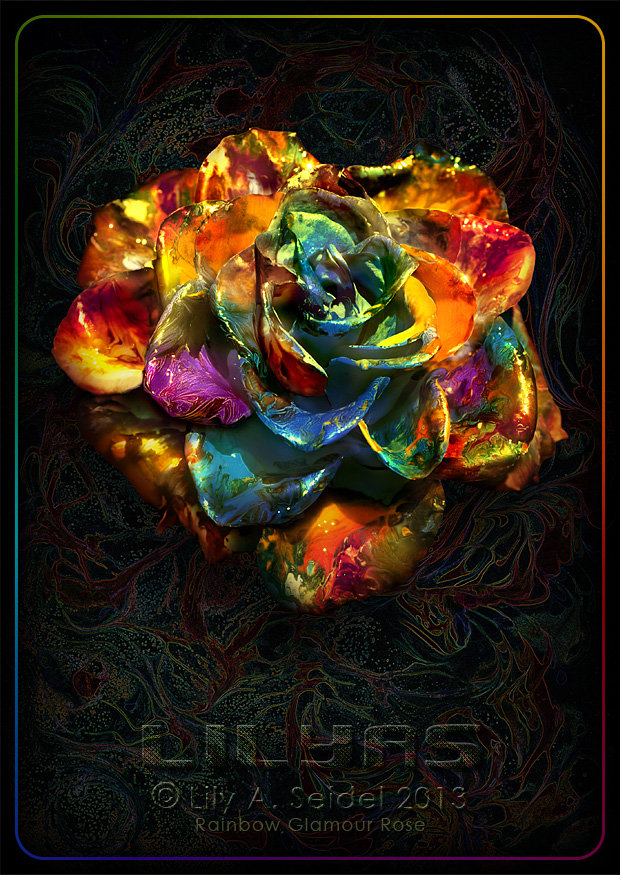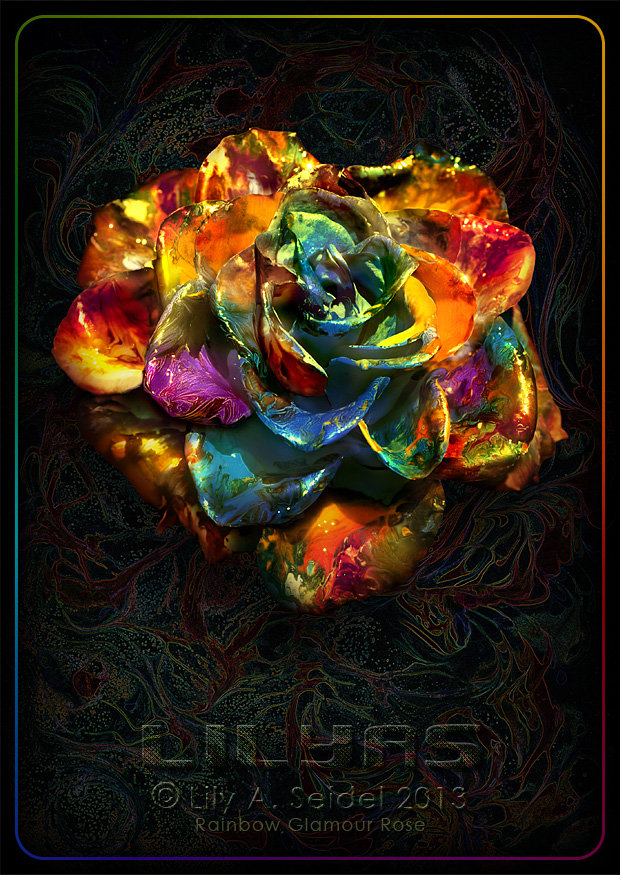 Watch






---



Edit: Uploaded a print after request.....


You probably haven't seen a rose like this before. But it's a similar work like Painted Rose. Yes, there is real paint on the flower but this time heavily edited in Photoshop to give it a glamorous look. If you want to know how I do something like that just ask.

for your comments and favs! Much appreciated. I also would love to read your review if you have something to critique on this work.

This is my entry for the "Colors Of Spring" Contest at - Blog: soulcollectors.deviantart.com/…
Deadline for submissions is 12st April, 24.00 PST.



Question for you


Maybe you are not fond of the multi-coloring. If you could decide to see this painted rose in another coloring what would it be?

RED - COPPER/ORANGE - PURPLE - BLUE - GREEN - GOLD - SILVER - another color? If you leave a commet let me know.




Other Rainbow Roses from my gallery




© Copyright by Lily A. Seidel 2013. All rights reserved. You may not use my work without my written permission.
This is actually a really beautiful rose. The colors stick out thanks to the darkened background, and the added effects make it dazzle like metal or glass. The color patterns blend the colors into one colorful artwork. The originality is there being no one really paints roses like this, and I'm sure many viewers and deviants find this piece stunning and unique. An added light source from the top or possibly the bottom would add even more effect through, but the rose itself has amazing detail in it's petals and colors. As a natural flower and not drawn it has good detail that way.
The Artist thought this was FAIR
2 out of 2 deviants thought this was fair.
Firstly, I enjoy this piece a lot. I love the technique and the style, but I think it would be nice if there was a smoother transition to the cooler shades of color that we see in the center of the rose, and I think it might also be stronger if the amount of purples was balanced with the amount of blues (it seems there is more blue than purple).
But aside from the rose, I'm a little confused by this background you paired it with. It's almost too distracting, and it seems to take away from the rose itself. I feel that a solid background, or at least a background without a pattern (such as a very simple gradient) would have worked a lot better, it would have made the rose pop a lot more. The swirls and the texture just seem to rob the rose of all the eye catching attention is really has the potential for.
But all in all, I love this rose. The texture and reality of it is amazing, and I love the non-repetitive use of swirling colors in the petals.
The Artist thought this was FAIR
3 out of 3 deviants thought this was fair.