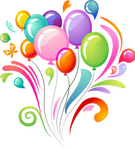 October 13 - Happy Birthday to me!!
..... and everyone else for that matter! Yeah, it's my birthday today. I already received so many lovely birthday wishes from my friends and watchers.
I want to say
to everyone! It's much appreciated.

I rceived this image as a birthday postcard and wanted to share it with you. I love the rainbow balloons.

Subscriber can post the thumb in comments. Feel free to use it.


Image details
Image size
800x400px 371 KB