Phew, our whole group has been working hard to stay on top of the orders, custom requests, and convention stock! As usual, our online presence has suffered because of it. Please forgive us! D; We're trying! We might have to hire someone whose solitary job is to update our online stores and such, but until then, you'll just have to bear with us. Know that you can ALWAYS email us at LillyInverse@gmail.com and ask for a custom request or to purchase something you saw at a convention that hasn't been uploaded to our site yet!
OHAYOCON REVIEW:

Ohayocon treated us wonderfully this year - not that THAT'S a surprise! We were in the very back of the artist alley on the right side, yet we were STILL up over 50% from last year! We got to see some friends we hadn't seen in a while and, of course, made new friends and tons of art trades. The pic above was the view from our area of the artist alley. The dealer room looked CRAZY all weekend! Maybe we'll try switching to there next year, but we're not really sure. We enjoyed the staff of the artist alley so much, we'd hate to give that up!
WASHICON REVIEW:

Washi Con was wonderful! It was a first year con, which always means that there are some kinks to work out, but they were super receptive to suggestions from everyone and VERY on top of fixing any issues as soon as possible! The con is at Eastern Michigan University, which means it was literally 5 minutes away from us! We even had some fans find us there, like the gentleman pictured above who bought one of our shirts at Ohayocon

ANIME CROSSROADS REVIEW:

Anime Crossroads was our most recent con as of this post. We don't have any pictures, unfortunately, but we did enjoy it! Our income was up over 30% from last year, which is always a plus, but we also just love the way this con is run. Yes, we were in a closed room that was connected to the main events room so there were sound/lighting issues, but the staff here is ON POINT when it comes to getting stuff fixed for their artists! The alley is small, which means everyone gets the recognition that they deserve from each attendee that comes into the room. And, one of my favorite new policies, we were able to purchase next year's table on the spot. So of COURSE we did! Be seeing you next year, A-Cross!

NEW PRODUCTS:

CHIBI-THULHU ETCHED GLASS

A cute, snuggly Old One from beyond the edge of time and space, just for you! Evil cuteness in cup form can now adorn your kitchen or display cabinet for just the low-low price of your soul (plus a $29.99 handling fee…)

CREEPY KANZASHI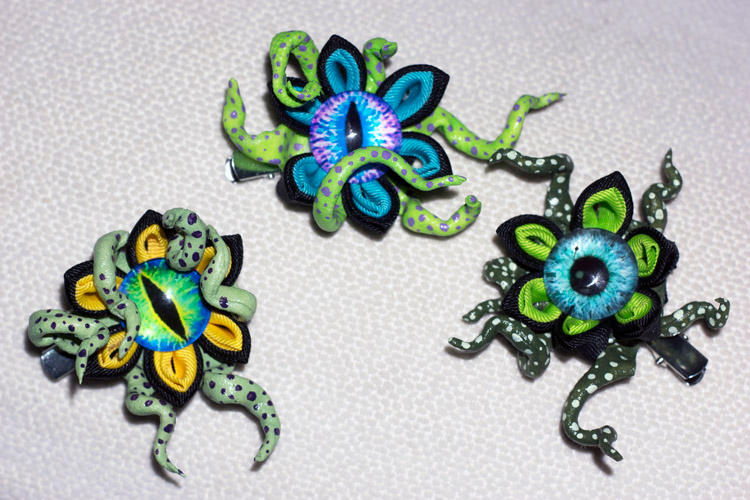 You asked for them, so here they are! Our new "Creepy Kanzashi" hair clips were such a hit in our Facebook sneak peek update that we got 2 custom orders that day! You guys always have a way of making us feel like our work is appreciated, and we love you all for it! <3
FAUN EARS


NEW CONS:

As always, it's our goal to add more and more cons to our list each year in order to get our geeky goods into the hands of as many of our fans as possible! Unfortunately, we had to eliminate one this year. Due to management issues, we will not be attending Shutocon again. However, our Lansing fans love us so much that we couldn't just neglect them outright! You can still get our geeky glassware and handmade cosplay products on Shutocon weekend, just over at the
Lansing City Market
instead! The market has tons of exhibitors and it's only a minute or so's walk from the Lansing Center. It's like having a whole extra dealer room! Here's a map of the easiest way to get to us and all of the other geeky vendors at the Lansing City Market, March 20-22:
But that's not all! We've also been accepted for:
Animinneapolis
May 6-8 at
Hyatt Regency Minneapolis, MN

Animazement
May 27-27 at the Raleigh Convention Center Raleigh, NC
Anime Midwest
-July 8-10 at Hyatt Regency O'Hare and Stephens Convention Center Rosemont, IL
Otakon
- August 12-15 at Baltimore Convention Center Baltimore, MD
Ramencon
September 23-26 at Radisson Holiday Star Plaza Merillville, IN
Youmacon
October 29 - November 1 at Cobo Center & Renaissance Center Detroit, MI
We will update our list on our main DA page as well as our website as more conventions send us their acceptance letters :3
STILL TO DO:

*Finish Several Commissions (look for the list and status in this post!)
*TRY to keep up on inventory/prep for all the upcoming cons (I'm looking at you, Anime Milwaukee & Lansing City Market @ Shutocon Weekend...)
*Bring some wares to a local game shop to see if they'd like to sell them for us
*Get cracking on new product ideas we've been discussing
*Train some of our members to do things they are still shaky on
*Upload more fun stuff to the DA!
*Apply for MORE cons!


fyi youmacon is actually November 4th-6th c: the 3rd counts too but that's the free day/badge day as you know i am sure~ i got my ticket already for then con from a thanksgiving special and it says those dates on there c:
i really want to commission a spider-gwen one from you guys! i'll have to wait until after midwest media expo but i plan to! i have been wanting one from you for a while