ABOUT THIS DEVIATION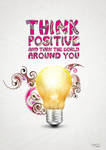 fav.me/d4828ij
FRENCH : J'ai eu la très agréable surprise de voir que "Think Positive" était dans les Daily Deviations ce matin. Que de messages et de feedbacks ! Merci infiniment à tous, et particulièrement à 3WYL
3wyl.deviantart.com/
(pour la suggestion) et à DOMISM
domism.deviantart.com/
(pour le feature.). Je vais m'efforcer de répondre à tous les messages dans les jours qui viennent. Mais je ne pourrais pas répondre aux 817 (à ce jour) personnes qui ont mis mon travail en favoris. Cette illustration est maintenant disponible à l'impression suite à la gentille demande de certains d'entre vous.
Je suis vraiment heureuse de vous avoir fait plaisir

, et vous remercie pour le soutien. Mon anglais est petit, mais mon coeur est gros

Par ailleurs, j'ai fait mon premier design sur Threadless.com avec cette deviation, si vous souhaitez voir ce tee-shirt imprimé en grande série le vote est par ici :
www.threadless.com/submission/…
ENGLISH : I was very pleasantly surprised to see that "Think Positive" was in the Daily Deviations that morning. What messages and feedback! Thank you very much everyone, and especially 3WYL
3wyl.deviantart.com/
(for the suggestion) and DOMISM
domism.deviantart.com/
(for the feature.). I will try to answer all messages in the coming days. But I could not meet the 817 (to date) who have my work favorites. This illustration is now available for printing following the request of some kind of you.
I'm really happy to keep you happy

and thank you for the support. My English is small, but my heart is big

Also, I made my first design on Threadless.com with this deviation, if you want to see this t-shirt printed in mass voting is here:
www.threadless.com/submission/…
Think_positive / from, Lilit + Dumont