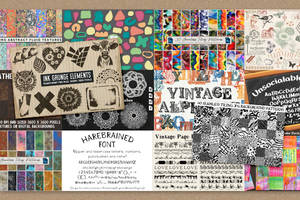 HG Designs Subscriber Area
Lots of high resolution goodies for graphic design including textures, photoshop brushes, seamless patterns and more.
---

Description
11 brushes for PS CS and higher.
If you download these brushes I would appreciate if you

them.
Credit me, please
Let me know how you used my stock (comment or note me with the link to your work)
You don't need to ask my permission to use this stock for DA prints.
FAQ #602: How do I download Brushes?

To download the selected Brush: click the "Download" link located next to the piece and select "save the file to disk".

How to install brushes:

1. Save the file in your Photoshop Brushes folder: Your disk:\Program Files\Adobe\Photoshop\Presets\Brushes.
2. Open Photoshop and choose the load brushes feature on the menu.
Similar brushes