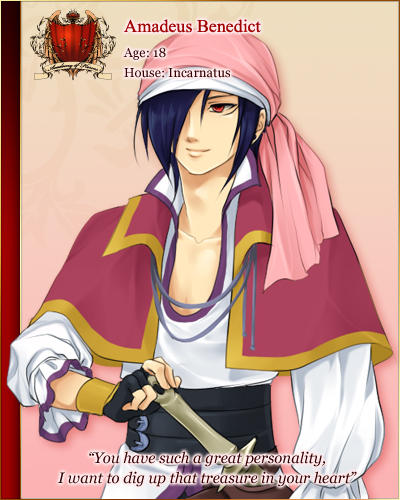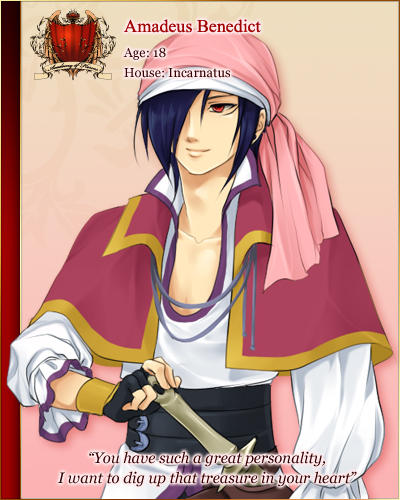 Watch
Name:
Amadeus Benedict
House:
Incarnatus
Age:
18
Height:
5' 10"
Sexuality:
Heterosexual I don't even know anymore
Personality:
An optimist, out-going, and cocky. He get very jealous when someone get more spotlight than he does. He's very nice to girls and is also known to be VERY corny around the girls. When he's around guys, he like to chill with them, maybe tease them and pull a prank like a typical teenager boy. He can sometime be slow with things because he have only a middle school education. Although he's not the brightest, he knows alot about the real world. When serious shit happen, he become serious~
Backstory:
He's from a normad clan that travel around the world. When his his clan was destroyed, his family was forced to reside in the city. For most part of his life, he have lived in the city. He quit going to school when he was in middle school to help support his father. As times goes on, Amadeus was slowly losing his magic. One day, his father, who was a lottery addict, hit jackpot from a lottery. With most of the money, he sent Amadeus to go to a special Academy. Amadeus hope the academy will help him regain part of his heritage(magic) he almost lost for living in the city. Right now, he's making up for this lost of memory not attend school and having a blast in the academy!
Other Facts:
-Because he lived most of his life as a lower-class, he work very hard to complete his task, and also try to earn as much money as possible aka have multi-jobs
-He often mistake pretty guys as girl and cannot comprehend when a guy trying to flirt with him.
-He will never hit a girl.
-His camera have all his dirty stuff saved in it.
-Have a pet baby dragon names Tamato
-Have a harem/fanclub :V well, most were forced.
Skill Set:
(based on 10 star count)
Str: 8 INT: 2
Agi: 6 Luk: 4
Dex: 5 Vit: 5
Magic Skills:
He is a earth eden user, but would rather use wind magic over earth magic.
Physical Skills:
He's is physically built. He won't lose to anyone in physical battle beside crazy steroid users. But he have a slow reaction time. He will not fight in a 1 vs multiply enemy. He knows that he wouldn't be able to fight all opponents at the same time. He usually help support his allies from the behind and take their spotlight 8D
Character Sheet Updated: 12/11/10

and yes, it was mandatory to use a pirate joke :V