I wish I had a fancy header, but dA changed the BG colour of the journals again (sigh), so I'll hafta make one.
I'm honestly terrible at updating my journal. TERRIBLE. I am sorry. My blog
labellaironia.blogspot.com/
has much, much more frequent updates. I've started down at SCAD Atlanta on my MFA in Illustration, and I'm super stoked. I'll be posting finished works on here, but my blog will have more WIPs and sketches and doodlies, so go there if you like... care or something

BUT ANYWAYS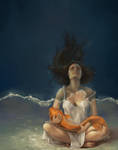 Thank you so much for the DD!
Holy crap, I was so surprised! The morning I got it, I was actually completely preoccupied with moving all my stuff out of my house in Baltimore and onto a truck to ship it down to Atlanta, and starting the 12 hour drive with my mum and sister. I had no idea. Wasn't even online. I actually found out because someone commented on my blog with the image in it. And I was like WHAT THERE MUST BE SOME MISTAKE.
But no. Hopped onto dA and got punched in the face with all the favs and comments --- thank you! That punch in the face felt great

I really appreciate all the support you guys have given me, and I've been hoping my work would be good enough to make DD one day, so hooray!
A huge thank you to shinkamalei and InspiredbyJack for suggesting, and DieZori for featuring me!
It seriously made my day. What a great way to start my trip down to Atlanta, and a great way to head off the New Year!
But sorry I'm such a loser and barely update this thing. Hugs for all ~ love you guys.
- Miri