Journal Entry:
Thu Feb 3, 2011, 12:41 PM
Status: open!





New- Now actively accepting traditional watercolor commissions on pony drawings!
Paper size- 8 1/2 in. height, 5 1/2 in. wide
Would like to stick with this size only so I don't have to mess with varied pricing~

pencil or ink sketches for $10
Examples:

Colored drawing- $20
Examples: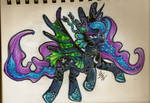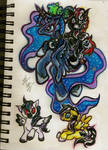 Full colored drawing with a full background- $30
Examples:
Please note- I currently do not have any My Little Pony drawings that include full detailed backgrounds. But I do have other subject matter that shows examples of my background work.
Custom ponies
I base my commissions off of sizes, and amount of detail. I keep a general price range for the size of the custom pony, but the amount of detail the design requires, will determine the price.
I usually am able to look at a design and get a feel for the price, or at times I don't get a feel for the price until after I start working on the custom.



DISCLAIMER ON MAKING REQUESTS:



mana-maiden.deviantart.com/jou…
COMMISSIONS:
-$10.00 for a itty bitty chibi ponyville custom.
Examples: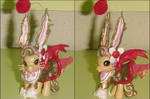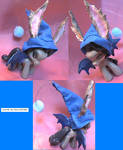 -$20.00 for normal baby-sized custom (hair/paint, minimal detail)
Examples of the small sizes:
-$50.00 for multi-media detailed small/baby-sized custom
-$30.00 for a regular sized custom with simple paint and rehair job.
Example: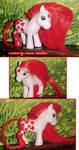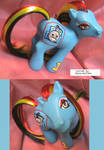 -$45.00 for realistic/complex fully painted designs with possible mild mutli-media embellishments included~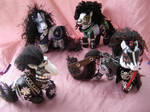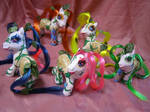 - $75.00 regular adult-sized multi-media custom, moderate multi-media detail (simple outfits without a lot of detail or embellishments, or embellishments without a full outfit).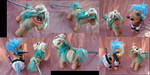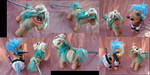 -$115.00 for multi-media custom with intricate level detail~
-$200.00 for heavily detailed larger customs (usually bulky generation 1 ponies).
Here's a sample of the range of sizes I customze: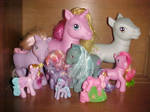 Styling-sized/Zilla customs-
$50.00 for strictly hair and paint detail
(chocobo pictured, not Yuna)
$100.00 for Zilla-sized with moderate detail
$175.00 for a styling/zilla sized custom with 1 layer simple outfit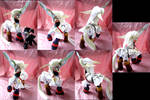 $300.00 for styling sized/zilla with heavy detail/lots of accessories
~~~~~Payment methods accepted~~~~~
I have PayPal, and if you are a U.S. resident, you can send me money orders or cashier checks.
I also accept cash safely concealed in an envelope (at customer's expense).
~~~~~Shipping~~~~~
For international packages/packages with multiple customs; I'll ready the package, and take to the p.o. to get an exact shipping quote, give the quote to the customer, then they pay that much before I ship.
Free shipping usually occurs on sales of 1 custom, if the person lives pretty close to my residential state. (Usually within the U.S.)
Additional shipping charges for over-seas transactions are applied no matter how many customs are ordered.
-------------------------------------------------------
Payment guidelines
Orders that are $50.00 or less need to be done in 1 payment
Orders that are over $50.00 can have a payment plan.
No holds allowed anymore that are below half the cost of the custom (if it's a premade sale custom)
There can be some exceptions, you'll just have to ask.
----Request guidelines----
I require at least partial payment upfront for supplies before starting on a commission. This prevents me from having to keep unwanted customs cluttering my shelves for months on end, and makes it so costs don't come out of my pocket~
If occasion arises where I complete a commissioned custom before payment, I'll only hold it for 2-3 months before putting it up for sale (unless it's someone else's original design.)
Excuses for non-payments- this is the internet, nothing anyone tells me can be validly proven to be true. Unless you can prove anything to be true, I'm not obligated to take it into consideration for our transaction; the best I can do is try to be understanding, considerate, while sticking to these guidelines.
REFUNDS- I will not issue refunds. If you commission a piece and only pay part of the payment then don't pay the rest after 4 months, I will put it up for sale and not refund the deposit since you took up my time and materials to do something you did not follow through on paying.
NO REFUNDS ON DEPOSITS OR FIRST PAYMENTS
For sales, no holds accepted.
No refunds if a custom is damaged in your possession after it has arrived safely to you.