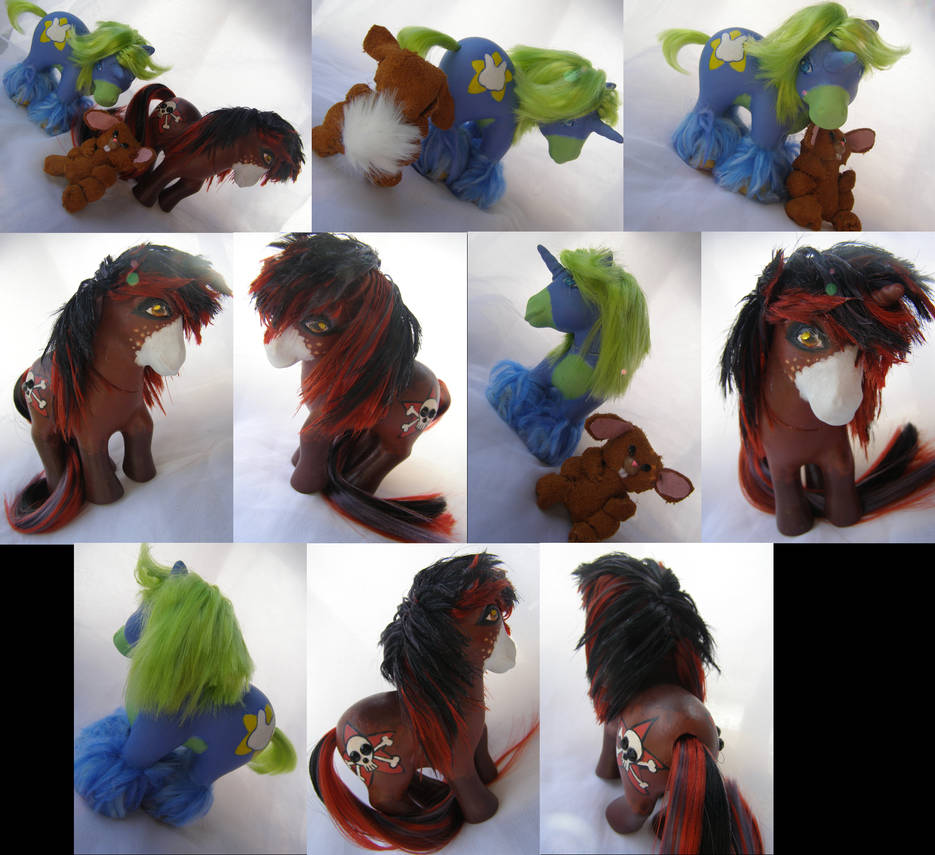 Watch
OC commission
Paid request to hand craft 2 original character designs by a customer. Specific generation1 pony bases were requested.
Both bases coated in white gesso to provide a texture for the acrylics to bond to.
Both have custom blended body colors, cutiemarks and eyes all hand painted. The brown one is sealed but the sealant ruined the blue one so the blue one is best unsealed. Blue pony has a generation 4 horn fixed onto head.
I wrapped thick leather around the hooves of the blue one, then painted. Rooted 3 layers of fetlocks on the blue custom with wool. Mane and tail are rooted in nylon mlp dollyhair in the colors guacamole and tennis ball.
Bunny accessory has a body of a severed pony leg, with beads attached to it with thick wire for the legs, arms and head. Split brown moose hide was used for the fur texture, and is stitched around the bead bases. Rhinestones used for the face features, and cut lace trim was used for the teeth.
Brown pony has rhinestone embellishments on eyes and cutiemarks.
Mane and tail rooted in 3 colors of nylon mlp dollyhair (hematite, cherry pie and vampire kiss), and caviar black RetroDollsUS hair. Mane permanently styled/hardened in hair gel method.
These took longer than expected cause of all of the extra hair.
#OC
#originalCharacter
#bunny
#skull
#star
#stars
#unicorn
#mlpcustom
#custompony
#rockstarUnicorn
#generation1
#g1
#artisancraft
#handcraft
#synthetichair
#fetlocks
#mylittlepony
#mlp
#mlpfandom
#pony
#handpainted