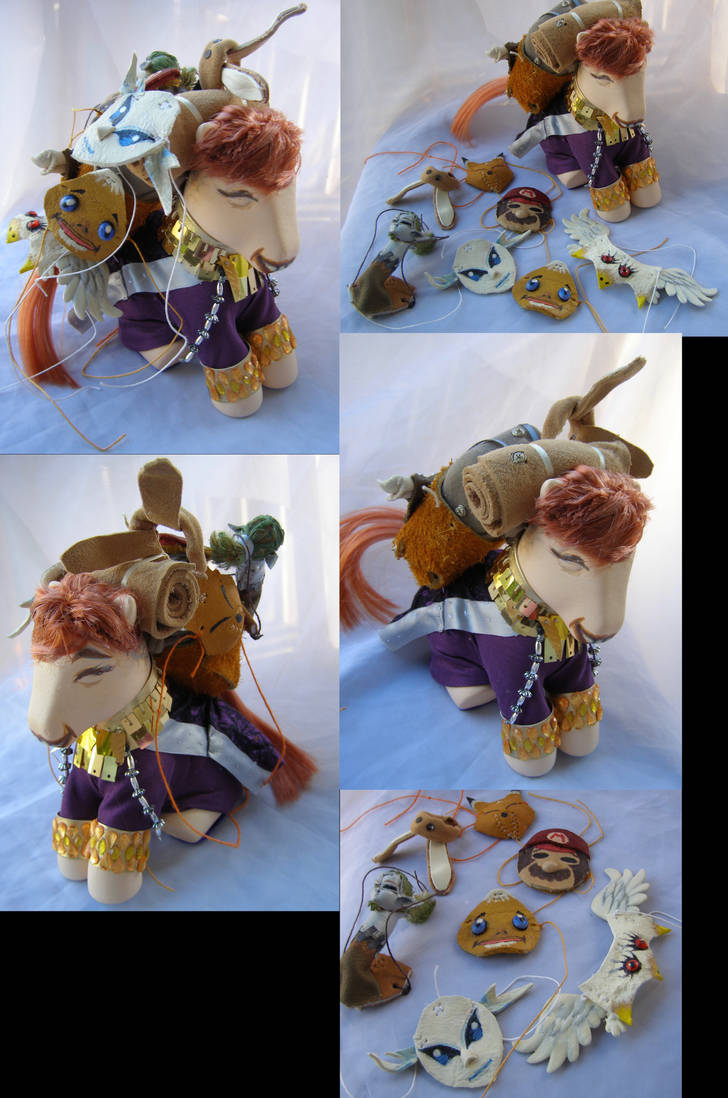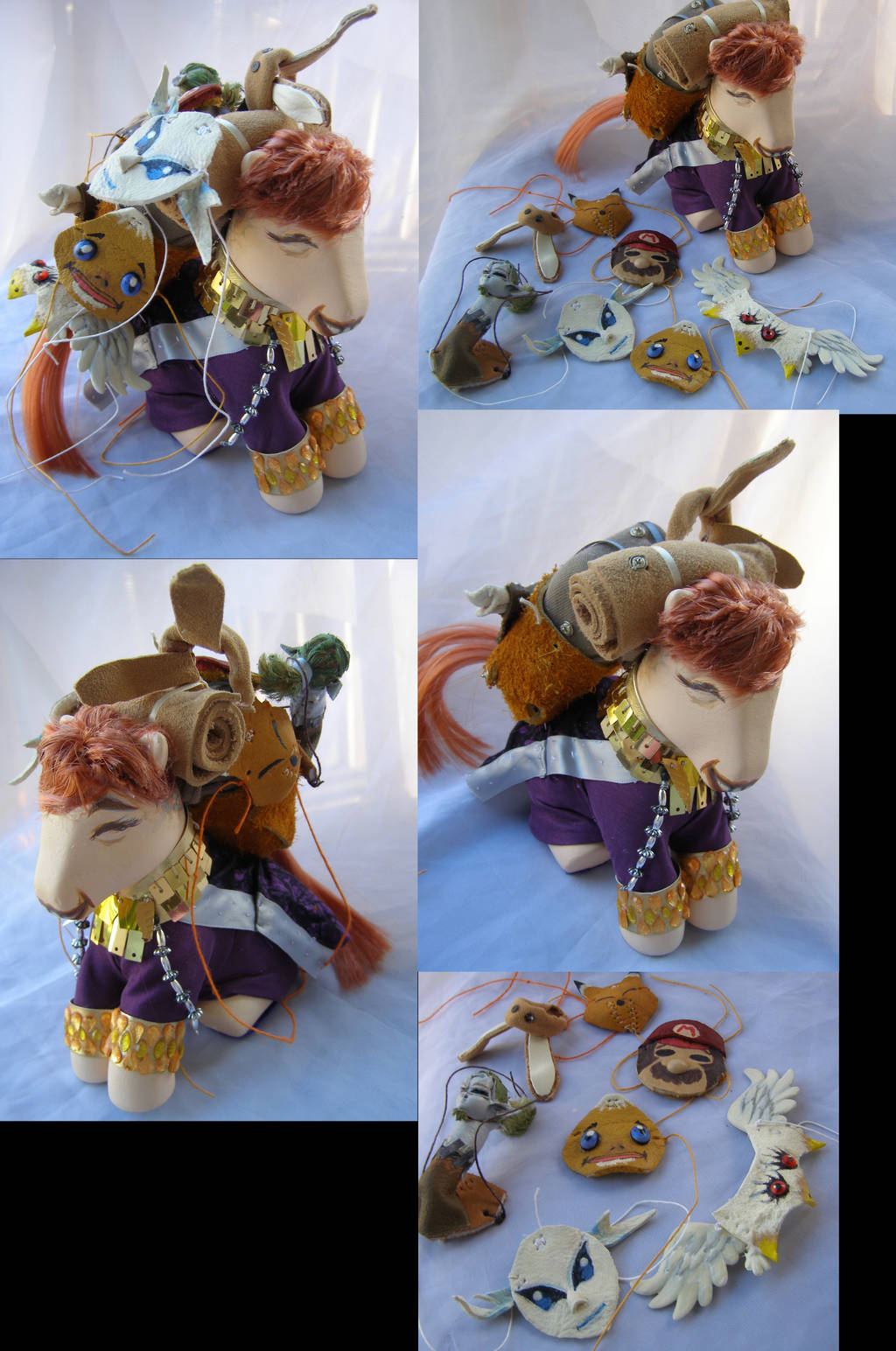 Legend of Zelda Majora's Mask, Happy Mask Dealer
Commissioned request to hand craft this silly guy from that creepy video game. As a custom pony figure.
Pony base is a 5 Below blank sitting unicorn fakie. These things are epic and I shall love them forever.
This is my 2nd custom from these bases and I fully intend on buying more.
Cut its horn and tail off, and coated the hooves and head of the figure in white gesso. Carved it a fresh new tail hole for it's synthetic hair tail. Painted his happy creepy face with bogus teeth, sealed the acrylics in Artists Varnish.
Mane and tail are rooted in nylon mlp dollyhair in a custom color blend of carrot cake and pumpkin spice. His mane took some prolonged styling, the shorter the hair, the more cuts you have to make. It is permanently styled in hair gel method. (Do not brush, omg)
His purple outfit is pretty simple and straight forward- I cut the pants and shirt from a nice deep purple material and hand stitched it on. His over-coat is a cotton creepy textile, with a black webbed design printed on. Felt it fit the game perfectly. Hemmed the sides with gray wide ribbon.
Collar piece and cuffs began as strips of gold vinyl- stitched layered sequins in place for the collar piece, with silver plastic beads strung on floral wire down the sides. Cuffs are detailed with golden yellow rhinestones glued down in place.
While I was waiting for his hair to arrive in the mail, I crafted 6 Happy Masks per the customer's request. I cut all of them from real leather, did painted details. Painted rhinestone details where necessary. The Dancing Mask is crafted from a little doll's head, and I used a inner neck piece of a Secret Surprise pony as the neck of the spoopy doll. Requested masks are- Goron, Zora, Cuckoo, Keaton and Dancing Mask- I threw in the Mario Mask and Bunny Hood for fun.
I made it so all masks are attachable to the Dealer's luggage via snaps, and I tied hemp cord strings to them so they can be tied on to another Link custom this same customer commissioned some years ago. So they are attachable and wearable.
Luggage- started off with 2 inner compartment pieces of Secret Surprise ponies, and glued them together. I then stitched leather around the bottom half, then thin brown material in the middle the rolled suede leather on the top. Stitched a pocket detail with a rolled up paper (white leather) sticking out, stitched the bottom halves of the snaps on, and masks can be attached and detached.
All in all, a epic crazy project with no regrets.
Oh and the bottom of the figure has a gaping hole in it which makes it easy to customize, but I always glue a circle of leather over it once I'm done.
#HappyMaskDealer #HeGetsMad #masks #creepy #crepe #LoZMM#TheLegendOfZelda #TheLegendOfZeldaMasjorasMask #cuckoo #Goron#Zora #Mario #Dance #Keaton #Bunnyhood #5Below #BlankUnicorn#fakie #sittingUnicorn #mlpcustom #custompony #mylittlepony #mlp#FriendshipIsFantastic #MADHAPPYMANISMAGIC #SongOfHealing#artisancraft #handcrafted #textiles #leatherwork #handpainted #synthetichair #gold #bling #leathermask #secretSurprise