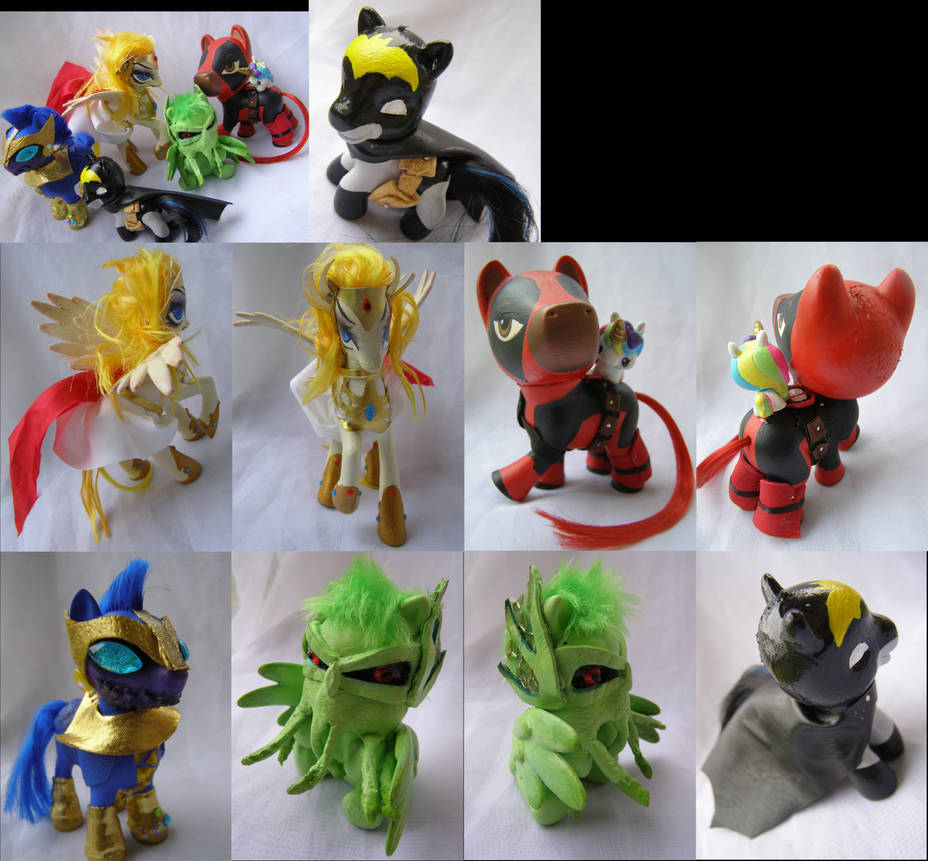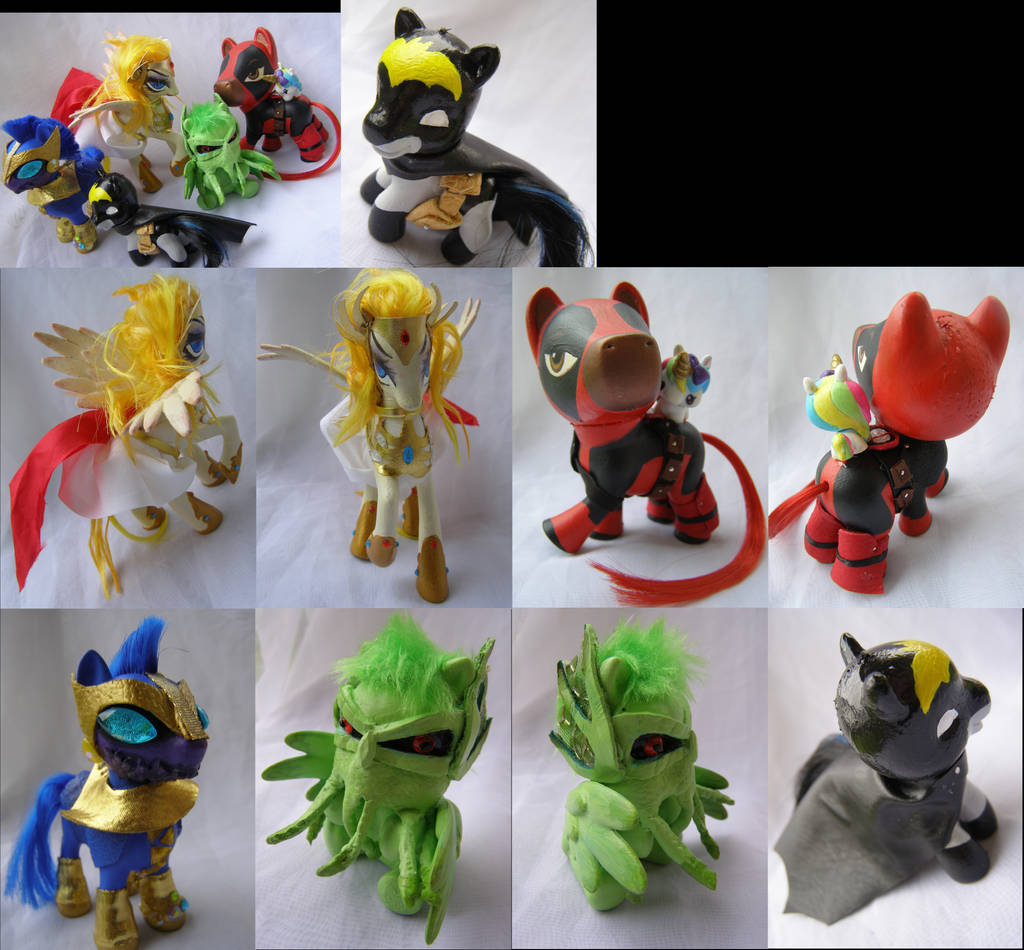 Watch
Comic-themed customs for Comic Book Zen
A batch of comic-themed customs I crafted to be sold at a comic book shop over in Michigan called Comic Book Zen. If you're in Michigan, go check it out!
First custom I made for the batch was a generation 3.5 Cthulhu crafted from a newborn sitting baby pony. Coated pony base in white gesso, face features are cut and crafted from leather. Wings are from a generation 4.5 Soarin (same base I used for the Thanos custom pictured here). I then painted the figure in acrylics, used red and black rhinestones for the eyes and a tuft of bright green faux fur for the head. Sequinned green scarf material used on the side ears.
Next up, I crafted the Thanos custom. Coated the generation 4.5 Soarin base in gesso, left the original hair the best I could. Cut and glued leather detail throughout the body and the face, painted everything in acrylics, stitched his gauntlets from a sheer gold wire trim. Rhinestone detailing on one gauntlet, chest and the eyes.
Third custom I crafted, is a generation 4 She-Ra from a fakie Princess Cadence base. Severed the horn off, coated the base in gesso, all painted in acrylics. Mane and tail are rooted in mangotango, passion fruit and yellow hair cut off of another pony figure. All nylon mlp dollyhair. Permanently styled/hardened in hair gel method.
Chest and crown details are faux gold vinyl, pleated a white skirt from wide white bias tape, used flat gold wire on skirt and on neck. Rhinestones embellish forehead, chest and on the hoof armor. Red material stitched for the cape.
Fourth custom crafted was the tiny Batman. Pony base is a tiny fakie, coated in white gesso, painted in acrylics. Tail is mlp nylon dollyhair, cloak is faux black vinyl, and belt is real leather.
Last custom I crafted for this batch, is another Dead Pool. I had a walking Bratz pony and I decided that Bratz ponies look like Ryan Reynolds, so Bratz ponies make best Deadpool customs lol. Since I had this nice walking pose, I decided to make his unicorn riding on his back, this time. xD
Pony base is coated in white gesso, body painted in acrylics. Leather detailing on legs and belt. Unicorn is a tiny unicorn I painted and attached a generation 4 princess horn on.
#BatMan
#SheRa
#Thanos
#Cthulhu
#DeadPool
#ComicHeroes
#ComicShop
#ComicStore
#ComicBookZen
#custompony
#mlpcustom
#handcraft
#handpainted
#textiles
#leather
#unicorn
#generation4
#fakie
#Bratz
#artisancraft
#synthetichair
#gems
#comicfandom
#mlpfandom
#friendshipisCthulhu
#DeadPoolIsMagic
#SheRaIsMagic
#FriendshipIsThanos